News
A Nurse's No-Nonsense Approach to Breast Cancer
September 26, 2019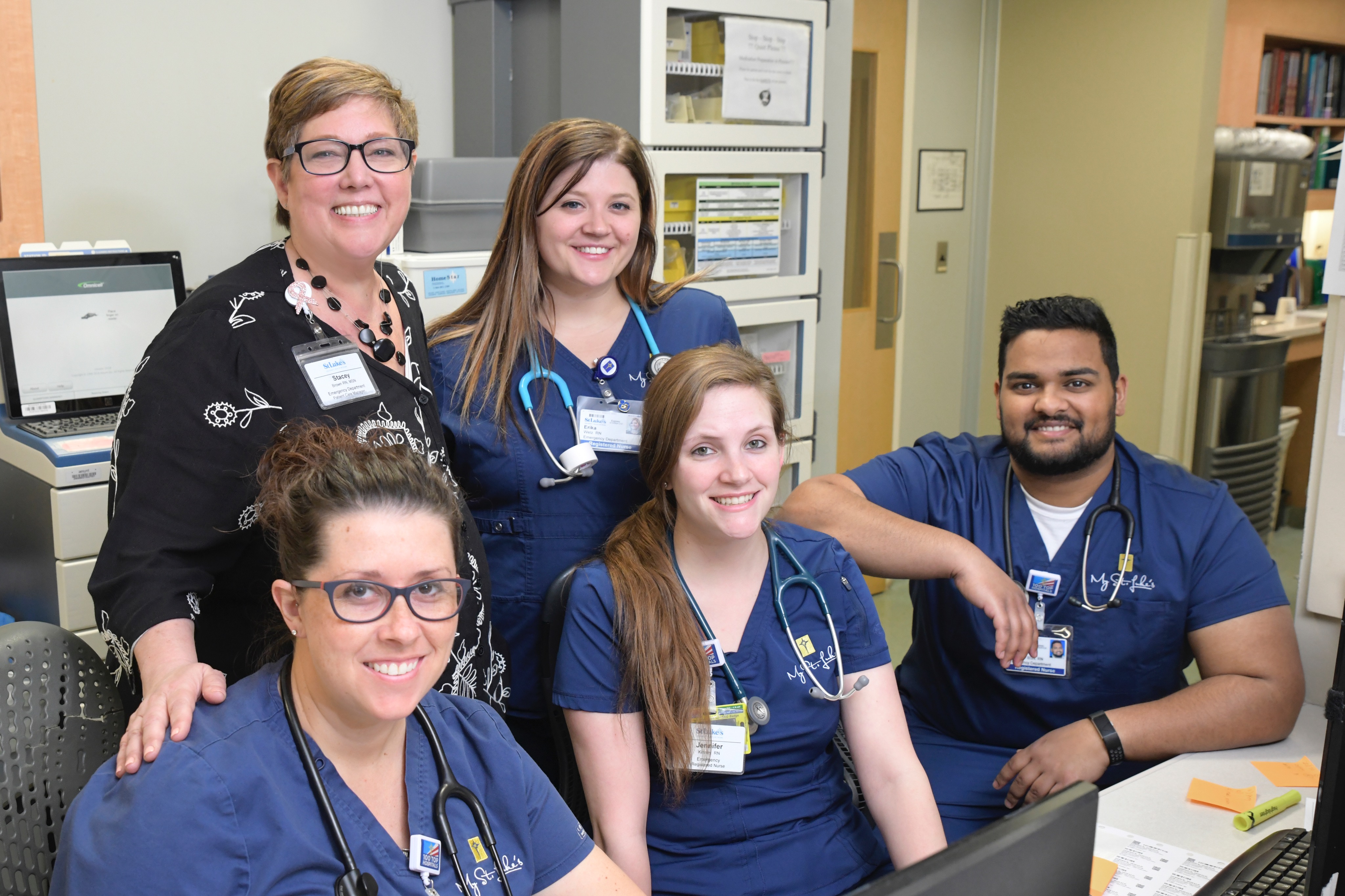 When Stacey Brown, MSN, RN, (top left) noticed inflammation in her left breast, she did what any nurse would do: she took a picture and sent it to a colleague.
"Right from the start, my coworkers were involved in my journey," says Stacey, who manages the Emergency Department at St. Luke's Quakertown Campus. "As a nurse, I knew it was important to get checked out."
A trip to her family doctor quickly snowballed into a startling diagnosis: inflammatory breast cancer. Considerably rare and aggressive, IBC accounts for only one to five percent of all breast cancers diagnosed in the United States.
"I was floored," she recalls. "Your world comes to a screeching halt."
Her thoughts quickly turned to her family – particularly her 16-year-old daughter, Shelby.
"My other children are grown, with children of their own. So, my immediate concern was my husband and our youngest, Shelby. What if I don't make it to her graduation? Will I be here to see her get married?"
For Shelby, it was a terrifying prospect. "When my mom told me she had cancer, my first thought was 'is she going to die?'"
Determined to "be there" for Shelby and her other children, Stacey took a pragmatic, approach to her diagnosis and treatment and went into standard nurse mode: let's fix this. She sought guidance from a team of St. Luke's Cancer Center experts: medical oncologist, Subhash Proothi, MD, surgical oncologist, Tricia Kelly, MD and radiation oncologist, Nicholas Cardiges, MD.
"I knew I was in good hands with these doctors. Dr. Proothi has a quiet kindness that is so calming. Dr. Cardiges made me feel like I was his only patient. And Dr. Kelly is confident, matter-of-fact and straightforward.
"My husband and I knew that no matter what – good or bad – Dr. Kelly would tell us the truth," says Stacey. So when Stacey's husband, J.R., asked the surgeon point blank "Can we cure this?" they both felt reassured by her simple, decisive answer: Yes.
But getting to that cure was no easy task. In addition to being in constant discomfort, a key symptom of IBC, Stacey went through six rounds of chemotherapy, a unilateral mastectomy, followed by six weeks of daily radiation therapy. All while continuing to work.
"I don't know what I would have done without my family and friends. My ER family at work was so supportive. They've seen more of my breast than my husband," she jokes.
Staying positive and being open about her journey helped Stacey stay focused.
"You can't control what happens to you, but you can control how you respond," she explains.
The team of nurses and others who took care of Stacey at St. Luke's Cancer Center, reflected the same spirit of positivity and determination. "They helped make it easy," says Stacey. "The girls on the infusion team became family. And I cried when I finished radiation therapy with Dr. Cardiges, Bob, Laura and Barbie. They were all so amazing."
"Part of what makes St. Luke's Cancer Center so special, is our ability to provide a patient-centered, team approach," states Dr. Kelly. "It seems intuitive, but not all hospitals have the ability to coordinate care to the level that is necessary for optimal patient outcomes. St. Luke's excels at that, and Stacey and others like her benefit from that coordination and thoroughness."
Nearly two years after her diagnosis, Stacey is now enjoying life cancer-free and is looking forward to all of life's most precious moments – including Shelby's graduation.
The biggest lesson she has taken away? Don't take anything for granted.
"It's amazing how a cancer diagnosis affects not only you as a person, but everyone around you. Suddenly, people were telling me how much I meant to them – people I hadn't heard from or spoken to in a while," Stacey reflects. "It was nice, but I thought, 'why wait?' Now I don't go a day without telling people what they mean to me."
She's also passionate about awareness and making sure her personal journey has a larger meaning. "If by me talking about losing a breast helps spark a conversation for others to get a mammo, then it's all worth it."