News
First DRG Stimulator for Pain-Management at St. Luke's Warren
August 17, 2018
Implant offers patients drug-free option.
August 6, 2018 – A pair of St. Luke's doctors recently completed the first permanent implantation of a dorsal root ganglion (DRG) stimulator in a patient at St. Luke's Warren Campus. This advancement will offer a new and effective pain-management option to residents of the Warren County region, reducing reliance on opioids and other addictive drugs.
"For people with complex regional pain syndrome who haven't responded to other medical therapy, this new treatment is effective and is now done close to home," says Doron Rabin, MD, of St. Luke's Neurosurgical Associates, who performed the procedure along with Ajaz Siddiqui, MD, of St. Luke's Spine & Pain Associates.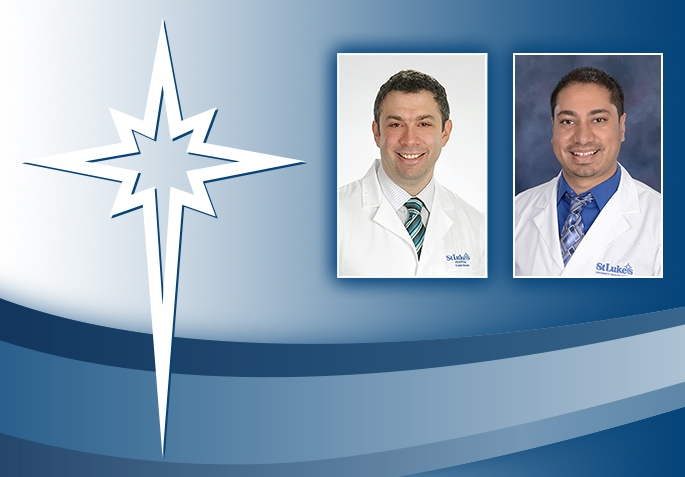 "It speaks to St. Luke's commitment to the community. It is giving people in our community access to new technologies, expertise and approaches to medicine."
Drs. Rabin and Siddiqui's patient was experiencing complex regional pain syndrome following total hip replacement surgery.
"Complex regional pain syndrome is a nerve-based syndrome that involves hyperactive nerves misfiring and causing chronic pain," explains Dr. Siddiqui. "You typically see this syndrome occurring after people have injuries or after surgery when small nerves are damaged."
There are two types of complex regional pain syndrome:
Type 1

(previously known as reflex sympathetic dystrophy or RSD)

–

The more common type, occurs after an illness, injury or event that does not directly damage the nerves in the patient's affected limb.

Type 2

(previously known as causalgia) –

Has symptoms similar to Type 1, but results from a direct nerve injury, such as during a surgery.
The DRG stimulator allows doctors to target both.
"The DRG stimulator is a lot more focused than a traditional spinal cord stimulator," notes Dr. Rabin. "With the DRG stimulator, we can target areas that are harder to reach. Whereas with a patient who is experiencing foot pain, the spinal cord stimulator may cover the entire leg while the DRG stimulator can be targeted to the foot itself."
Before patients are candidates for permanent implantation of the DRG stimulator, they have to complete a trial, which lasts between five and seven days. If the patient and physicians believe the trial was a success, the permanent DRG might be implanted.
During permanent implantation, the DRG stimulator leads are implanted into the spine's epidural space, which surrounds the spinal cord and where the dorsal root ganglion is located. The dorsal root ganglion is a collection of sensory nerves that carry signals between the skin, muscles, and organs (peripheral nervous system) and the spinal cord and brain (central nervous system).
The leads are connected to a battery and the DRG stimulator is implanted in the abdomen or upper buttocks. The device's electrical pulses are programmed with an external unit that the patient controls.
"People with complex regional pain syndrome did not really have very good options for treating or curing their pain prior to DRG stimulators," Dr. Siddiqui says. "This technology is very promising and is showing extraordinary results in patients who are having this overactive nerve pain.
Dr. Rabin also touts the collaborative approach between himself and Dr. Siddiqui.
"We are one of the few practices that has a spine surgeon and a pain doctor working so closely together," he says. "We understand the role each one plays in managing what is a complex issue. We have a regular meeting during which we present and discuss complex cases. This team approach is another way that the patients at St. Luke's Warren benefit."
Media Contact:
Sam Kennedy, Corporate Communications Director, 484-526-4134, samuel.kennedy@sluhn.org
About St. Luke's
Founded in 1872, St. Luke's University Health Network (SLUHN) is a fully integrated, regional, non-profit network of 14,000 employees providing services at 10 hospitals and over 300 outpatient sites. With annual net revenue of $1.9 billion, the Network's service area includes 10 counties: Lehigh, Northampton, Berks, Bucks, Carbon, Montgomery, Monroe and Schuylkill counties in Pennsylvania and Warren and Hunterdon counties in New Jersey. Dedicated to advancing medical education, St. Luke's is the preeminent teaching hospital in central-eastern Pennsylvania. In partnership with Temple University, St. Luke's created the region's first and only regional medical school campus. It also operates the nation's longest continuously operating School of Nursing, established in 1884, and 28 fully accredited graduate medical educational programs with 226 residents and fellows. St. Luke's is the only health care system in central-eastern Pennsylvania to earn Medicare's five-star rating (the highest) for quality, efficiency and patient satisfaction. St. Luke's has earned the 100 Top Major Teaching Hospital designation from IBM Watson Health (formerly Truven Health Analytics) repeatedly – six times total and four years in a row including 2018. It has also been cited by IBM Watson Health as a 50 Top Cardiovascular Program. Utilizing the EPIC electronic medical record (EMR) system for both inpatient and outpatient services, the Network is a multi-year recipient of the Most Wired award recognizing the breadth of the SLUHN's information technology applications such as telehealth, online scheduling and online pricing information. St. Luke's is also recognized as one of the state's lowest cost providers.