News
A Thinner Fitter Tony Iannelli with St. Luke's Help
February 14, 2018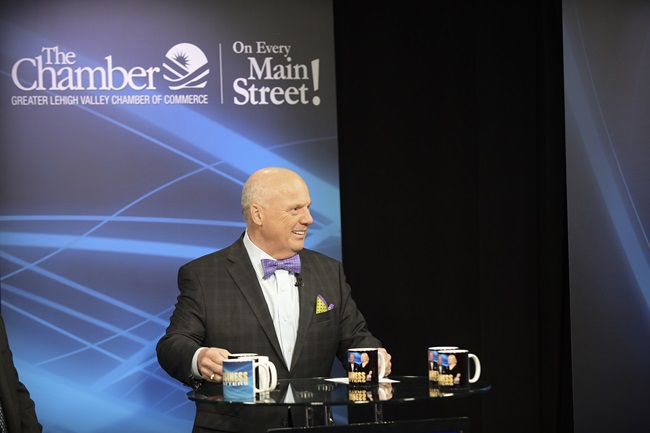 As president and CEO of the Greater Lehigh Valley Chamber of Commerce, Tony Iannelli spends more than his fair share of time eating out for lunches and dinners with movers and shakers of the Lehigh Valley and beyond.
And after retiring as on on-ice hockey official three years ago, his own moving and shaking got less and less, and the waistline, well …
After tipping the scales at almost 230 pounds with a 40-inch waistline less than 18 months ago, Iannelli, 66, is now down to around 180 pounds and a 33-inch waist. He is a perfect example of Extraordinary Fitness thanks to sound health management with the help of St. Luke's ExecuHealth program.
Iannelli, a gregarious personality who hosts "Business Matters" on WFMZ-TV, Channel 69, along with a radio show, is a non-stop bundle of energy, which has paid off in his approach to health and fitness.
What set Iannelli upon the path toward better health was the physical examination for life insurance, which revealed a number of potential health risks, including his weight, blood pressure and cholesterol, along with elevated blood sugar levels.
"My body was screaming, 'I can't process this much food,' "Iannelli remembers. "I was always active and walked in the Lehigh Parkway two or three times a week, five miles. I stopped officiating hockey three years ago, and that certainly had an impact. I knew that if I didn't make changes, my last stage of life would not be good."
Iannelli signed up for St. Luke's ExecuHealth program, which includes a one-day comprehensive head-to-toe physical evaluation with comprehensive blood work, cardiology studies and vascular studies, as well as audiology, nutritional and fitness assessments.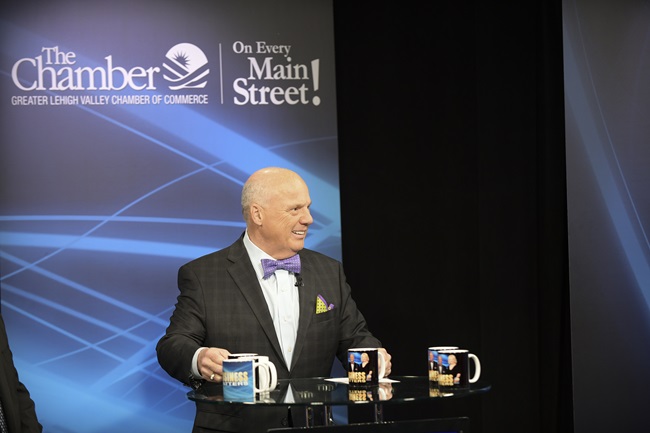 ---
"At the end of the day, there's a conference room meeting for the patient with all the specialists and a discussion about the results and recommendations, and the whole thing is packaged up and sent to your primary care physician," explains Mark Kender, MD, lead physician for ExecuHealth.
Iannelli saw the results as a wakeup call. He had no primary care physician at the time, so Kender now fulfills that role. Iannelli is currently on a low dosage of a statin drug for cholesterol and has brought his blood pressure and resting heart rate into excellent ratings.
Iannelli has been faithful about his calorie limits, eating 600 calories at breakfast, 700 at lunch and 800 at dinner. He still eats the same foods he ate before, but lesser quantities and a tad more protein. He does have his cheat days about once a month just to fulfill his cravings. His wife Wendy is on the journey with him and has also made significant improvements. He doesn't use any of the popular fitness apps, but does write down everything he eats and searches for the calorie content online.
"[ExecuHealth] gave me the motivation I needed to make changes and improve my health," he says. "It's not easy to avoid overeating, especially when I need to have dinner with friends and such, with all the social events for business. My business life is so socially focused, it is a challenge."
Iannelli said that his Extraordinary Fitness transition went through three phases.
"The first phase was the scare with the initial test results," he points out. "The second was the ExecuHealth physical, which was telling me I had concerns I needed to address. And lastly, now I have to hang on to those changes. I'd like to lose another 15 pounds."
In addition to his walking routine, Iannelli has added strength training and metabolic training to his exercise regimen, working with fitness expert John Graham, Senior Network Administrator for Fitness & Sports Performance, at St. Luke's Fitness & Sports Performance Centers.
"Two important areas to focus on when it comes to improving your health and well-being are a sound nutritional plan combined with a daily exercise and fitness program," Graham notes. "To his credit, Tony has made the effort to do both. He's making better food selections with less volume of food, and he's in the gym on an almost daily basis."
Graham said that because Iannelli has reduced his body weight by such a large percentage and has plans to lose even more, his exercise program needs to ensure that a muscle retention and enhancement focus is a component of his regimen.
"We don't want him to lose muscle mass because of the direct impact that has on burning and using calories," Graham says. "We want to make sure he maintains and increases his lean body mass.
"Tony is an amazing guy," Dr. Kender adds. "He runs one of the largest chambers of commerce in the United States. He's very dynamic in the way he leads. He's very passionate about things, and he's really gone the extra distance to take to heart and implement the things he's learned about his health through the ExecuHealth program."
Tony Iannelli has taken his penchant for moving and shaking in the business world to a whole new level for Extraordinary Fitness.
Media Contact:
Sam Kennedy, Corporate Communications Director, 484-526-4134, samuel.kennedy@sluhn.org
About St. Luke's
Founded in 1872, St. Luke's University Health Network is a fully integrated, regional, non-profit network providing services at nine hospitals and nearly 300 outpatient sites. With annual net revenue of $1.7 billion, the network's service area includes 10 counties: Lehigh, Northampton, Carbon, Schuylkill, Bucks, Montgomery, Berks and Monroe counties in Pennsylvania and Warren and Hunterdon counties in New Jersey. Dedicated to advancing medical education, St. Luke's is a major teaching hospital – the only one in the Greater Lehigh Valley. In partnership with Temple University, St. Luke's created the region's first and only regional medical school campus. It also operates the nation's longest continuously operating School of Nursing, established in 1884, and 23 fully accredited graduate medical educational programs with 189 residents. Repeatedly, including 2017, St. Luke's earned Truven's 100 Top Major Teaching Hospital and 50 Top Cardiovascular Program designations, in addition to other honors for clinical excellence. St. Luke's, utilizing the EPIC electronic medical record (EMR) system, is a multi-year recipient of the Most Wired award recognizing the breadth of St. Luke's information technology applications such as telehealth, online scheduling and online pricing information. St. Luke's is also recognized as one of the state's lowest cost providers.