News
Q & A with Dr. Thomas Pfeiffer
June 09, 2017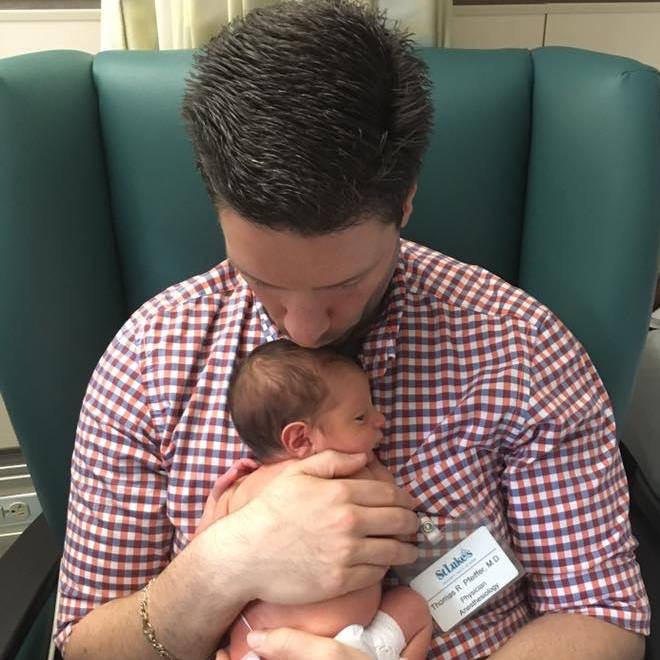 Q&A with Dr. Thomas Pfeiffer
Anesthesia Specialists of Bethlehem, PC
Thomas R. Pfeiffer, MD, is a fellowship-trained obstetric anesthesiologist at Anesthesia Specialists of Bethlehem, who cares for St. Luke's patients during surgery and helps pregnant moms manage labor pain and prepare for a cesarean delivery. This past month, his wife, Rachel, was the patient, giving birth to the couple's first child, James. Happy Father's Day to new dad, Dr. Tommy Pfeiffer!
Get to know more about new dad and St. Luke's anesthesiologist, Dr. Pfeiffer...
What do you do at St. Luke's Hospital?
I am an anesthesiologist and take care of patients with a variety of conditions for a multitude of surgeries. More specifically, I am the chief of obstetric anesthesiology, so I lead the medical team charged with ensuring all our female patients have a safe pregnancy and delivery. I consult with obstetricians, maternal fetal medicine physicians, neonatologists, nursing staff and additional medical specialties to optimize any coexisting medical conditions of pregnant women to promote healthy and safe childbirth.
Where did you grow up?
I grew up in Emerson, New Jersey, a small, suburban town in northeastern NJ approximately 30 minutes outside of New York City.
Did you always know you wanted to be a doctor?
Since I was five years old, I knew I wanted to be a doctor. The story goes that when I went to my pediatrician for an annual check up he asked what I wanted to be when I grew up and I quickly responded, "I want to be you!"
What made you decide to pursue your specialty?
During medical school, I spent time on the anesthesia service and I was instantly hooked. I loved how my actions in the operating room had near instant and sometimes life saving effects. Anesthesiologists do more than just "put patients to sleep." We are in charge of monitoring and altering vital physiologic systems to bring patients through surgeries that they would not otherwise survive without our intervention. We are constantly monitoring heart rate, blood pressure, oxygenation, airways, blood loss, etc. to maintain safety. I enjoy the variety of challenging cases I get on a daily basis - one day may be spent on labor and delivery (my favorite!) helping moms deliver safely and placing epidurals for pain relief, the next day I may be with orthopedic surgery placing nerve blocks for joint surgery, while another day I might be with ENT helping children for ear tubes and tonsil surgery. The ability to help a diverse patient population in a variety of surgeries and procedures gives me great pride in what I do every day.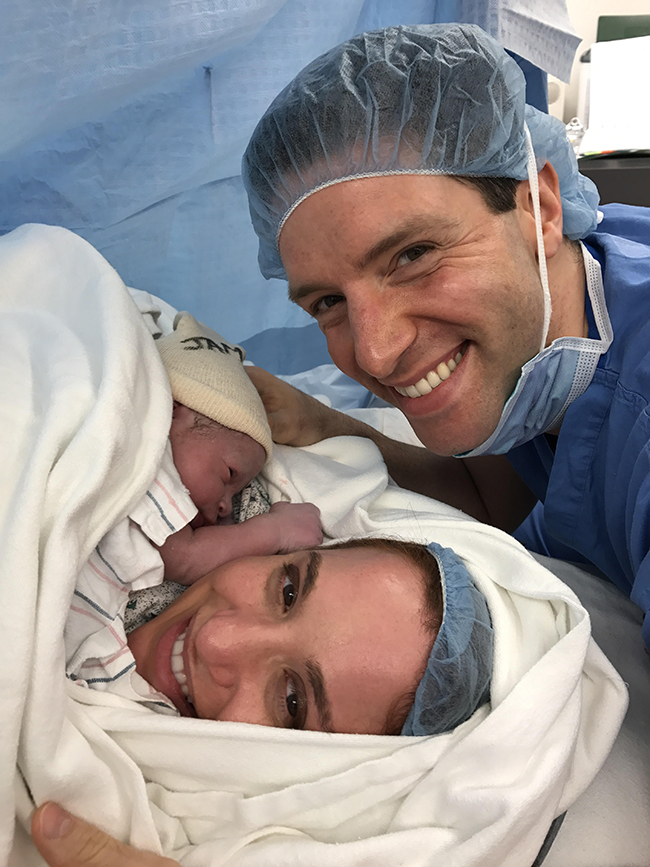 What traits do you possess that make you good at your job?
I believe I work well under pressure, something essential to any anesthesiologist. Occasionally there are emergent situations that require me to make multiple decisions almost simultaneously in order to save a patient's life. I am able to remain calm and collected during these moments to help lead the surgical team to intervene appropriately for the best possible outcome. I also consider myself to be positive and optimistic. Patients are often apprehensive and worried about their surgical procedure and I am able to alleviate some of their fears by explaining my plan to get them through their surgery safely.
Where did you go to school?
I went to Muhlenberg College and majored in biology with a minor in mathematics. I then earned my medical degree at New York Medical College and trained at Columbia University Medical Center for my anesthesia residency. Last, but not least, I completed a fellowship in obstetric anesthesiology, specializing in high-risk pregnancies, at Columbia University Medical Center.
Why did you decide to work for St. Luke's?
I fell in love with the Lehigh Valley when I was at Muhlenberg College and always intended to return. The mix of history, natural beauty, social scene and friendly residents appealed to me as the perfect place to set down roots. I specifically chose St. Luke's because it is a hospital where everyone treats patients like they are family. Everyone involved with the treatment of patients goes out of his or her way to make sure they and their family members are given the utmost care and respect.
What makes you proud about working for St. Luke's?
St. Luke's employees take special efforts to make every patient feel like family. No matter how benign or serious the situation, everybody teams together and treats the patients with the level of care they would desire for their own loved one. I am proud to work at a hospital where the patients are more than just their disease; the staff gets to know the patient and treats the entire person.
Anything to say about your staff/team?
I work with an amazing team. When I started at St. Luke's, they welcomed me as family and quickly found ways to develop and expand my professional interests to benefit our patients in ways I did not think possible. Everyone has come together to help me promote initiatives to treat and educate our patients and help promote healthy outcomes.
When do you feel like you are doing something special/meaningful?
Medicine has made great advances and women who until recently would not have been able to have children or would have put themselves at grave risk to have children are now able to do so with the care of their medical team. Typically, these women have significant apprehension, but rarely have a chance to sit down and discuss their specific concerns with an anesthesiologist prior to delivery. I enjoy walking them through the process, discussing their medical conditions and putting together a personalized anesthesia care plan for their labor and delivery - it makes them feel better and I feel great pride in helping these women become mothers.
What advice would you give to young people interested in pursuing a career in the medical field?
I cannot think of a more rewarding career than one in medicine. I get to take care of women during one of most important and rewarding moments of their life, the birth of their children. I enjoy having medical students and residents shadow me and get a glimpse of what it means to be an anesthesiologist. It is a long road but the destination is well worth the journey. If someone is interested in a career in medicine, I recommend they seek out opportunities to follow someone in the medical field to get first hand experience of what it means to be a doctor, nurse, technician, etc.
What healthy lifestyle activities do you practice?
I enjoy going to the gym as often as I can to stay healthy, whether it's a cycling class, lifting weights or running on the treadmill with my favorite music playing on my ear buds.
How do you like to de-stress?
I am a bit of a foodie and enjoy sampling some of the Valley's tasty restaurant selections. Nothing is more relaxing than good food and wine with family and friends. I am often scolded for discussing the latest restaurant offerings in front of patients who have been fasting for surgery!
What do you like to do when you're not working?
Family is always at the top my list. My wife and I just welcomed our first baby, James, and our free time is spent caring for this little bundle of joy. We love to travel and look forward to sharing the world with James, exploring European culture, sunny beaches, or (our favorite) magical Walt Disney World.
What's your favorite city/place in the world?
My favorite place is Walt Disney World! My wife and I are Disney fanatics and nothing compares to the magic of a Disney vacation. When our son is older we look forward to taking him to the place that holds so many happy memories for us - seeing his face light up when he meets some of his favorite characters, enjoying some of the roller coasters we enjoyed when we were kids and ending the day watching the fireworks over Cinderella's Castle.
What was your favorite job (before becoming a doctor)?
When I was in high school I worked at Dairy Queen. It was a lot of fun working with friends, making ice cream treats on busy, warm summer nights. I learned a lot about a good work ethic and I'm still pretty handy with an ice cream scoop!
If you weren't a doctor, what would you like to be?
If I weren't a doctor I probably would have pursued a career related to astronomy. I love using my telescope and apps on my iPhone to gaze at the stars at night. I never pass up a chance to visit the museum or watch anything by Neil deGrasse Tyson.
What was your favorite board game as a kid?
My favorite board game was and still is Monopoly - I am always the racecar! There was no better way to spend rainy days home on summer vacation than playing against family and friends.
Name a favorite of each: food-drink-color
While not the healthiest, nothing beats a good filet mignon, grilled medium-rare, yum! And, of course, you can't have steak without an excellent glass of cabernet sauvignon. My favorite color is red; everything from my car to my watchband and iPad case is red.
What's the funniest or most unique thing you've ever heard a mom say before/after you give her the epidural needle?
My favorite experience was when a very thankful mom to be wanted to know if I made house calls for her next pregnancy so I could place her epidural at home when she went into labor so she could be comfortable on the way to the hospital. While I was very honored, I had to decline for safety reasons, but promised to treat her as soon as possible when she arrived on labor and delivery for her second baby.
One thing you've learned through the years?
The most important thing I have learned is good communication is key during stressful situations. No matter the event, having everyone understand the goals whether it is during life saving emergencies, placing an effective epidural during labor or triaging busy operating rooms, the team works best when everyone knows their role.
Media Contact
Samuel Kennedy, Corporate Communications and Media Relations Director, Marketing & Public Relations, 484-526-4134, Samuel.Kennedy@sluhn.org
About St. Luke's
Founded in 1872, St. Luke's University Health Network (SLUHN) is a non-profit, regional, fully integrated and nationally recognized network providing services at seven hospitals and more than 270 outpatient sites. The network's service area includes Lehigh, Northampton, Carbon, Schuylkill, Bucks, Montgomery, Berks and Monroe counties in Pennsylvania and in Warren County in New Jersey. Dedicated to advancing health education, St. Luke's operates the nation's oldest School of Nursing and 22 graduate medical educational programs and is considered a major teaching hospital, the only one in the region. In partnership with Temple University, St. Luke's created the region's first Medical School. Repeatedly, including 2017, St. Luke's has earned Truven's 100 Top Major Teaching Hospital designation as well as 50 Top Cardiovascular program in addition to other honors for clinical excellence. St. Luke's is a multi-year recipient of the Most Wired award recognizing the breadth of St. Luke's information technology applications such as electronic medical records, telehealth, online scheduling and pricing information. St. Luke's is also recognized as one of the state's lowest cost providers in comparison to major teaching hospitals and other health systems.