News
Sun Safety: 9 Ways to Prevent Skin Cancer
May 19, 2017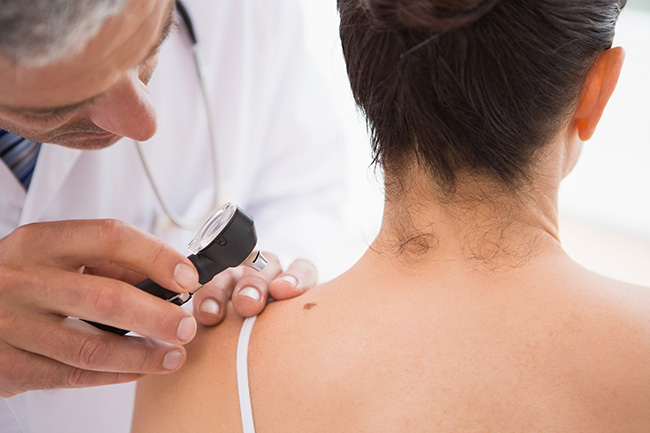 The American Skin Cancer Society estimates that one in five people will have skin cancer in their lifetime. For anyone who spends time outdoors enjoying the sun, that's an eye-opening statistic.
So, should you draw the blinds, hide indoors from dawn to dusk and only venture out at night? Or if you must go out during the day, do you cover yourself from head to toe, but only after applying an SPF 100+ sunscreen on your entire body?
In a word, no.
Yes, you can go out in the sun, but be smart and safe when you do. Since May is Melanoma Awareness Month, it is important to remember simple steps you can take to help prevent skin cancer and still make the most of summer.
"There is no sure way to prevent skin cancer. Some risk factors such as your age, gender, race, and family history can't be controlled. But there are things you can do that might lower your risk," says Sanjiv Agarwala, MD, Chief of Oncology and Hematology at St. Luke's University Health Network. Here's what to know and what to do:
Apply sunscreen every day. When you're going to be outside, even on cloudy days, apply sunscreen to all areas that won't be covered by clothing. Reapply about every two hours, or after swimming or sweating. Use a broad-spectrum, water-resistant sunscreen that protects the skin against both UVA and UVB rays and that has an SPF of at least 30
Learn the right way to apply sunscreen. Use one ounce of sunscreen, an amount that is about equal to the size of your palm. Thoroughly rub it into the skin. Don't forget the top of your feet, your neck, ears and the top of your head.
Go for the shade. Remember that the sun's rays are strongest between 10 am and 2 pm. Here's the tip-off: If your shadow is shorter than you are, seek shade, pronto.
Protect your skin with clothing. When going outside, wear a long‐sleeved shirt, pants, a wide‐brimmed hat and sunglasses.
Use extra caution near water or sand. They reflect and intensify the damaging rays of the sun, which can increase your chances of sunburn.
Get your vitamin D safely. Eat a healthy diet that includes foods naturally rich in vitamin D, or take vitamin D supplements. Don't rely on the sun as your source.
Avoid tanning outside or indoors. A tan, not just sunburn, signals that your skin has been injured. Whether you're exposed to the sun's ultraviolet rays or visit an indoor tanning salon, every time you tan, your skin is damaged. As this damage builds, you speed up the aging of your skin and increase your risk for all types of skin cancer, including melanoma. If you want to look tan, consider using a self-tanning product, but be sure to use sunscreen with it.
Check your skin for signs of skin cancer. Your birthday is always a great time to check your birthday suit, but right now is another. Checking your skin monthly and knowing your moles are key to detecting skin cancer in its earliest, most treatable stages.
Look for the ABCDEs of melanoma. According to the Melanoma Research Alliance, here's what to look for: Pay attention to moles or growths that are asymmetrical, have an irregular border, exhibit changes in color, have a diameter larger than the size of a pencil eraser, or have evolved in size or thickness. If you notice one or more of these signs, see your St. Luke's health care provider or dermatologist.
About St. Luke's
Founded in 1872, St. Luke's University Health Network (SLUHN) is a non-profit, regional, fully integrated and nationally recognized network providing services at seven hospitals and more than 270 outpatient sites. The network's service area includes Lehigh, Northampton, Carbon, Schuylkill, Bucks, Montgomery, Berks and Monroe counties in Pennsylvania and in Warren County in New Jersey. Dedicated to advancing health education, St. Luke's operates the nation's oldest School of Nursing and 22 graduate medical educational programs and is considered a major teaching hospital, the only one in the region. In partnership with Temple University, St. Luke's created the region's first Medical School. Repeatedly, including 2017, St. Luke's has earned Truven's 100 Top Major Teaching Hospital designation as well as 50 Top Cardiovascular program in addition to other honors for clinical excellence. St. Luke's is a multi-year recipient of the Most Wired award recognizing the breadth of St. Luke's information technology applications such as electronic medical records, telehealth, online scheduling and pricing information. St. Luke's is also recognized as one of the state's lowest cost providers in comparison to major teaching hospitals and other health systems.