News
St. Luke's DRG Stimulation Offers Long-Awaited Relief for Debilitating Pain
April 19, 2017
Bethlehem, PA (4/19/17) – Kam Peter battled Chronic Regional Pain Syndrome (CRPS) for 15 years, ever since a hernia operation in 2001. The registered nurse from Jersey Shore, PA remembers going through 15 operations, including six ablations, which only provided temporary relief for chronic intractable pain that extended from her hernia incision toward her abdomen, into her thigh, and sometimes down her leg behind her knee and into her foot.

By 2012, she was forced to give up her career as a registered nurse because of the dosages of narcotics and other medications she needed to relieve hot burning pain that felt like bee stings or being stuck by straight pins. The pain became so severe at times that she could not walk because the sensation of clothing against her skin induced such intense pain.

Enter St. Luke's University Health Network. Kam heard about a new procedure called Dorsal Root Ganglion stimulation being performed by doctors at St. Luke's. The ultra-specific spinal cord stimulation procedure provides unprecedented relief for patients with CRPS in the lower body, particularly the foot, knee and groin.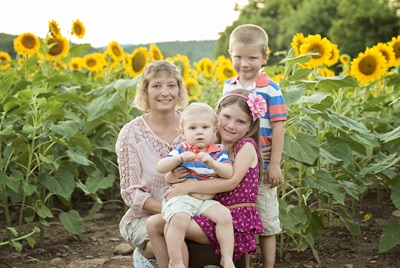 St. Luke's is one of the first hospitals in the country, and the only one in the Lehigh Valley, performing Dorsal Root Ganglion stimulation, a specific spinal cord stimulation approved by the FDA in April, 2016.
Functional neurosurgeon
Steven Falowski, MD
and pain specialists
Scott Loev, DO
,
Farooq A. Qureshi, MD
and
Jason M. Erickson, DO, MSPT,
of St. Luke's Spine & Pain Associates were among the first doctors in the United State to receive special training in Dorsal Root Ganglion stimulation. Dr. Loev serves as the medical director of St. Luke's Pain Medicine Program.
Performed in an outpatient setting, DRG stimulation targets the exact bundle of sensory nerve cell bodies (Dorsal Root Ganglions) to relieve pain where it occurs. "It's a pretty ground-breaking procedure with a limited launch," Dr. Falowski said. "It shows St. Luke's to be on the cutting edge by having access to it before other institutions in the country."
CRPS, a chronic pain syndrome brought on by injury or trauma, affects the way the central nervous and peripheral nervous systems receive pain signals from the brain. Pain-level registers out of proportion compared to the initial trauma. Traditional spinal cord stimulation hasn't been very effective in pain management for CRPS patients, who often end up using high doses of opioid or narcotic medications to treat the pain.
Drs. Loev, Qureshi and Erickson perform a trial procedure to see if the procedure provides relief. They use a catheter to place the electric leads into the epidural space and place the lead along the proper DRG. If the procedure relieves the pain symptoms, patients schedule with Dr. Falowski for the permanent implant.
Dr. Falowski performs the permanent implantation of a small non-rechargeable generator that provides the electrical stimulation. The patient receives a handheld remote control that allows them to adjust the strength of current, or even power it off.
"DRG literally localizes pain relief for one body part," Dr. Loev explained. "For people who have significant pain in just the right foot, we can guide the catheter along that nerve root until it's over that nerve bundle to stop the pain from recurring."
Peter underwent the two-step outpatient procedure last June.
"I can finally see a light at the end of the tunnel," Peter said of her pain relief, noting that she has reduced the use of pain medication by more than one half. "Before DRG, it was all black. As good as it's gotten, I think it's going to get to where it needs for me to get my life back. I worked too hard for that nursing career to give it up."
Dr. Qureshi performed the procedure on a CPRS patient who was injured while serving in Vietnam. He underwent multiple surgeries with limited pain relief until receiving the DRG stimulation.
"When I went into the recovery room of the patients I trialed and turned the [transmitter] on, they were so happy they had such relief," he said. "I have never seen that kind of effect with traditional spinal cord stimulation."
Dr. Erickson is equally enthused about the procedure.
"It's amazing to see the patient living with this pain, and right after, I've seen them cry because it's unbelievable that they finally have relief after having this pain for so long," he (Dr. Erickson) said.
DRG results have been amazing, Dr. Falowski said after performing more than 40 of the procedures.
"The success rates we're having are near 80 percent complete pain relief. In this day and age where opioid addiction is in the spotlight, this procedure can keep people off opioids and narcotics," Dr. Falowski said.
A member of St. Luke's Neurosurgical Associates, Dr. Falowski is a fellowship-trained functional neurosurgeon who performed the first Restore Spinal Cord Stimulator System in the region and the second-ever in the country.

About St. Luke's
Founded in 1872, St. Luke's University Health Network (SLUHN) is a non-profit, regional, fully integrated and nationally recognized network providing services at seven hospitals and more than 270 outpatient sites. The network's service area includes Lehigh, Northampton, Carbon, Schuylkill, Bucks, Montgomery, Berks and Monroe counties in Pennsylvania and Warren County in New Jersey. Dedicated to advancing health education, St. Luke's operates the nation's oldest School of Nursing and 22 graduate medical educational programs and is considered a major teaching hospital, the only one in the region. In partnership with Temple University, St. Luke's created the region's first Medical School. Repeatedly, including 2017, St. Luke's has earned Truven's 100 Top Major Teaching Hospital designation as well as 50 Top Cardiovascular program in addition to other honors for clinical excellence. St. Luke's is a multi-year recipient of the Most Wired award recognizing the breadth of St. Luke's information technology applications such as electronic medical records, telehealth, online scheduling and pricing information. St. Luke's is also recognized as one of the state's lowest cost providers in comparison to major teaching hospitals and other health systems.