News
St. Luke's Doctor Travels to Singapore to Give Amputation Prevention Talk
December 27, 2017
St. Luke's Doctor Travels to Singapore to Give Amputation Prevention Talk
St. Luke's Dr. Brent Bernstein was invited to speak in Singapore earlier this month about amputation prevention strategies.
Brent H Bernstein, DPM
Prior to joining St. Luke's University Health Network, Bernstein oversaw the U.S. Department of Health and Human Services Lower Extremity Amputation Prevention (LEAP) initiative for the state of Georgia. In the early 1990s, the United States saw a steady increase in diabetes-related amputations. Since then, following the implementation of LEAP recommendations, the rate of amputations has declined.
A recent study performed at Tan Tock Seng Hospital in Singapore revealed that trends in amputations and amputation-related mortality increased significantly between 2008 and 2013. The healthcare industry in Singapore is actively evaluating preventive strategies to reduce amputations in diabetes patients.
"I feel that Singapore is experiencing an almost identical scenario as we (the United States) did in the '90s – with a more sedentary lifestyle, easy access to high calorie diet and increasing obesity and diabetes rates," Bernstein said.
He spoke at Tan Tock Seng Hospital, Singapore General Hospital, Mount Elizabeth Hospital, Changi General Hospital and the local St. Luke's Hospital (see photo), which together serve the majority of patients in Singapore.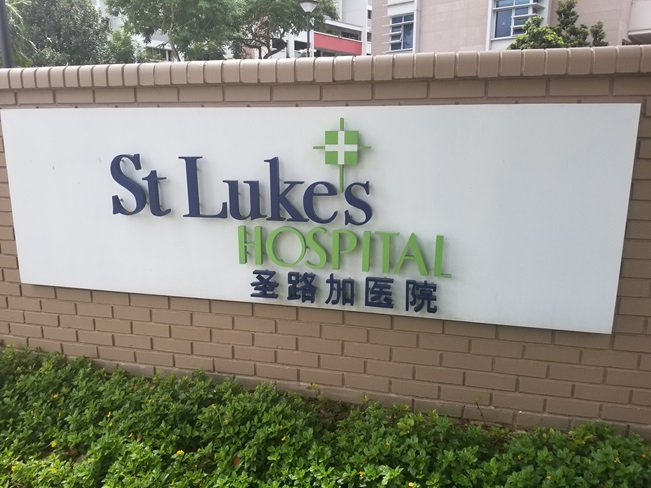 ---
"The increasing trend in diabetes was of course followed by a spike in amputations," he said. "I feel if they institute a program similar to our nineties-era LEAP initiative, they can halt their steady amputation rate progression like we did. It's all about prevention."
Bernstein, an internationally recognized expert in limb preservation, maintains surgical privileges as part of the Department of Orthopedics' Podiatry Department at SLUHN. He is also a partner of Podiatry Associates of the Lehigh Valley with Drs. Robert Diamond, Jung Lee and Eric Bronfenbrenner, with offices in Bethlehem, Macungie, Quakertown and Allentown.
Podiatry Associates of the Lehigh Valley is a member of St. Luke's Care Network.
Media Contact:
Sam Kennedy, Corporate Communications Director, 484-526-4134, samuel.kennedy@sluhn.org
About St. Luke's
Founded in 1872, St. Luke's University Health Network (SLUHN) is a fully integrated, regional, non-profit network providing services at seven hospitals and more than 270 outpatient sites in the greater Lehigh Valley. The network's service area includes 10 counties: Lehigh, Northampton, Carbon, Schuylkill, Bucks, Montgomery, Berks and Monroe counties in Pennsylvania and Warren and Hunterdon counties in New Jersey. In partnership with Temple University, St. Luke's created the region's first and only regional medical school campus. Dedicated to advancing health education, St. Luke's operates the nation's oldest School of Nursing and 23 graduate medical educational programs and is considered a major teaching hospital – the only one in its region. Repeatedly, including 2017, St. Luke's earned Truven's 100 Top Major Teaching Hospital and 50 Top Cardiovascular Program designations, in addition to other honors for clinical excellence. St. Luke's is a multi-year recipient of the Most Wired award recognizing the breadth of St. Luke's information technology applications such as electronic medical records, telehealth, online scheduling and pricing information. St. Luke's is also recognized as one of the state's lowest cost providers.