News
Screening for Cervical Cancer Saves Lives
October 19, 2017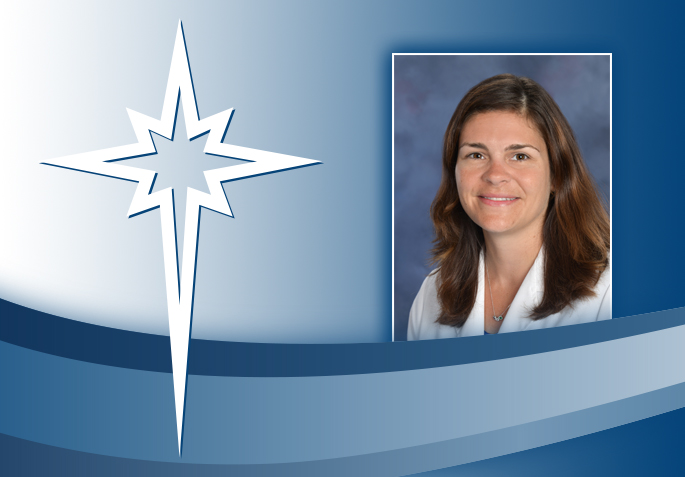 Screening for Cervical Cancer Saves Lives
Cervical cancer used to be a leading cause of cancer death in women. Over the last four decades, however, the number of deaths from cervical cancer in the United States has been greatly reduced, according to the American Cancer Society. A key reason is screening, the ACS says.
"We have two screening tests for cervical cancer," says Dr. Karen Taverna-Miller, an obstetrician/gynecologist at St. Luke's Obstetrics and Gynecology Associates in East Stroudsburg. Screening is critically important, she says, because in its early stages when it is most treatable, cervical cancer has no symptoms.
The two tests are:
The Pap test or Pap Smear, which looks for cells on the cervix that could become cervical cancer if not removed. During a Pap smear, a pathologist looks at cells taken from the cervix under a microscope to determine whether their size and shape is normal, Dr. Taverna-Miller says.
The HPV DNA test, which test looks for the virus (human papillomavirus) that can cause cell changes that could be a precursor to cancer. The HPV DNA test checks to see if the genetic material (DNA) of the virus is present in the cell sample.
Both tests can be performed in your doctor's office at the same time. "We collect and do both tests off of one sample," Dr. Taverna-Miller says.
Recommendations about who should get tested and when are evolving, Dr. Taverna-Miller says.
Screening should start at 21
As of now, she says, the recommendations from women's health societies are:
Women should start Pap smears at age 21. They should continue every three years until they are 30 as long as their test results are normal, Dr. Taverna-Miller says.
"At 30, we do a Pap smear and an HPV test," Dr. Taverna-Miller says. If they are normal, you can have a Pap smear every five years until you are 65, she says. At 65, you can stop having Pap smears, "but you still should have an annual gynecological exam. The Pap smear is not the only reason to have an annual exam."
If you have bleeding or cervical cells that look abnormal, you should talk to your doctor about a screening schedule and the tests that are right for you, the doctor says.
Dr. Taverna-Miller expects as technology evolves the screening recommendations may continue to change. For example, screening may rely more on the HPV test alone in the future, she says. It is a quick test and cost-effective, she says. "But because it is relatively new, the professional medical societies have not changed the screening guidelines to recommend HPV testing by itself."
In addition to screening, a vaccine for cervical cancer has been developed and it, too, appears to be helping to keep people from developing cervical cancer in the U.S., Dr. Taverna-Miller says.
The vaccine is recommended for girls – and boys – at age 11 or 12, Dr. Taverna-Miller says. However, she says, you can get the vaccine up to age 26. "We can give the vaccine to women and girls in our office," she says.
The vaccine is approved for the prevention of cervical cancer, Dr. Taverna-Miller says. But it also has other benefits: It protects against four strains of HPV that can cause cervical cancer; it can prevent vaginal and vulvar cancer in women; and it can prevent genital warts and anal cancer in men and women.
(Originally published in the Pocono Record)
Media Contact:
Sam Kennedy, Corporate Communications Director, 484-526-4134, samuel.kennedy@sluhn.org

About St. Luke's
Founded in 1872, St. Luke's University Health Network (SLUHN) is a fully integrated, regional, non-profit network providing services at seven hospitals and more than 270 outpatient sites in the greater Lehigh Valley. The network's service area includes 10 counties: Lehigh, Northampton, Carbon, Schuylkill, Bucks, Montgomery, Berks and Monroe counties in Pennsylvania and Warren and Hunterdon counties in New Jersey. In partnership with Temple University, St. Luke's created the region's first and only regional medical school campus. Dedicated to advancing health education, St. Luke's operates the nation's oldest School of Nursing and 23 graduate medical educational programs and is considered a major teaching hospital – the only one in its region. Repeatedly, including 2017, St. Luke's earned Truven's 100 Top Major Teaching Hospital and 50 Top Cardiovascular Program designations, in addition to other honors for clinical excellence. St. Luke's is a multi-year recipient of the Most Wired award recognizing the breadth of St. Luke's information technology applications such as electronic medical records, telehealth, online scheduling and pricing information. St. Luke's is also recognized as one of the state's lowest cost providers.