News
Lehigh Valley Business Cites St. Luke's ExecuHealth Success
January 31, 2017
St. Luke's program tailored for executives has several success stories in first year
By DARYL NERL
This story was published in the January 23, 2017 edition of Lehigh Valley Business

A little more than a year after launching a program aimed at helping busy executives schedule medical examinations, St. Luke's University Health Network officials say it has saved three patients who appeared to be on the verge of personal catastrophe.

"Just yesterday, a spouse came back and said that we literally saved her husband's life," said Janet Arner, manager of the ExecuHealth program, during a recent interview from her office at St. Luke's Hospital-Anderson Campus in Bethlehem Township. "She was so thankful that we have this program."

ExecuHealth allows executives — or really anyone who can pay $2,995 out of pocket — to undergo a full day of thorough diagnostics, testing and evaluation by a number of doctors and health professionals to provide them with a complete picture of their health and, in most cases, a plan to improve it.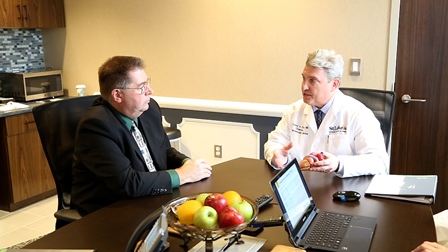 ---
Bruce Palmer, an accountant and ExecuHealth patient, meets with Dr. Ray Durkin,
chairman of the department of cardiology at St. Luke's University Health Network.
"These people are often very busy folks. You get three months of things done in one day. It's also highly interactive. You spend the end of the day in a conference environment.
"Basically, your information is put up and there's a panel of doctors in front of you who saw you during the day. Everything is presented to you. You get to ask anything you want. You get your questions answered. If anything's found, we do a follow-up for you. We set up any appointments at the end of the day."
Three of 51 patients who have gone through the program had serious coronary issues, one of whom required immediate hospital care, Arner said.
Two had aneurysms in their thoracic aorta, the main artery extending from the top of the heart, Kender said. Another had "significant coronary artery disease," he added.
"Those are things that can go completely undetected until there is a catastrophe, and we were able to find out through the diagnostic testing," he said.
Examinations also have detected autoimmune diseases and other significant health issues such as obstructive sleep apnea, Kender said.
"Conversely, sometimes we are able to reassure people that after a really in-depth look, they are doing fine and are on track with their health," he said. "Either way, it's a nice thing for the patients."
ExecuHealth patients are examined by primary care doctors, cardiologists and radiologists, evaluated by nutritionists, audiologists and fitness specialists and are also given an eye exam.
"If somebody was going to try this on their own, it would take months of coordination to get into all these," Arner said.
Patients get a "concierge level of service," she said, which includes a catered breakfast and lunch, as well as use of an executive suite from which they can periodically check in with the office by telephone or computer.
Bruce Palmer, a Certified Public Accountant from Lower Nazareth Township, said the program "worked out pretty well for me."
Palmer said his wife had been encouraging him to get a physical examination but that he had delayed doing so for various reasons.
"The challenge is my schedule," he said. "… For me, the value is more in the time in trying to schedule multiple appointments with multiple doctors and specialists — to run here for one hour one day, run there for two hours another day another week, trying to coordinate all that."
Though there had been a family history of heart disease and diabetes, Palmer happily received a clean bill of health. Yet the experience has made him more conscious of his health and lifestyle, he said.
"To me, the most attractive part of it was getting it all done in one day at one location," Palmer said. "It also kind of opened my mind to some things that I can change in terms of my eating habits and health habits."
He lost more than 10 pounds through "very modest, minor changes" to his diet, he said, though he acknowledges he does not exercise as often as he should.
Kender said lack of exercise is the biggest problem among executives, the same as the general population.
"Exercise is generally the foundation of good health, and they don't give themselves permission to build that into their lives," said Kender, a general internist who has a private practice in Allentown.
"Right behind that, in many cases, is their diet. It may be because they're eating out a lot. It's very hard to have a healthy lifestyle if you're traveling."
Though the ExecuHealth program was designed with executives in mind, anyone looking to get a fast but comprehensive checkup is welcome to participate, Arner said.
Among the program's first 51 clients have been retirees, married couples, financial planners, bank and university presidents and other executives.
Arner said she expects the program to grow with multiyear contracts with companies and volume discounts for repeat customers, such as companies with a contingent of sales staff that does a lot of national or international travel.
"This is the best endorsement I can give it: All of us that are in the program that are doctors, we would like to do this," Kender said with a laugh. "We have to find the time ourselves to do this."
Daryl Nerl is a freelance writer for Lehigh Valley Business.

About St. Luke's
Founded in 1872, St. Luke's University Health Network (SLUHN) is a non-profit, regional, fully integrated and nationally recognized network providing services at seven hospitals and more than 270 outpatient sites. The network's service area includes Lehigh, Northampton, Carbon, Schuylkill, Bucks, Montgomery, Berks and Monroe counties in Pennsylvania and in Warren County in New Jersey. Dedicated to advancing health education, St. Luke's operates the nation's oldest School of Nursing and 22 graduate medical educational programs and is considered a major teaching hospital, the only one in the region. In partnership with Temple University, St. Luke's created the region's first Medical School. Repeatedly, including 2016, St. Luke's has earned Truven's 100 Top Major Teaching Hospital designation as well as 50 Top Cardiovascular program in addition to other honors for clinical excellence. St. Luke's is a multi-year recipient of the Most Wired award recognizing the breadth of St. Luke's information technology applications such as electronic medical records, telehealth, online scheduling and pricing information. St. Luke's is also recognized as one of the state's lowest cost providers in comparison to major teaching hospitals and other health systems.