News
Q & A with Dr. Karen Taverna-Miller
June 15, 2017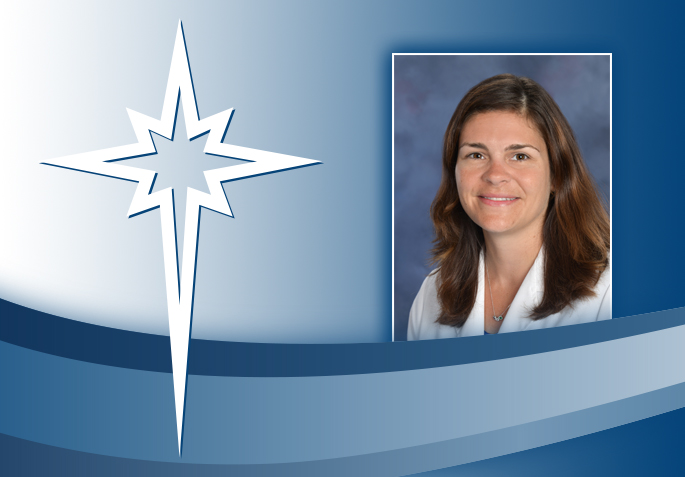 Q & A with Dr. Karen Taverna-Miller
Dr. Karen Taverna-Miller, MD is a gynecologist and obstetrician at St. Luke's Obstetrics and Gynecology Associates, part of St. Luke's University Health Network. Dr. Taverna-Miller has been with St. Luke's since her residency and now she and nurse practitioner, Albita Lasanta, CRNP, see patients in the East Stroudsburg office. Dr. Taverna-Miller grew up in Easton and attended Drexel University College of Medicine, returning back to the Lehigh Valley after medical school. She cares for women during all stages of life including preventative health care management, delivering babies and performing surgeries like hysterectomies.
Did you always know you wanted to be a doctor?
No, but I was always looking for ways to help others, initially through tutoring younger children as part of afterschool programs when I was in college. My interest in medicine evolved from wanting to combine my love of science with helping others.
What made you decide to pursue your specialty?
OB/GYN is the best specialty because I get to divide my work week between the office, the labor floor and the operating room. To some that may seem hectic, but I love it. Each day is different as I help women through everything from the onset of puberty to menopause, infertility to pregnancy, delivering a baby to performing a hysterectomy. All of these issues, while a natural part of life, can sometimes have serious painful and emotional consequences, so I enjoy helping my patients feel better and getting to know them year after year.
Any major influences that helped guide your decision to become a doctor?
My parents have always been very supportive of me and when I was young they told me that if I work hard, I could be anything I wanted to be. Having that strong support system was crucial to achieving my goals.
What traits do you possess that make you good at your job?
I am a good listener and I'm creative, which often helps with problem solving. Every patient is different and every solution is different and I try very hard to come up with a treatment plan that works for the patient while following current treatment guidelines.
What technology do you utilize as part of your practice?
The technology available to help patients today is amazing. I specialize in minimally invasive surgery such as laparoscopy and robotic surgery. For example, years ago if a woman had a large fibroid uterus, it would have to be removed with a large vertical incision and a 6-8 week recovery time. Now, through very small incisions, a hysterectomy can be completed with a two week recovery and often no time in the hospital. Laparoscopy can be used to treat many conditions such as ovarian cyst removal and endometriosis. Through these techniques I am able to help patients safely and allow them to return to their normal lives as quickly as possible.
When do you feel like you are doing something special or meaningful?
Recently I moved my practice to Monroe County and I was so surprised and humbled by the number of patients that opted to drive to East Stroudsburg to see me rather than find a new doctor. I have been very fortunate over the years to receive thank you notes and Christmas cards from patients too. Year after year and now over some distance, I am so touched that patients entrust their care to me.
What inspires you every day?
Every day I strive to treat others the way I wish to be treated. That mantra is part of everything I do both personally and professionally.
What healthy lifestyle practices do you incorporate in your life?
Even with a busy schedule I make time for exercise. I have a friend who comes to my house at least once or twice per week so that we can either do an hour of Pilates or a circuit training session. Everyday I talk to patients about the importance of exercise and stress reduction. From personal experience, I am a happier person when I am on a good workout schedule. My mind is clearer and I am able to keep up with the physical demands of my job.
How do you like to de-stress?
I love family movie night. Everyone sits on the couch eating popcorn. Those moments when my kids, my husband and I can just be at home together are really priceless.
What do you do in your spare time?
Ha, what spare time?! I have three children 11, 9 and 6, who are all very active with sports, music and scouting so when I can, I'm shuttling them around or cheering them on. Even though the schedule is hectic - I love watching them learn a new skill like ice skating, performing at a piano recital, pitching a perfect inning, scoring a goal - the list goes on.
What's your favorite song to sing in the car?
Hmmm - too embarrassing. I'll pass. Sometimes when I walk in the hallway quickly at work I find myself humming the theme song for the Wicked Witch of the West! Not sure why!
What was your favorite board game as a kid?
Clue and Life. I still really like card games like Gin Rummy.
Favorite food?
Pepperoni pizza with my family
Media Contact
Samuel Kennedy, Corporate Communications and Media Relations Director, Marketing & Public Relations, 484-526-4134, Samuel.Kennedy@sluhn.org
About St. Luke's
Founded in 1872, St. Luke's University Health Network (SLUHN) is a non-profit, regional, fully integrated and nationally recognized network providing services at seven hospitals and more than 270 outpatient sites. The network's service area includes Lehigh, Northampton, Carbon, Schuylkill, Bucks, Montgomery, Berks and Monroe counties in Pennsylvania and in Warren County in New Jersey. Dedicated to advancing health education, St. Luke's operates the nation's oldest School of Nursing and 22 graduate medical educational programs and is considered a major teaching hospital, the only one in the region. In partnership with Temple University, St. Luke's created the region's first Medical School. Repeatedly, including 2017, St. Luke's has earned Truven's 100 Top Major Teaching Hospital designation as well as 50 Top Cardiovascular program in addition to other honors for clinical excellence. St. Luke's is a multi-year recipient of the Most Wired award recognizing the breadth of St. Luke's information technology applications such as electronic medical records, telehealth, online scheduling and pricing information. St. Luke's is also recognized as one of the state's lowest cost providers in comparison to major teaching hospitals and other health systems.