News
Q & A with Holli Warholic, DO
May 23, 2017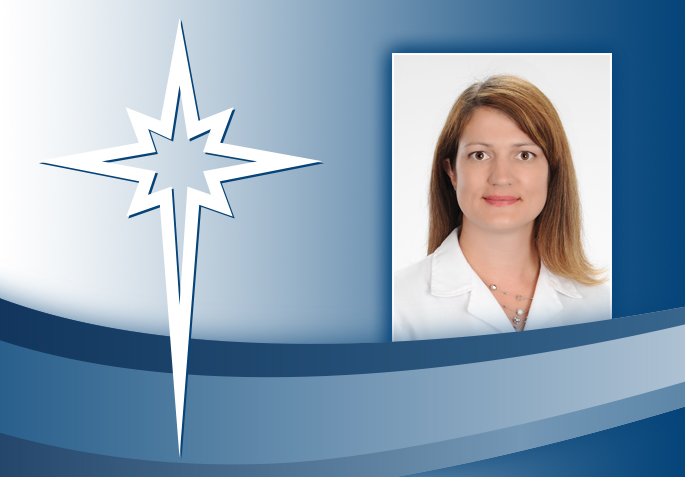 Q & A with Holli Warholic, DO
Holli Warholic, DO, of St. Luke's Riverside Women's Healthcare located at St. Luke's Anderson Campus, enjoys working in obstetrics and gynecology because of the continuity of care through all stages of her patients' lives - guiding them safely through pregnancies and health transitions from adolescence to menopause. From the time she was a medical student and first witnessed the birth of baby, she knew that women's healthcare was where she wanted to be. She always felt that there must be no better feeling than handing a new mom her healthy baby. At her small practice, Dr. Warholic can really get to know her patients and they can get to know her, making it feel more like a family atmosphere than a workplace. That kind of intimate, trusting relationship with patients is one of the things she loves most about having a small OB/GYN practice within the St. Luke's University Health Network.
Where did you grow up?
Hamlin, Pennsylvania, outside of Scranton
Where did you go to school?
Undergraduate at Lehigh University, medical school at Philadelphia College of Osteopathic Medicine and residency St. Luke's Hospital
Why did you choose to practice in the Lehigh Valley?
I completed my undergraduate degree in biochemistry at Lehigh University, where I met my husband. We both loved the Lehigh Valley and knew we wanted to make our home here and to raise our family here. After earning my medical degree, I returned to the Lehigh Valley to do my OB/GYN residency at St. Luke's, where I did many of my medical school rotations. It was great being part of the St. Luke's family and after graduation I chose a position in private practice at St. Luke's Allentown Campus. I'm so happy to still be with St. Luke's along with Dr. Christin Gillier and Dr. Shenali Abeysekera.
Did you always know you wanted to be a doctor?
Since I was 13 and got my first job as a file clerk in a local doctor's office. There were four physicians, only one of whom was female and I really looked up to and admired her.
What made you decide to pursue your specialty?
I loved being in the delivery room as a medical student and got a lot of hands-on experience. I also loved the patient relationships I was able to build. I have patients now who I met as a resident, which is awesome!
What traits do you possess that make you good at your job?
I think I can relate well with my patients, help them to relax and feel comfortable talking to me about what's going on with them. I try to create a warm and welcoming environment.
Why did you decide to work for St. Luke's?
I love the personal care that we give patients, so they feel like family rather than a number. St Luke's employees were always so welcoming, from my years as a med student doing rotations to returning for my residency. Everyone is willing to pitch in and help out to do what's best for the patient. We have a great team of subspecialists who help care for our patients and they are always accessible.

When do you feel like you are doing something special/meaningful?
The best is getting notes from patients. It makes my day. One sent me a note, telling me that I was her baby's guardian angel. Another posted to social media about how supportive and helpful I was through her twins' NICU stay. I have one patient I followed since I first became an attending almost eight years ago through her journey with PCOS (polycystic ovary syndrome,) pregnancy loss, infertility and I finally got to deliver her baby earlier this year. I have a patient who every time I see her, thanks me for changing her whole life for the better by taking out her fibroid uterus - she tells me I gave her her life back. This is what makes all the longs nights and lack of sleep worth it.
What inspires you every day? I'm inspired by my patients, seeing them through their journeys of infertility, chronic pain, abnormal bleeding, pregnancy and having a successful delivery, getting their life back after a surgery that cures them or drastically improves their quality of life. I love being able to help them through these journeys and I'm rewarded by them coming back to me for their annual visits or future pregnancies and sending their friends/daughters/sisters/mothers to me for care.
What healthy lifestyle activities do you like to do?
I exercise almost every day, One of my dear friends from residency and I challenge each other daily to get in our 30 minutes. It's very helpful to have a buddy to keep you on track - neither of us wants to let the other down!! I also try to get outside with the kids on the weekend and bike ride, play basketball or hike.
How do you like to de-stress?
Tap-dancing class, art projects/crafting - baking is a huge stress reliever for me! A spa day is a real treat if I can find the time.
What do you do in your spare time?
Taxi my kids to activities a lot! My kids are 8 and 6 years old, so my spare time usually involves being with them, getting outdoors, taking pictures of them (I'm a self-proclaimed "momarazzi") I'm a Shonda Rhimes fan, so I always have shows to catch up on.
What's the one thing women should be doing/eating/taking to stay healthy, either when they are pregnant or if they are thinking about having a baby?
Folic acid is very important, and trying to maintain a healthy weight, which can help reduce the risk of complications in pregnancy.
In high school, you would have been voted most likely to what?
I think I was voted most likely to succeed…but I'd have to check the yearbook!
What's the best piece of advice you've ever been given and how do you utilize it in your practice?
Just breathe. We can overcome anything we need to, sometimes we just need to stop, take a breath and maybe think about it from a different angle.
What advice would you give to young people interested in pursuing a career in the medical field?
Spend time in the fields you are interested in, to see if you can spend day in and day out doing it and choose something you love to do.
What did you want to be when you were a kid?
A pediatrician
If you weren't a doctor, what would you like to be?
I would own a bakery
What's your favorite song to sing in the car?
Currently, anything off Ed Sheeran's new album or songs from Moana (on repeat when traveling with the kids!)
Name a favorite of each: food-drink-color
Does ice cream count? - Vanilla lattes - PINK!
What would your kids say is their favorite thing to do with mommy?
Bike rides or go out for ice cream
How would your kids describe your job?
Mommy catches babies!
Media Contact
Samuel Kennedy, Corporate Communications and Media Relations Director, Marketing & Public Relations, 484-526-4134, Samuel.Kennedy@sluhn.org
About St. Luke's
Founded in 1872, St. Luke's University Health Network (SLUHN) is a non-profit, regional, fully integrated and nationally recognized network providing services at seven hospitals and more than 270 outpatient sites. The network's service area includes Lehigh, Northampton, Carbon, Schuylkill, Bucks, Montgomery, Berks and Monroe counties in Pennsylvania and in Warren County in New Jersey. Dedicated to advancing health education, St. Luke's operates the nation's oldest School of Nursing and 22 graduate medical educational programs and is considered a major teaching hospital, the only one in the region. In partnership with Temple University, St. Luke's created the region's first Medical School. Repeatedly, including 2017, St. Luke's has earned Truven's 100 Top Major Teaching Hospital designation as well as 50 Top Cardiovascular program in addition to other honors for clinical excellence. St. Luke's is a multi-year recipient of the Most Wired award recognizing the breadth of St. Luke's information technology applications such as electronic medical records, telehealth, online scheduling and pricing information. St. Luke's is also recognized as one of the state's lowest cost providers in comparison to major teaching hospitals and other health systems.