News
First-Ever 'Kangaroo-a-Thon' at St. Luke's NICU Promoting Skin-to-Skin Contact for Premature Infants
November 29, 2017
St. Luke's University Health Network held its first ever Kangaroo-a-Thon to promote "kangaroo" care or skin-to-skin contact for infants in the Level II and Level III NICUs (Neonatal Intensive Care Units.) For two weeks leading up to World Prematurity Day (November 17th) physicians and staff promoted, encouraged and raised awareness for kangaroo care's extensive benefits for both parents and their infants.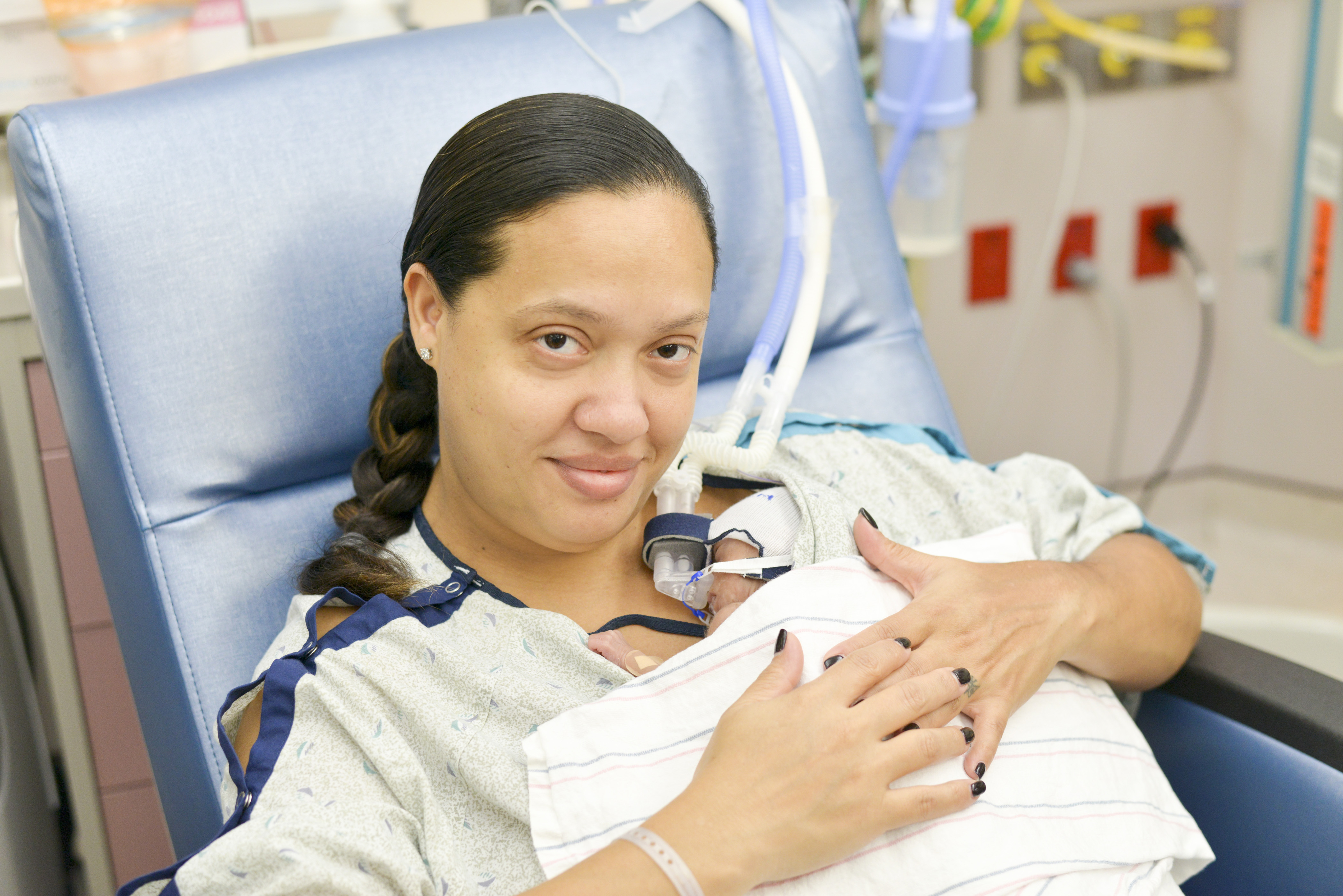 All newborns, whether full-term or premature, can utilize this special cuddle time, but it's especially important for babies in the NICU, many of whom were born premature. Most of the babies in the St. Luke's NICU were born at 28-35 weeks, with some micropremies born at less than 28 weeks and weighing less that 1000 grams. St. Luke's NICU Family Support Program Advisory Council wants to help these tiny patients by promoting kangaroo care.
"St. Luke's staff has been actively promoting kangaroo care for parents and babies for many years and, because of its numerous advantages, has recently made it an integral part of the new St. Luke's Baby & Me care philosophy," explains Barbara Raab, RNC, NICU Family Support Program coordinator.
Kangaroo care can be full skin-to-skin contact, modified skin-to-skin care or hand hugs (cupping baby in a parent or staff member's hands) for the tiniest babies not otherwise eligible for full skin-to-skin contact. Parents of babies in the NICU can often feel helpless when their babies are hooked up to tubes in the isolette and so much is out of their control, so kangaroo care is a way that both moms and dads can help.
"Many parents think that their micropremies can't do kangaroo care because they are too tiny and fragile," says Raab. "But even with wires, IV lines and tubes, each baby can use some form of kangaroo care and we as a staff are more than willing to make that happen."
Reducing stress, for both infants and moms, is a primary goal for the NICU staff. When babies are less stressed, their tiny brains can grow and develop properly. Stressors associated with preterm birth can be tough on baby's already immature immune system. Premies' brains are so fragile because they bypassed those last weeks of gestation when brain development kicks into high gear. Kangaroo care mimics the womb environment, its warmth, rhythm and sounds, and soothes the infant, increasing the relaxing hormone (oxytocin) and decreasing cortisol (the stress hormone.) Kangaroo care has been shown to also reduce stress for moms of premature infants who are at a higher risk of developing postpartum depression. Less stress also means better milk production and breastfeeding helps these premies and micropremies grow strong enough to go home.
Some of other benefits of kangaroo care:
● Baby gets to know both parents through scent, touch, voice
● Regulate the proper body temperature
● Cry less
● Sleep better
● Breathe better
● Gain weight
● Feel less pain
● Decreased stress
● Increased parental confidence
● Increased bonding/attachment
● Reduced length of hospital stay
Media Contact:
Sam Kennedy, Corporate Communications Director, 484-526-4134, samuel.kennedy@sluhn.org
About St. Luke's
Founded in 1872, St. Luke's University Health Network (SLUHN) is a fully integrated, regional, non-profit network providing services at seven hospitals and more than 270 outpatient sites in the greater Lehigh Valley. The network's service area includes 10 counties: Lehigh, Northampton, Carbon, Schuylkill, Bucks, Montgomery, Berks and Monroe counties in Pennsylvania and Warren and Hunterdon counties in New Jersey. In partnership with Temple University, St. Luke's created the region's first and only regional medical school campus. Dedicated to advancing health education, St. Luke's operates the nation's oldest School of Nursing and 23 graduate medical educational programs and is considered a major teaching hospital – the only one in its region. Repeatedly, including 2017, St. Luke's earned Truven's 100 Top Major Teaching Hospital and 50 Top Cardiovascular Program designations, in addition to other honors for clinical excellence. St. Luke's is a multi-year recipient of the Most Wired award recognizing the breadth of St. Luke's information technology applications such as electronic medical records, telehealth, online scheduling and pricing information. St. Luke's is also recognized as one of the state's lowest cost providers.