News
Excellent African Adventure for St. Luke's First Couple of Physical Therapy
December 01, 2017
Judy and Dennis Dougherty not only talk the talk; they walk the walk… and climb the mountain.
The couple has climbed several mountains – in a business sense – to expand the Physical Therapy at St. Luke's practice to almost 40 area locations.
Judy, the COO of Physical Therapy at St. Luke's, and Dennis, the CEO, have climbed mountains physically as well.
Earlier this year, they took part in an African adventure, tackling the snows of Mount Kilimanjaro in Tanzania. At 19,341 feet, "Kili" is the tallest mountain on the African continent and the highest "free standing Mountain" in the world.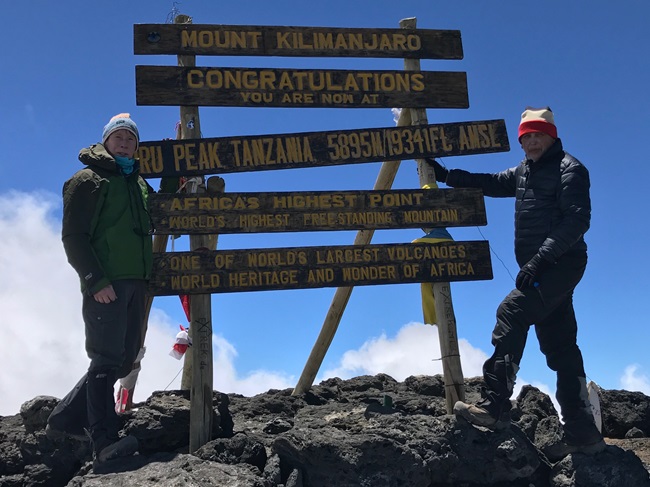 "Mt. Kilimanjaro is one of the Seven Summits," says Judy who, like her husband, practices several forms of conditioning, including biking and running in addition to mountain climbing.
"Each continent has a tallest mountain, and they are the Seven Summits. It's been a dream I've wanted to do this for the last 20 years and I figured I'd better get going and do it," she says.
The Dougherty's had already scaled other mountains before tackling Mount Kilimanjaro, including the 7,972-foot Machu Picchu in the Andes Mountains of Peru. But Mount Kilimanjaro is almost twice as high.
The couple has hiked 14ers – mountains that rise 14,000 feet or more – like Mount Whitney in California and several in Colorado. But Mount Kilimanjaro is even higher.
"When you're sleeping at 15,000 feet at night, it's freezing outside and you're sleeping with all your clothes on and in a sleeping bag inside the tent," Dennis says.
The altitude obviously leads to the cold, but the other issue is altitude sickness. You can get headaches and experience threatening edema from the blood literally leaking out of your blood vessels and filling the sacks of your brain, heart and lungs.
The Doughertys researched guide companies that lead treks up Mount Kilimanjaro and chose Thompson Safaris out of Boston because of its success rate. The average overall success rate for reaching the summit is 45 percent, but Thompson boasts a 98 percent success rate.
The Dougherty's were part of a 12-person climbing group, not including the guides and porters, in February. They worked a six-day up, two-day down climb on the "Western Approach" that combined the Shira and Lemosho routes.
They also appreciated that the tour included two days of acclimation before the actual climb started, with the group camped at a mile-high ranch for two days for activities, including trekking in the thin air.
"They did get us out hiking on the ranch and getting to know each other, getting used to living in a tent, and getting used to the altitude," Judy says. "They preach 'pole pole [pronounced polie, polie]' which is Swahili for the way to climb this mountain: slowly. And that means success."
In order to prepare for the altitude and oxygen deficit, some of the group got prescription medication designed to prevent the edema. All 12 of the climbers reached the summit.
The climb up the mountain actually began at about 8,000 feet and progressed up and down, gaining about 3,000 feet a day until the 19,341-feet summit. They climbed up to the base of Lava Tower and up the Barranco Wall before setting up camp for the night.
"For me, the most memorable moment was making it to the top," Dennis says. "We were there on a day when it was blue skies, sunny but cold. Two days later there was a blinding snowstorm at the top. We made it to the top on a crystal-clear day, when no one else was climbing. Judy was first to the top."
"I'm very proud of that," Judy says. "You feel like you're on top of the world. They call it your Summit Day. You start hiking at 5 a.m. The moon is still out. As you come to the top, there's a crater because it's a volcano. You're really above the clouds. It was a very cool experience. You really can make dreams happen."
After they returned to base, the Dougherty's spent the next few days on a photo safari. While their ascent and descent features five climate zones – rainforest, heath, moorland, alpine desert and arctic – there was little wildlife because of lack of water and inhospitable vegetation.
They also visited the Ngorongoro Crater and Serengeti National Park, sighting all of Africa's "big five" – lion, leopard, rhinoceros, elephant and Cape buffalo. They also took a hot air balloon ride over the Serengeti to witness the animal herds, and spent time in a native Maasai encampment.
The Dougherty's are planning another African Adventure for 2018, mapping out a trip to South Africa to bike, hike and walk, a trip that will undoubtedly include scaling the iconic Table Mountain – a mere 3,558 feet – in Cape Town.
Media Contact:
Sam Kennedy, Corporate Communications Director, 484-526-4134, samuel.kennedy@sluhn.org
About St. Luke's
Founded in 1872, St. Luke's University Health Network (SLUHN) is a fully integrated, regional, non-profit network providing services at seven hospitals and more than 270 outpatient sites in the greater Lehigh Valley. The network's service area includes 10 counties: Lehigh, Northampton, Carbon, Schuylkill, Bucks, Montgomery, Berks and Monroe counties in Pennsylvania and Warren and Hunterdon counties in New Jersey. In partnership with Temple University, St. Luke's created the region's first and only regional medical school campus. Dedicated to advancing health education, St. Luke's operates the nation's oldest School of Nursing and 23 graduate medical educational programs and is considered a major teaching hospital – the only one in its region. Repeatedly, including 2017, St. Luke's earned Truven's 100 Top Major Teaching Hospital and 50 Top Cardiovascular Program designations, in addition to other honors for clinical excellence. St. Luke's is a multi-year recipient of the Most Wired award recognizing the breadth of St. Luke's information technology applications such as electronic medical records, telehealth, online scheduling and pricing information. St. Luke's is also recognized as one of the state's lowest cost providers.