News
Take a Free Bike Ride Around Bethlehem
August 16, 2016
Take a Free Bike Ride Around Bethlehem
Bethlehem, PA (8/16/2016) --The City of Bethlehem recently celebrated the launch of its Bike Bethlehem free bike share program at the Bethlehem Area Public Library's main branch on Church Street. Mayor Robert Donchez was joined at the library by health director Kristen Wenrich, Dr. Stephen Olenchock of
St. Luke's University Health Network, Lisa Ronca of Cutters Bike Shop, and Bethlehem library director Josh Berk.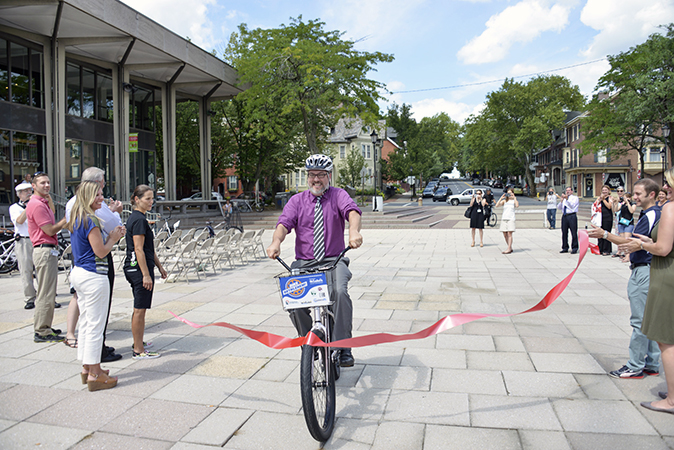 ---
Bethlehem library director Josh Berk takes inaugural bike ride for Bike Bethlehem's ride sharing program.
Starting this week, the Bethlehem Public Library at 11 W. Church St. will be one of two stations where residents and visitors can pick up a bike and ride around the city for free that day. The other station is at Cutters Bike Shop on the South Side.
Bike Bethlehem is starting out with 10 single-speed adult coasting bikes, six children's bikes and two bike trailers. The bicycles were donated by St. Luke's University Health Network and will be maintained by Cutters, 418 E. Third St.
Kenneth Szydlow
, Vice President of Marketing and Public Relations for St. Luke's University Health Network stated, "St. Luke's is proud to sponsor the Bike Bethlehem program. Bike riding lets you add a fitness activity into your day even when you are commuting for work or for other activities of everyday life and it provides an excellent cardiovascular benefit. Not only will individuals see their health improve, but the community as a whole will see better health outcomes as a result of this program."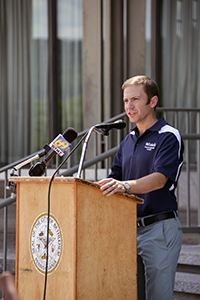 ---
Dr. Olenchock of St. Luke's University Health Network addresses the crowd during the press conference.

In order to rent a bike, you just need to provide a driver's license or a valid form of identification showing you are 18 or older along with a signed waiver. Parents or guardians can rent bikes for children.
You then get a bike equipped with a basket, helmet and lock to borrow for the day. Bikes must be returned to the same location on the same day 30 minutes before closing. Your ID will be scanned and held until you return the bike.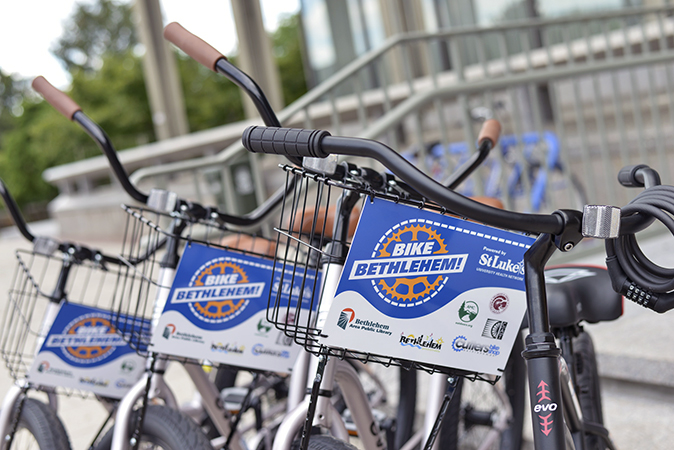 ---
Single speed coasting bicycles donated by St. Luke's University Health Network.

Visit
www.bikebethlehem.org
to take your free ride today!