News
St. Luke's VNA, Nazareth Student Leaders Partner to Gift PATH Families
December 22, 2016
St. Luke's VNA, Nazareth Student Leaders Partner to Gift PATH Families
Bethlehem, PA (12/22/2016) –
The Sophomore Community Leadership Council at Nazareth High School recently sponsored a gift drive for the
Parent Advocate in the Home (PATH)
program run by
St. Luke's University Health Network's Visiting Nurse Association
.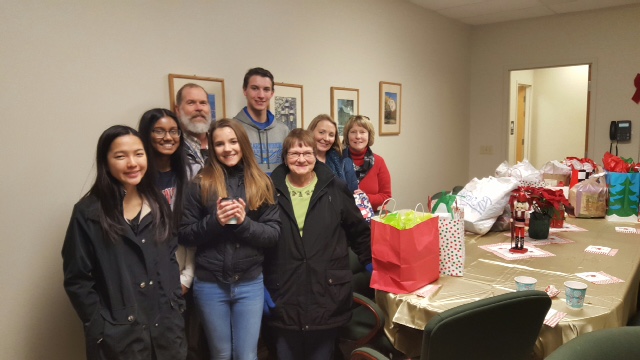 ---
Student leaders from Nazareth HS delivered gifts for St. Luke's VNA's PATH program families on Dec. 16.
It's the second year for the partnership, according to Kelly Berk, St. Luke's Network Director of Community Care Coordination.
"They reached out to us last year when they were looking for an organization to support. They adopted us. They are such a gift," Berk said.
The students set up a Christmas tree at school with tag ornaments that specified wish items the group wanted to collect for PATH. Generous donors fulfilled the wishes on the tags.
"Between the students and faculty, the group provided 70 gift cards to mothers, and toys, clothes, diapers, wipes and other gifts for 119 children," she said.
The students delivered the gifts to the St. Luke's VNA offices on Dec. 16.
About St. Luke's
Founded in 1872, St. Luke's University Health Network (SLUHN) is a non-profit, regional, fully integrated and nationally recognized network providing services at seven hospitals and more than 270 outpatient sites. The network's service area includes Lehigh, Northampton, Carbon, Schuylkill, Bucks, Montgomery, Berks and Monroe counties in Pennsylvania and in Warren County in New Jersey. Dedicated to advancing health education, St. Luke's operates the nation's oldest School of Nursing and 22 graduate medical educational programs and is considered a major teaching hospital, the only one in the region. In partnership with Temple University, St. Luke's created the region's first Medical School. Repeatedly, including 2016, St. Luke's has earned Truven's 100 Top Major Teaching Hospital designation as well as 50 Top Cardiovascular program in addition to other honors for clinical excellence. St. Luke's is a multi-year recipient of the Most Wired award recognizing the breadth of St. Luke's information technology applications such as electronic medical records, telehealth, online scheduling and pricing information. St. Luke's is also recognized as one of the state's lowest cost providers in comparison to major teaching hospitals and other health systems.