News
Older Adult Unit Observes Third Anniversary
February 18, 2016
Bethlehem, PA (2/18/2016)
– As
St. Luke's Older Adult Behavioral Health Unit
marks its third anniversary this month, it welcomes
Jillian Kleintop
, RN, BS, as its patient care manager.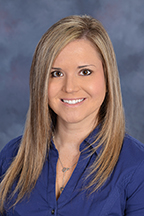 Jillian Kleintop, RN, BS
"We are pleased to add Jillian to our management staff," says
Cindi Reade
, MS, RN, St. Luke's University Health Network Director for Behavioral Health Inpatient Services. "Jillian joined us after graduating from St. Luke's School of Nursing at Moravian College. Over the years, she has advanced gaining valuable experience as a mental health technician, psychiatric nurse and nurse case manager of St. Luke's Behavioral Health Partial Hospital Program, Innovations. This experience gives her a better understanding of the needs of the staff, patients and their families."
Kleintop is eager to begin her new role. "I have a passion for caring for individuals suffering with mental illness," Kleintop says. "I am very pleased to have had the opportunity to grow in this organization and to be part of such a wonderful team." Located at
St. Luke's University Hospital – Bethlehem
, the unit provides specialized inpatient care that addresses the mental health needs of older adults.
Kleintop joins a staff of behavioral health care professionals with specialized training in caring for older adults. The team consists of physicians, nurses, mental health technicians, case managers and activity therapists. They understand that older adults with a mental illness often have symptoms and respond to treatment, including medication, in ways that are not seen in younger people. With this knowledge, the team designs treatment plans that are most effective in helping elderly patients manage their illnesses so they can remain as independent as possible.
"St. Luke's values older adults who have contributed so much to our community over their lifetimes,"
says
Virginia Wagner
, St. Luke's Network Administrator, Senior Care/Behavioral Health. "To better serve them, we develop services that meet their specialized health care needs."
Older adults often have medical conditions that can be quite complex. The Older Adult Unit staff is experienced in managing conditions frequently found among the elderly, such as heart disease, arthritis, dementia and respiratory illnesses. As part of a regional teaching hospital, they can also draw upon the expertise of medical experts in more than 90 specialties.
"We address both the medical and psychosocial aspects of treatment for the best individual outcome for older adults with long-standing or newly diagnosed mental illnesses," said
Farhad Sholevar, MD
, Medical Director of the Older Adult Behavioral Health Unit. "We carefully assess and closely monitor each patient within our supportive environment."
The unit comprises 15 single rooms for individual, group and activity therapies, and family visits. The unit's design lends itself to a peaceful, quiet and safe home-like setting. Meanwhile, the staff provides support for the families.
Services offered within the unit include:
Psychiatric evaluation and treatment
Medical evaluation and management
Medication management
Recreation therapy
Physical and Occupational therapy
Patient and family education
Nutrition consultation and education

Neurology consultation
Pharmacy consultation
Medical and surgical subspecialty consultation
Neuropsychology consultation
Individual and Group Therapy
Discharge/Aftercare planning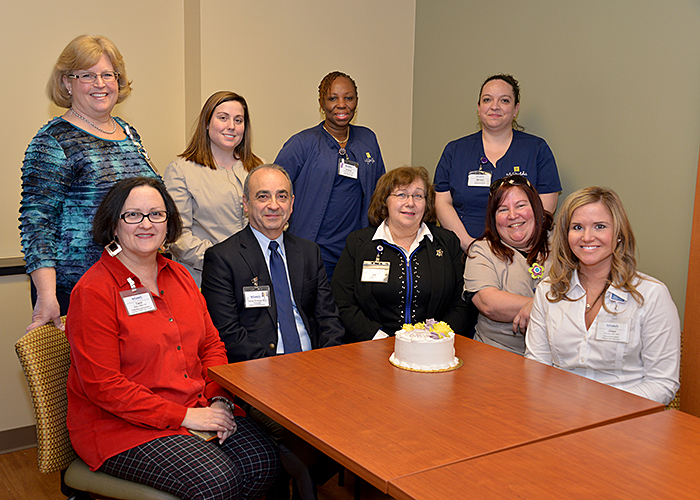 ---
Staff members celebrate the third anniversary of the Older Adult Behavioral Health Unit. They are joined by Carol Kuplen, President of St. Luke's University Hospital – Bethlehem Carol Kuplen, and Farhad Sholevar, MD, Medical Director. Pictured from top Left to right are: Terri Savacool, Megan Merrick, Andrea Grimshaw, Melissa Hawkey and bottom left to right Carol Kuplen, Dr. Sholevar, Terry Trittenbach, Kathleen Clemens, Jillian Kleintop.
Depression, Anxiety and Suicide in Older Americans – APA Statistics
As many as 20 percent of older adults in the community and up to 37 percent in primary care settings suffer from depression. Approximately 11 percent of older adults have anxiety disorders. (Administration On Aging, 2001)
Depression is a major risk factor for suicide. In 2006, 14.22 of every 100,000 people age 65 and over died by suicide, higher than the rate of 11.16 per 100,000 in the general population, with white men age 85 and over the most likely to commit suicide. (Centers for Disease Control & Prevention, 2006) Further in 2007 the National Center for Health Statistics reported that men 65 and older have a higher rate than any other age group and more than twice the national rate for all persons. (NCHS, 2007)
Some late life problems that can result in depression and anxiety include coping with physical health problems, the death of loved ones, relocation to a new living environment, caring for a spouse with dementia or other disabilities, and managing conflict with family members. (American Psychological Association APA, 2005)
Symptoms of depression and anxiety in older Americans are often overlooked and untreated because they can coincide with other late life problems. (APA, 2005)
Psychologists use psychological interventions, including various psychotherapies and supportive counseling, to help other adults deal with mental health disorders and late life stressors. These interventions have been shown to be effective either alone or in combination with psychiatric medications. (APA, 2005)
---
Media Contact:
Mariella B. Miller
Senior Director, Corporate Communications
St. Luke's University Health Network
484-526-4134
Mariella.Miller@sluhn.org
For more information about St. Luke's services or to find a physician, call St. Luke's InfoLink toll-free at
1-866-STLUKES (785-8537) Monday through Friday from 8:30 am to 4:30 pm or email us anytime at
Info.Link@sluhn.org
.