News
Deep Brain Stimulation Reduces Parkinson's Symptoms
April 28, 2016
Bethlehem, PA (04/28/2016)
– St. Luke's functional neurosurgeon
Steven Falowski, MD
, encourages patients to learn more about Deep Brain Stimulation (DBS) during April, National Parkinson's Disease Awareness Month.
Steven Falowski, MD
Nancy Diaz, MD
Deep Brain Stimulation (DBS) is a neurological surgical procedure that has been shown effective in reducing the symptoms of Parkinson's and other movement disorders. The first physician in the region to perform the procedure, Dr. Falowski, has since treated more than 100 patients with great results. Most of these patients have experienced considerable reduction of their motor symptoms and have been able to reduce their medications. Dr. Falowski continues to work with Medtronic, the company that developed the device, to improve it.
John Brolsma
, 74, of Hellertown, considers himself one of Dr. Falowski's success stories. A father of a teenaged son and a part-time sales accountant, Brolsma received the MRI compatible device in 2012. The U.S. Food and Drug Administration (FDA) approved full body scans for patients with the Medtronic DBS in December and St. Luke's has been one of the first hospitals in the nation to offer full-body MRI imaging to DBS patients.
"My wife and I adopted our son when he was four and I was 62," said Brolsma, who was diagnosed with essential tremor about 15 years ago. "We were getting ready to travel and do all the things you do when you're near retirement when it became apparent that this beautiful little boy needed us. We didn't expect it, but it's been wonderful. He's darn near perfect."
Even so, raising a teenager later in life is challenging. And for Brolsma, it became much more difficult a few years ago when the medications he took to manage his disorder grew less effective and his symptoms increased.
"I couldn't even write my own name or brush my teeth," he said. "When I ate, food went everywhere, including on the person I was eating with."
At the advice of his family doctor, Brolsma saw neurologist
Nancy Diaz, MD
, Medical Director of the St. Luke's Movement Disorder Center. Dr. Diaz suggested DBS, explaining that it had a 99 percent success rate in reducing movement-related symptoms of patients with essential tremor.
"I thought that was a pretty good percentage; I'll go for that," he said.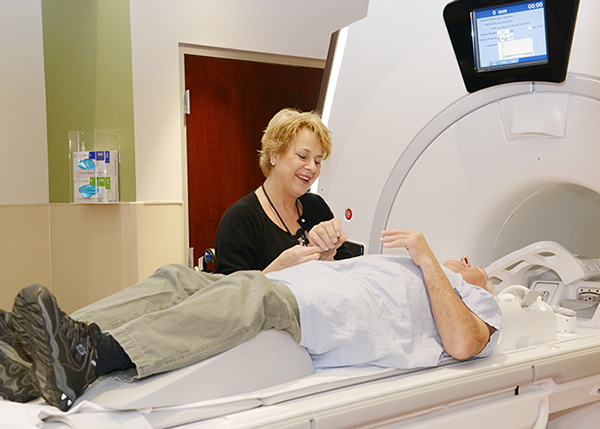 ---
Deep Brain Stimulation devices that allow patients to receive MRIs
have recently been made available
DBS therapy uses a surgically implanted medical device, similar to a cardiac pacemaker, to deliver electrical stimulation to precisely targeted areas of the brain to reduce some of the most disabling motor symptoms associated with movement disorders, including shaking, stiffness and movement difficulties. The stimulation can be programmed and adjusted by a clinician to maximize treatment benefits.
"As soon as the monitor was turned on it was immediate; the tremors stopped," he said. "It was quite a miracle."
Since then, however, Brolsma has developed a health condition unrelated to DBS. With the MRI compatible DBS he was able to have a series of tests to diagnose the situation.
Dr. Falowski has advocated for the need for MRI compatible DBS for many years and has published several journal articles supporting his position with data from national and international studies.
"Approximately seven of 10 DBS eligible patients with movement disorders may need an MRI within 10 years of receiving their device," Dr. Falowski says. "Sixty-two percent of all MRI examinations for DBS eligible patients with movement disorders are in regions of the body other than the head."
He is gratified that the Food and Drug Administration has approved the Medtronic device.
"It's extremely rewarding to see the impact DBS has on our patients lives," Dr. Falowski says. "For example, Mr. Brolsma is once again able to help his son improve his lacrosse skills. With the MRI compatible DBS, he also has access to MRI to help diagnose and treat any other conditions that may arise."
As for Brolsma, he's dreading the time when his son goes away for college, but thinks he might spend more time playing golf.
"Before DBS it took me about five minutes to place the ball on the tee," he jokes. "Now, the ball lands perfectly on the tee the first time."
About St. Luke's
St. Luke's University Health Network (SLUHN)
is a non-profit, regional, fully integrated, nationally recognized network providing services at six hospitals and more than 200 sites, primarily in Lehigh, Northampton, Carbon, Schuylkill, Bucks, Montgomery, Berks and Monroe counties in Pennsylvania and in Warren County, New Jersey.
---
Media Contact:
Mariella B. Miller
Senior Director, Corporate Communications
St. Luke's University Health Network
484-526-4134
Mariella.Miller@sluhn.org
Karen Boksan
Director, Network Marketing/Public Relations
St. Luke's University Health Network
484-526-3949
Karen.Boksan@sluhn.org
For more information about St. Luke's services or to find a physician, call St. Luke's InfoLink toll-free at
1-866-STLUKES (785-8537) Monday through Friday from 8:30 am to 4:30 pm or email us anytime at
Info.Link@sluhn.org
.