News
The Artistic Expression of the Journey's of Cancer Survivors Chronicled by Bethlehem Artist and St. Luke's Cancer Survivor Susan H. Schaffer
November 05, 2015
Bethlehem Township, PA (11/5/2015) – Chronicling the journeys of cancer survivors, friends and family has been an emotional process, one filled with joy and shared sorrow for Bethlehem artist and cancer survivor Susan H. Schaffer. As part of her Visions of Hope series of acrylic paintings, Susan offers insight into the windows of the soul - her collection captures the eyes of the people willing to share their respective cancer journeys with her.
"Each one of the participants spoke from the depths of their souls and spoke volumes of their extraordinary journey," Susan said. Her inspiration to paint comes from her own battle with breast cancer more than10 years ago; the inspiration for this exhibit came from cancer patients who were willing to share their cancer journey with her.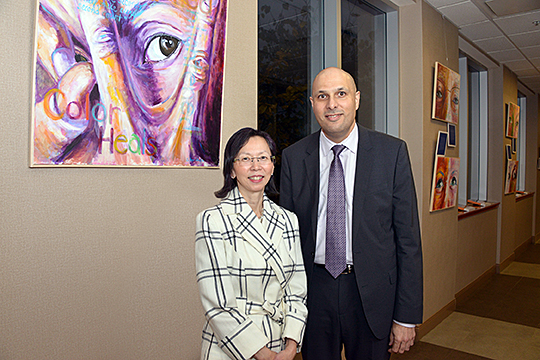 Local artist Susan H. Schaffer stands next to her self-portrait with her physician Darius C. DeSai, MD, Section Chief of Surgical Oncology and Medical Director of the Family Cancer Risk Evaluation Program, St. Luke's University Health Network. The Visions of Hope exhibit is free and open to the public
"I was honored and humbled by each of the journeys shared with me. There were tears, there was some laughter, but most of all, there was camaraderie of knowing the experience of going through a cancer journey," says Susan. What Susan found during her interviews was that the word 'hope' was a common thread among the participants. The physical and mental battles associated with cancer are fought with the spirit of hope. "At times," says Susan, "hope is the only word cancer patients have to lean on."
She continued, "Each one of the participants state they are grateful, stronger, resilient and a little wiser and know the reverence for life. Cancer does not define us, but rather, cancer changes us. You pick up the pieces, and you try to find the reason for it all."
Rose was diagnosed with colon cancer in 2010 when her youngest child was a year old. Blood in her stool and severe fatigue caused her to see her primary care doctor, who sent her for a colonoscopy. She had a stage 3B colon cancer that was blocking her intestines. After the cancer was surgically removed, she underwent several rounds of chemotherapy and radiation treatment, and she was sure she was cancer-free. The wind was knocked out of her when she was told the cancer had spread to her lungs. In January 2014, she completed her maintenance chemotherapy and in June of 2014, her body showed no evidence of disease (NED). What remains, though, is the gift of a beautiful marriage that was strengthened to new heights and a desire to help others through the cancer journey.
While in nursing school, Laura had stomach issues – from stress, she thought. A colonoscopy proved otherwise – a stage 3A adenocarcinoma had invaded her colon, but she decided she was going to be around to watch her children grow up. She worked as a nurse through her treatment, after surgery and during chemotherapy, pushing herself to keep her mind occupied. She found solace and comfort with spiritual leaders and found a new peace in pursuing and completing a master's degree in preventive health care. She is passionately checking off items on her bucket list with the motto: "No excuses, no regrets!"
The Visions of Hope exhibit is located at the St. Luke's Cancer Center - Anderson Campus, 1872 St. Luke's Boulevard, Easton, PA starting on November 6 and continuing through November 30. The exhibit is free and open to the public.
For more information about Susan, visit: www.seoul2soulartstudio.com
About St. Luke's Circle of Hope Society Make a direct impact on patients and family members during their cancer journey by joining St. Luke's Circle of Hope Society. Your donation will help to provide the care, treatment, support and resources St. Luke's cancer patients need to live life to the fullest. Please call St. Luke's Development Department at 484-526-3067 or visit www.sluhn.org to make a gift online.
---
Photo Caption: Local cancer survivor Laura Ranella stands next to her portrait, part of the Visions of Hope exhibit to honor the journeys of cancer patients, painted by artist Susan H. Schaffer of Bethlehem.
---
Media Contact:
Denise E. Rader
Director, Network Media Relations
St. Luke's University Health Network
484-526-4104
Denise.Rader@sluhn.org
For more information about St. Luke's services or to find a physician, call St. Luke's InfoLink toll-free at 1-866-STLUKES (785-8537) Monday through Friday from 8:30 am to 4:30 pm or email us anytime at Info.Link@sluhn.org.