News
New Physical Therapy Programs Look to Prevent Injury with 'Pre-hab' Instead of Post-injury Rehab
April 09, 2015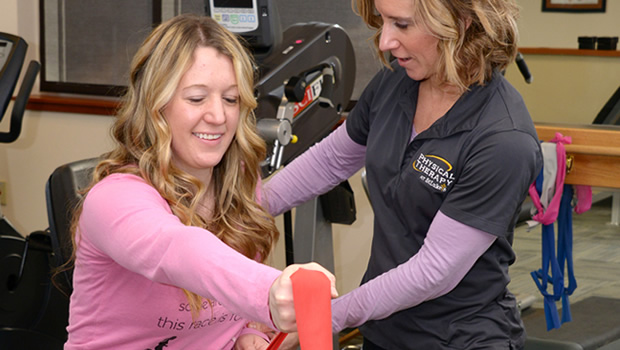 We get vaccines to avoid the flu and our teeth cleaned to prevent cavities – but would you see a physical therapist to curb the chance of future injury?
Physical therapy is often synonymous with post-injury care. However, Julie Spencer and the team at St. Luke's Physical Therapy are looking to change that with an injury prevention program. Therapists work on strengthening muscle groups to make sure movement is done correctly to avoid future injury.
"It's like a 'pre-hab' instead of a rehab," says Spencer, a physical therapist and doctor of physical therapy who has worked at St. Luke's Physical Therapy in Upper Saucon Township since 2005.
With sports teams becoming more competitive at a younger age, Spencer says she's noticed an increase in injuries in younger athletes. While anyone can take advantage of injury prevention programs, St. Luke's has a system in place specifically for women.
Female athletes who participate in jumping and pivoting sports are 2 to 10 times more likely than their male counterparts to suffer a knee ligament injury, like an ACL tear, according to the American Academy of Orthopaedic Surgeons. Spencer says one of the factors affecting this is a woman's shape. Typically, a woman's legs are wider at the hips and go in at the knee, which puts more pressure on the knees during running or jumping.
"Anytime you do these things, you automatically have more stress on your knees than a male would," Spencer says.
In addition, Spencer says monthly hormone changes can actually weaken the ligaments in a woman's lower back. The typically strong, tight ligaments become more lax, and therefore more prone to injury. When lower back injuries happen over and over again, the damage adds up.
"It's like spraining your ankle over and over and over, and pregnancy is that times 1,000," Spencer says. "That's what we're trying to tell girls: this is normal, but we can help you with it."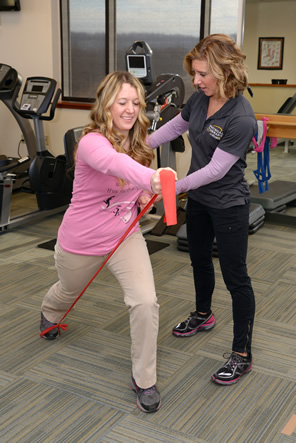 Julie Spencer, a St. Luke's Physical Therapist, likens the injury prevention program to a 'pre-hab.'
Maria McDonald, a 2013 Southern Lehigh High School graduate now in her sophomore year at Georgetown University, came to Spencer after suffering a lower back injury during her freshman season on the school's Division I field hockey team. Because the sport requires players to be hunched over during play, McDonald says strengthening her weak muscles and preventing further injury was imperative. She says Spencer helped her in "building this little armor around the injured point to relieve the pressure."
"She came up with these plans that kind of kicked my butt," says McDonald, 20. "I left PT sweating every day."
Spencer says the goal is to create proper "strategies" in different exercises to ensure a person isn't compensating for an area's muscle weakness with other muscles, creating further damage. Spencer says part of injury prevention is breaking some old habits.
"We're looking at how the systems work together, not just one body part separately," Spencer says.
Hunterdon Medical Center has a similar program called "Sportsmetrics," which was created by Cincinnati Sports Medicine. Andy Overman, a physical therapist at Hunterdon Medical Center, says the program was originally created after seeing an alarming rate of women suffering non-contact injuries. The program runs for six weeks, three times a week. Overman says the program is not just for athletes.
"In the past, we've had adults do it just for the sake of better body mechanics and strength," Overman says. Overman says that while strength and conditioning programs are popular, injury prevention programs should also be important.
"Disregarding all of those components of success on the field, if male or female athletes are injured, it doesn't matter how strong they are," Overman says.
McDonald says that learning the new techniques took some work, and that she still occasionally has to remind herself when she is exercising.
"Julie would laugh at me over the summer, because when I'm doing these exercises I had to put my hand over the muscle group I was supposed to be working," McDonald says. "It's so easy to fall back into old patterns. Now, it's becoming a little more second nature."
Spencer says that there are different ways to get started in the program. Patients can get a referral from their primary care or orthopaedic doctor to be screened, or they can utilize St. Luke's Direct Access program. Through Direct Access, patients can come in for a screening without a physician's referral.
Spencer says the screening is covered by most, but not all insurance. Spencer says she believes injury prevention is the direction physical therapy is going as a profession, and that it's wonderful to put the knowledge of how to prevent injury in the hands of the individual.
"Once you have that power, nobody can take that away," Spencer says.