News
Melanoma Clinical Trial Leads NJ Resident to St. Luke's
December 10, 2014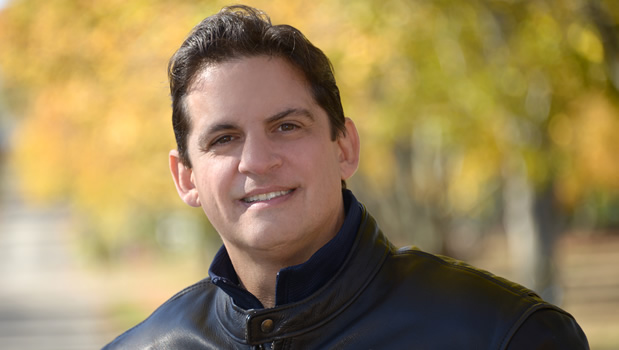 Infectious, Upbeat Attitude of Staff Helps Peter Ypsilantis Beat Cancer
Peter Ypsilantis was disheartened six years ago after meeting with a New Jersey-based oncologist. Recently diagnosed with stage III melanoma, the most serious type of skin cancer, Peter hoped the doctor would provide options to beat the disease. Instead, the physician proposed only one course of treatment, interferon, a type of immunotherapy treatment with variable results.
"She basically encouraged me to make appropriate plans for my family," says Peter, a father of three who was only 43 at the time. "I wasn't ready to be laid to rest yet."
So Peter, an engineer, set about attacking his predicament like he would any other problem: gain knowledge, identify possible solutions, consider their benefits and risks and commit to a course of action. He began by doing exactly what his physician had told him not to do. He went on-line. Researching melanoma treatment, he found that while some studies showed improved survival with interferon, others did not.
Inclined to forego the treatment, Peter sought a second opinion from the head of melanoma treatment at Sloan Kettering Cancer Center in New York City. The physician reviewed his case and agreed with Peter's New Jersey oncologist that interferon was the standard of care. But, he also advised him that several promising clinical trials were underway. He recommended that he see Sanjiv Agarwala, MD, of the St. Luke's Cancer Center, located about 45 minutes from Peter's Budd Lake home.
Dr. Agarwala enrolled Peter in a blind trial of a new immunotherapy drug, ipilimumab, which had shown good results in patients with more advanced melanoma, but was still experimental for patients in Peter's stage. Participation meant Peter had a 50 percent chance of receiving ipilimumab. Regardless of whether he did or not, he is now cancer free.
"To be honest, I don't care whether I received it or not," he says. "I'm here today." Also, Peter is sure that his treatment at St. Luke's helped him to both cope with and beat the disease.
"I believe that treating cancer patients is less of a science, but more of an art," he says. "You have to be comfortable with your doctor and your facility. When it comes to a choice of where to have treatment, it is not only a matter of the best clinical treatment from a renowned physician, but also the emotional support from the staff that makes all the difference in the world."
The upbeat demeanor of the St. Luke's Cancer Center staff was infectious, he says, recalling one of the nurses who worked with him. "When I was at my highest she was there, but when I was at my lowest she was there too." Likewise Dr. Agarwala was always encouraging and willing to take the time to address all of his concerns.
"Before I was diagnosed, I thought I had my entire life in front of me, but then everything changed in an instant," he says. "At that time, I was trying to grasp for anything positive. My faith, my family and St. Luke's gave me that. It wasn't the clinical trial alone but also the attitudes of the staff – their smiles, their positive words, the bounce in their steps when they approach and the way they treat you like an individual."
St. Luke's was a lifesaver for a man who years ago never would have dreamed he would get skin cancer. Olive-skinned and of Greek descent, Peter now suspects years in the sun – playing sports, vacationing in Greece and the Jersey shore, and serving in the military during Dessert Storm – had taken its toll.
The first signs began about 15 years ago. He was hunched over a bowl of cereal when his visiting mother noticed a mole on the back of his arm. He had it removed but years later saw a pinprick of a new mole where it had been removed. He saw a physician who told him to keep an eye on it. A couple of years later he noticed a lump under his armpit. It was removed, but the pathology report confirmed that he had melanoma.
That was six years ago. Although having cancer has robbed him of the feeling of invincibility, it has given him an appreciation of all the positive aspects of his life, especially his wife of 27 years and their three children.
And he is zealous about reminding them to protect their skin, especially his teenaged daughter. "All I have to do is give her a look and mutter, sunscreen," he says.
Dutifully, the blue-eyed, fair-haired beauty applies lotion without any grumblings, sighs or eye rolls, he adds. She understands that her father wants to spare her from the disease.
"My children can't hear it enough," he says, making no apologies.