Value for Your Clients

St. Luke's has been honored with more than 120 health care quality awards.
Driven by comprehensive population health analytics capabilities, St. Luke's leverages patient data to improve quality, reduce cost, and support the health and well-being of our community. We are your partner in value.
St. Luke's has been named one of the IBM Watson Health™ 100 Top Hospitals, widely regarded as one of the highest honors in the health care industry. The network has also been honored by U.S. News & World Report in its annual listings of America's Best Hospitals and Hospital Top Performance.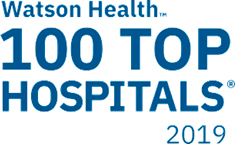 IBM Watson 100 Top (Major Teaching Hospitals) Award St. Luke's University Hospital
The award-winning hospitals demonstrate top performance on patients care, through clinical measures, and how efficiently the hospital performs, through operational measures. This award identifies the nation's best providers for inpatient hospital care selected from more than 5,500 US hospitals. The 100 Top Hospitals achieve the following:
Significantly higher survival
Fewer complications
Lower hospital readmissions
Lower hospital length of stay
Greater patient satisfaction
Lower cost of care
St. Luke's is a 7-time recipient of this prestigious award, and has received this award five years in a row.
St. Luke's was also named one of the 15 Top Major Teaching Hospitals in the nation.
St. Luke's is the ONLY hospital in the region to win this award. The only one. In fact, no other hospital in the region has EVER been recognized by Watson Health.
IBM Watson Health™, formerly Truven Health Analytics®, is a multinational Health Care company that delivers unbiased information, analytic tools, benchmarks, research and services to the health care industry.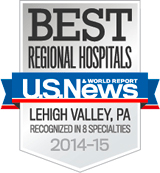 U.S. News & World Report Best Hospitals Study
St. Luke's has been named as High Performer in Diabetes & Endocrinology, Gastroenterology & GI Surgery, Geriatrics, Nephrology, Neurology & Neurosurgery, Orthopedics, Pulmonary and Urology. U.S. News evaluates hospitals in the following:
Inpatient volume, use of key technologies, survival, physician reputation score, patient safety, nurse staffing.
The goal of the U.S. News & World Report Best Hospitals Study is to determine which hospitals provide the best care for the sickest patients with the most complicated medical conditions and surgical procedures.

Leapfrog Hospital Safety Score
The Leapfrog group is a national coalition of large employers, which publishes a biannual Hospital Safety Score. St. Luke's has been the recipient of "A" ratings from Leapfrog. The safety score rates hospitals in the use of electronic medical record, ICU physician staffing, medication safety, infections and error prevention.
What does St. Luke's Care Network mean for your clients?
Our patients get out of the hospital sooner.
Our patients have fewer complications.
Your clients spend less on health care.
Better coordination of care means better quality, better outcomes, and better affordability.
Network focus on maintaining wellness, closing gaps in care, and chronic care management.
If specialists, therapists and others are needed, the care team coordinates them as necessary to create a Medical Neighborhood.
Quality. Efficiency. Experience.
Quicklinks