Emergency Medicine Bethlehem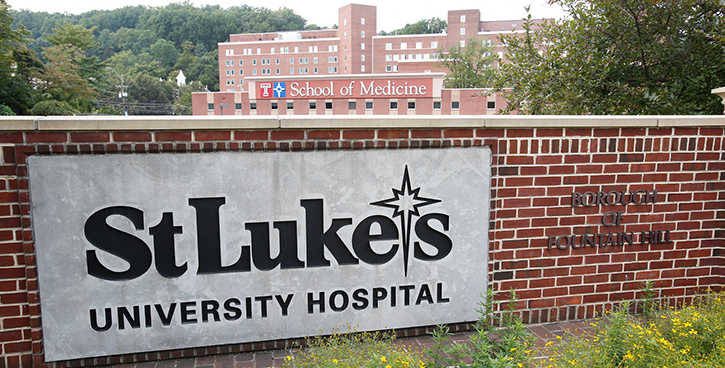 St. Luke's Bethlehem Emergency Medicine Level 1 Trauma Center
The three-year ACGME-approved Emergency Medicine Residency Program at St. Luke's accepts 12 residents per year. Our goal is to provide a comprehensive, academically-rigorous curriculum at a Level 1 Trauma, Tertiary Care Medical Center. The program exposes residents to a broad spectrum of pathology providing them with experience in managing the breadth of conditions seen in emergency medicine. Our goal is to provide the community with compassionate, innovative, and outstanding patient centered care. Our service area, the Allentown, Bethlehem, Easton region, is the third largest metropolitan area in Pennsylvania yet is surrounded by smaller communities. Our residents therefore have the opportunity to care for patients from urban, suburban, and rural settings.
Learn about St. Luke's Emergency Medicine Program.
Some of the unique aspects of St. Luke's and our program include:
St. Luke's is the largest healthcare provider in our region, employing over 18,000. The network includes 12 hospitals in PA and NJ as well as over 200 care sites.
St. Luke's Bethlehem campus has been recognized as one of the top 100 hospitals in the US, one of only 15 major teaching hospitals on that list.
Given their extensive training and experience, beginning in their 2nd year our residents respond to Rapid Responses and Code Blues in our hospital with the responsibility of airway management should intervention be necessary.
Our residents have extensive training in caring for the very sickest of patients, working with EM Intensivists, trained in EM and Critical Care, in the ED and having 6 months of dedicated Critical Care experience.
Residents rotate in two of our network EDs, Bethlehem and Allentown, with a combined annual volume of over 100,000 patients, and have the opportunity to work in some of the other 9 EDs in our network.
Holly Stankewicz, DO
Program Director
"Our well-established emergency medicine residency has trained many excellent physicians who have gone on to do fellowships, work in community emergency departments, academic centers and almost everything in between. They have been trained by innovative faculty in a level one trauma center that sees a wide variety of patients making them very competent, compassionate, physicians who are ready to handle any emergency. The greatest asset of our program is the people. There is a true sense of community in our busy department which creates an environment that both supports and challenges our residents. We would love to meet you and tell you more about our program and hope you will consider joining our residency family."

– Holly Stankewicz, DO
There is an array of fellowship opportunities available at St. Luke's.
The fellowships are designed and tailored to successfully further fellows' careers and broaden their clinical opportunities. Fellowships include critical care, EMS, pain medicine, sports medicine, palliative care and more. Our fellowships are led by passionate physicians and educators who successfully recruit and train fellows to become leaders and educators in their chosen fields.
Fellowship Opportunities
Graduates of the Emergency Medicine Residency Program can take advantage of these fellowships: