Why Choose Us

St. Luke's University Health Network sponsors 48 graduate medical education programs that are accredited by Accreditation Council for Graduate Medical Education, American Osteopathic Association, Commission on Dental Accreditation, Council on Podiatric Medical Education, American Society of Health-System Pharmacists, and American Board of Physical Therapy Residency and Fellowship. According to external benchmarks, St. Luke's provides a better training and learning environment than most other teaching hospitals nationally. Over 95% of resident and fellow graduates pass their board exams on the first take. Approximately 33% of St. Luke's physician vacancies are filled by resident and fellow graduates each year, as our Network continues to expand and grow.
St. Luke's Graduate Medical Education
Vision Statement
In comparison to benchmarks, St. Luke's Graduate Medical Education enterprise will be the PREMIER residency and fellowship education site in the nation, provide an EXCEPTIONAL learning environment for residents and faculty, and be recognized as one of THE BEST education sites for preparing and retaining physicians.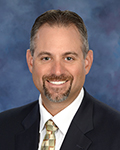 "St. Luke's is dedicated to quality medical education training in a compassionate, patient-centered, and technologically sophisticated, teaching environment. More than 470 fellows, residents and interns train at St. Luke's annually. You will find our institution with its friendly culture and dedication to your education to be an exciting and challenging place for you to develop as a physician."
James P. Orlando, Ed.D
Chief Graduate Medical Education Officer
ACGME Designated Institutional Official