Where You Train Matters

We know that choosing a post-graduate residency or fellowship is important decision that will impact not just the next few years, but the rest of your live. The training you receive and the relationships you build are the foundation for your career trajectory.
"Physicians who train at institutions with better, more patient-centered and efficient care will be better prepared to lead the transformation of health care when they are in practice."
Looking for more research? Check this study from JAMA:
Evaluating Obstetrical Residency Programs Using Patient Outcomes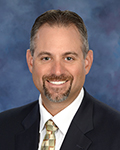 "If you want to be a top 100 doctor, train at a top 100 hospital."
James P. Orlando, Ed.D
Chief Graduate Medical Education Officer
ACGME Designated Institutional Official
St. Luke's commitment to patient-centered care, education and innovation stands in no one's shadow. A member of the AAMC Council of Teaching Hospitals, St. Luke's has long been recognized as a leader in medical education and has received IBM Watson's 100 Top Hospitals Award five years in a row.
The significance of this award, in particular, is that it objectively measures quantitative data of more than 5,500 hospitals nationwide in the areas of patient satisfaction, cost of care, survival rate, complication/readmission rates and LOS. St. Luke's is one of only 15 Major Teaching Hospitals in the Nation to receive this distinction. Read more.