Faculty

Robert C. Langan, MD, FAAFP
Program Director, Family Medicine Residency
Dr. Langan was named the Family Medicine Residency Program Director at the Sacred Heart Campus in April 2018 after serving as the Program Director at the Bethlehem Campus for 12 years. A graduate of the Albany Medical College in New York, he completed his family medicine training at Naval Hospital Pensacola, Florida. He served an additional four years in the U.S. Navy, including three years as Department Head of Family Medicine and Pediatrics at Naval Hospital Cherry Point, NC. He joined the faculty of St. Luke's in October 2003 and completed a National Institute of Program Directors Development fellowship in 2009. Dr. Langan has published over 20 papers, and lectured regionally, nationally, and internationally. In 2015, he was named the Exemplary Teacher of the Year by the Pennsylvania Academy of Family Physicians. Dr. Langan and his wife have seven children.
Rehab Tabchi, DO
Associate Program Director, Family Medicine Residency & Office Medical Director
A native of Allentown, Dr. Tabchi attended Dickinson College and went on to attain her Doctor of Osteopathic Medicine from Philadelphia College of Osteopathic Medicine. She completed the Sacred Heart Family Medicine Residency Program where she was the Chief Resident of the program. Her previous experience includes working for Geisinger Health System for five years before joining Sacred Heart Hospital. She is an active member of the American Osteopathic Association, the Pennsylvania Osteopathic Medical Association, the American College of Osteopathic Family Physicians and the Pennsylvania Osteopathic Family Physician Society. She was instrumental in obtaining Patient Centered Medical Home status for the residency practice.
Loretta Witczak Keil, MD
Faculty, Family Medicine Residency
Dr. Keil has been involved in residency education at Sacred Heart since 1984. A native of Allentown and a graduate of the Lehigh University-Medical College of Pennsylvania six-year B.A.-M.D. program, she completed her internal medicine training at the Lehigh Valley Hospital. Throughout her career, she has served as Inpatient Director of the residency, Vice President for Medical Affairs, and Director of the Medical Clinic. She now functions as outpatient faculty for the residency. She has been voted Attending of the Year and is a four-time winner of the Preceptor of the Year Award. Dr. Keil and her husband have two daughters.
Manuel Puente, MD
Faculty, Family Medicine & Clerkship Director
Dr. Puente is originally from the Dominican Republic, but grew up in south Florida. He returned to the Dominican Republic to study medicine at the Universidad Iberoamericana (Unibe), graduating with honors. He completed his Family Medicine Residency at St. Luke's Sacred Heart Campus, serving as chief resident from 2018 – 2019. He is fluent in Spanish and cherishes the connections he has built with the Latino community in downtown Allentown. Dr. Puente has previous teaching experience as professor of anatomy and physiology at Broward College and volunteering with the Red Cross as a First Aid/CPR instructor. A lifelong athlete, former personal trainer, and avid practitioner of Brazilian Jiu jitsu, Dr. Puente enjoys staying active and employs these experiences in his approach to treating and preventing chronic disease.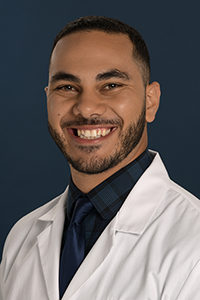 Daniel H. Sawares, MD
Faculty, Family Medicine Residency
Dr. Sawares was born in Alexandria, Egypt, and raised in Allentown, PA. He earned his Bachelor of Science in Biology, at Pennsylvania State University. He then graduated from The American University of the Caribbean School of Medicine with honors. Throughout his time in medical school he developed a passion in community outreach as well as research. He worked with Sint Maarten's Ministry of health to conduct research as well as reducing the local burden of Chikungunya and Dengue during the outbreak. He completed his Family Medicine training at St. Luke's University Health Network / Sacred Heart Campus, serving his final year as Chief Resident. During his residency, he initiated the Sacred Heart Naloxone Accessibility Program to battle the opioid epidemic, he continued to be involved with research, as well as immersing himself in the community. He is Fluent in Arabic and is actively learning Spanish from his patients. A lifelong martial artist in Sogobujutsu, he enjoys keeping active and putting into practice the concept of Kaizen - Constant Improvement.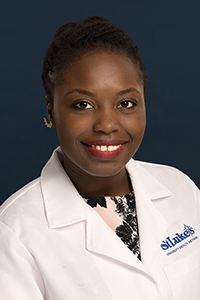 Mame Saye Cisse, MD
Faculty, Family Medicine Residency
Dr Cisse is a native of Senegal, West Africa. She later, relocated in the South Bronx of New York City before attending St George's university for medical school. Dr Cisse is a graduate of St Luke's Sacred Heart Family Medicine residency where she completed the academic track.

Dr Cisse has an especial interest in Breastfeeding medicine, Women health, Community medicine and resident's well-being.

She has always had a passion for global health. She is the founder of a non-profit organization "Global Donation" that focuses on aiding underserved rural hospitals in developing countries. With this organization, she has travelled to several countries for humanitarian work.

Dr Cisse is a wife, and a mother who enjoys spending time with her family and loved ones. She enjoys traveling, cooking, learning about new cultures and helping others.