Letter from the Chiefs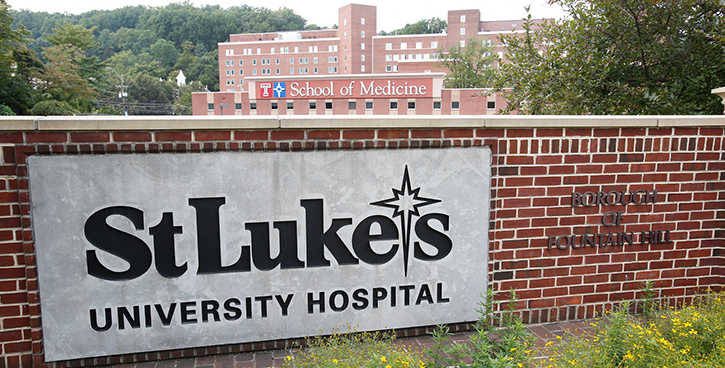 Hello, all!
Welcome to the St. Luke's Bethlehem Emergency Medicine Residency website. We are so excited that your search has brought you here! We know that choosing a residency can be stressful, so we want to help make the decision a little easier for you. We are extremely proud of our program and want to share with you some of the reasons why we love it here.
The people: We know you've probably heard this many times at this point, but we actually mean it. We are a close-knit group of residents that truly support one another throughout residency and become lifelong friends. Our attending relationships are the same! We are lucky to have faculty that are invested in the success of the program and its residents. We frequently socialize with attendings outside of the hospital, and they welcome us into their homes quite regularly for different events. Residency is hard no matter where you are, but so much more enjoyable when you have a great group of people like we do. Below are just a few of the pictures of us spending time together as a residency. Please feel free to follow us on Instagram for a closer look at our SLB family: @stlukes_emresidency_bethlehem.
The training: We know our program graduates exceptional EM physicians. The St. Luke's Emergency Medicine Residency has been a constant in the Lehigh Valley since 1994, and our graduates have gone across the country to work in urban, suburban, and rural centers. Our training environment is rather unique. We are an academic institution with a community feel. St. Luke's is one of the largest healthcare networks in Pennsylvania and that provides access to a variety of pathologies and critically ill patients requiring our care. Approximately 20-25% of the patients we see each year are critically ill. Our program has a strong emphasis on:


Critical care: Most of our off-service rotations are critical care based and Bethlehem is the network Level 1 trauma center. By the end of residency, you will have rotated in MICU x2-3, Neuro ICU x1, SICU x2-3, PICU 1, and Trauma x2. A highlight while on these rotations is that some of the core faculty in critical care graduated from our EM residency and their knowledge/skills across both fields of medicine adds to our global understanding of caring for a critical patient.
Ultrasound: We have 6 US machines in our ED, including 3 handheld units. Ultrasound is a large component of our training, and we use it daily. All US performed are reviewed by core faculty and logged for required credentialing, so that by the end of residency we are ultrasound certified.
Airway management: At Bethlehem, there is no Anesthesia residency. In addition to all ED and trauma bay airways, senior residents (2nd and 3rd years) have the added responsibility of responding to all rapid responses and code blues in the hospital. If a patient on the floor needs a critical airway, we are the ones that will be doing it at bedside.
Pediatrics: One of the perks of our program is that we do not have a designated rotation in ED pediatrics. We care for pediatric patients on every shift in the department. We feel that this gives us more than adequate exposure to pediatric illness across all seasons, as different illnesses are more prevalent at certain times of the year.
Trauma: St. Luke's Bethlehem is the networks' Adult Level 1 Trauma Center. The most critical patients across the network come to us for care and this aspect affords incredible training opportunities during residency. We have an incredible relationship with our trauma surgeons and work with them each year of residency while on our critical care rotations.

Emphasis on Wellness: Our wellness committee plans regular gatherings for residents and attendings which promotes the already collegial relationship amongst the residency. Past gatherings have included trips to Dave & Busters, rafting down the Delaware River, annual "boys" and "girls" trips – few days at the Jersey shore, renting cabins in the woods, weekends in Atlantic City, and many more.
The area: The Lehigh Valley is a fantastic and affordable place to live during your residency. We have great restaurants, bars, breweries, wineries, concerts and many more. Bethlehem is a historic town and there are many interesting places to explore. There is access to many hiking/biking trails, winter sports, and much more! We are also only about 60-90 minutes away from NYC and Philly which makes it great if you want to take a day trip or go even after a shift. Lehigh Valley is known to be a nice place to raise a family, with great schools and many family-friendly activities.
We believe it's our unique location, focus on resident wellness, and our extensive critical care experience, combined with our amazing faculty that makes St. Luke's Bethlehem a great place to train! We are so excited for all of you as you begin the next step of your careers. We look forward to meeting you in person and we hope you fall in love with this place as quickly as we did on our interview day! Please do not hesitate to contact us at any time if you have any questions! Please take advantage of the info on our website as well as our Instagram to get to know our family. We hope that we will be the right fit for you!
Sincerely,
Garrett Jordan
Administrative Chief
Daniel Greco
Scheduling Chief
Annette Palladino
Education Chief