Key Faculty

Brian Hanrahan, MD
Clinical Neurophysiology Fellowship Director and Assistant Neurology Residency Program Director
Brian Hanrahan, MD is board-certified in Neurology, Clinical Neurophysiology and Epilepsy. His practice is predominantly dedicated to patients with seizures and epilepsy. He completed his medical education at State University of New York at Upstate in Syracuse, New York and a neurology residency at University of Pittsburgh Medical Center in Pittsburgh, Pennsylvania. He then completed Clinical Neurophysiology and Epilepsy fellowships at Vanderbilt University Medical Center and Rochester University Medical center, respectively.
Dr. Hanrahan is dedicated to Clinical Neurophysiology education and best practices in patient care. He received the 2022 American Academy of Neurology's A.B. Baker Teach Recognition Award for resident education. He has worked with the ACGME to update developmental milestones for the Clinical Neurophysiology Fellowship. His research focuses on medical education, quality improvement and the diagnosis of paroxysmal disorders (seizure, PNES, syncope, etc.). These interests have led to several peer reviewed manuscripts, abstracts, book chapters, podcast guest appearances and the development of an online neurology education website called Nowyouknow Neuro (www.nowyouknowneuro.com).
Dr. Hanrahan is an active member of the American Academic of Neurology and its Clinical Neurophysiology Section. He also is an active member of the American Clinical Neurophysiology Society (ACNS) and American Epilepsy Society (AES). Hobbies that Dr. Hanrahan partakes in include fishing and hiking in the Lehigh Valley as well as exploring America's National Parks system.
Divisha Raheja, MD
Clinical Neurophysiology Assistant Fellowship Director and Neurology Clerkship Director
Divisha Raheja is a board certified in Neurology and Clinical Neurophysiology with predominant training in EMG and neuromuscular medicine. She completed her medical school in India before pursuing an internship at York University. She then completed her Neurology residency at Drexel University College of Medicine and Clinical Neurophysiology fellowship at Penn State Hershey Medical Center.
After working at Penn State Hershey Medical Center for 5 years then at West Virginia University for one year, Dr. Raheja joined the St. Luke's University Health Network. The focus of her practice is patients with neuromuscular disorders, such as muscle diseases, muscular dystrophies, neuropathies, and myasthenia gravis. She has a special interest in patients with amyotrophic lateral sclerosis and has several publications related to the disorder.
Dr. Raheja believes in a team approach to patient care and works with a great multidisciplinary team including physical and occupational therapists, psychologists, social workers, neurosurgeons, ophthalmologists and genetic counselors. She strongly believes in communication at each step of a patient's workup, treatment, and management. In addition to her clinical work, she is active in the Neurology residency and is the Director of the Neurology Clerkship for the medical school.
Outside of work, Dr. Raheja likes to travel and spend time with her husband and two sons.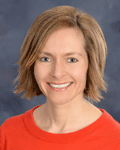 Jill Stoltzfus, PhD
Jill Stoltzfus, PhD, is an Assistant Professor and Director of the Research Institute at St. Luke's University Health Network Temple University School of Medicine. Dr. Stoltzfus has published extensively on disorders and variables that impact health outcomes and medical practices. Dr. Stoltzfus is dedicated to providing fellows, residents and faculty with expertise to increase scholarly activity at St. Luke's University Health Network.