Blog
Network Acquires AI-Powered CT Technology Developed by GE HealthCare
May 25, 2023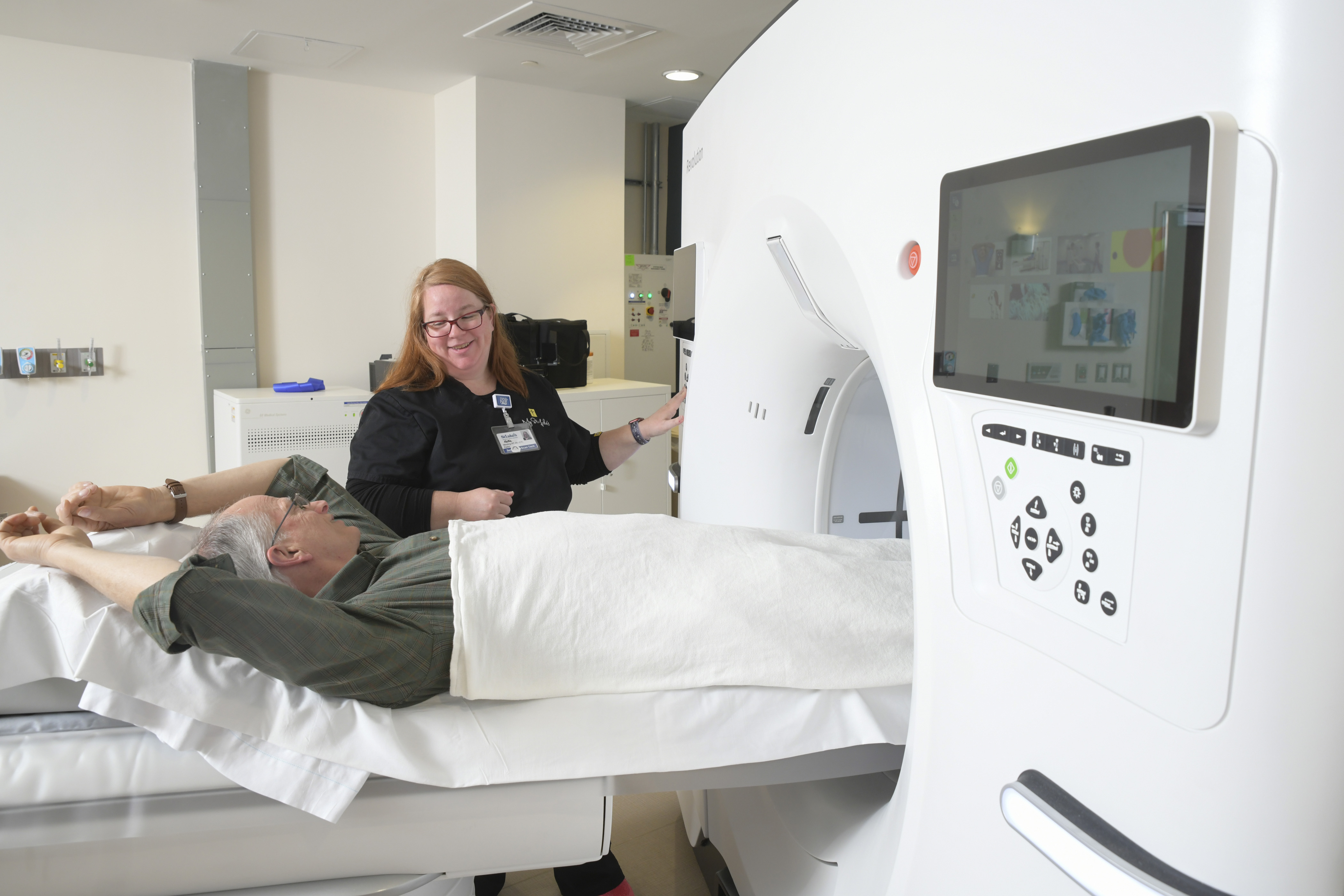 Catherine Mealing, senior CT technologist, prepares a patient for his CT scan at St. Luke's Upper Bucks Campus.
The $30 million investment in medical imaging is one of the most significant of its kind in St. Luke's history.
St. Luke's University Health Network recently announced a $30 million investment in CT technology from GE HealthCare that will give St. Luke's patients access to some of the most sophisticated, cutting-edge technology on the market, no matter where they access their St. Luke's care.

This approach taken by GE HealthCare and St. Luke's will help provide St. Luke's with access to the latest CT technology, helping to extend the life of these devices and helping ensure a more consistent experience for patients no matter where they go for their St. Luke's care. Additionally, these scanners will have a comprehensive suite of clinical applications, as well as the latest in Artificial Intelligence (AI), in a platform that seamlessly connects and integrates with the existing St. Luke's network.
Patients now can have additional benefits during their CT exams including: faster scansi and sharper imagesii (when compared to previous CT systems), a potential reduction in radiation dose from advancements in technologyiii, the capacity to better detect lesions or tissue abnormalities and to map vascular structures, and the ability to capture fine detail in the head and neck, which is critical in stroke diagnosisiv. These scanners are also expected to be helpful within St. Luke's pediatric patient population, trauma cases, and especially in advanced cardiac exams by using GE HealthCare's SnapShot Freeze technology. That technology, combined with fast rotation speed and wide coverage provided by the GE HealthCare scanners, provides the ability to image the heart with any heart rate in just one beat, which reduces the motion artifacts significantly, thus decreasing the likelihood for additional scanning.
In effect, this new technology allows for a quicker, more informed and more accurate diagnosis, with less inconvenience to patients, according to Dr. David Furman, Medical Director of Computed Tomography, St. Luke's University Health Network. From an administrative perspective, the new GE HealthCare equipment provides a CT that evolves and has consistent capabilities across all sites within the St. Luke's network, with a single set of capabilities to learn, operate and read.
The process of bringing this cutting-edge technology to St. Luke's began about 18 months ago, according to Dr. Furman, who also serves as the Chief of Radiology at the St. Luke's Upper Bucks Campus, which will be the first location in the country to have this new equipment installed. In addition to a market need for CT cardiac imaging, the new St. Luke's Upper Bucks Campus had the building infrastructure already in place to physically support the new equipment, Dr. Furman said. The full deployment of the fleet of advanced CT scanners across the network is expected to be fully complete within four years.
The investment is strengthened by the inclusion of GE HealthCare's Smart Subscription, which will provide updates in software and Artificial Intelligence technology advances as they are available, helping to extend the life of the CT scanners, according to GE HealthCare's Tina Checchia, the St. Luke's-based expert in multiple GE CT systems and software.
The St. Luke's investment in this CT fleet "will only get better and better with this subscription package," Checchia said. "From the outset, this fleet of premiere CT scanners really can't compare with any other hospitals in the county. What St. Luke's will be able to offer patients with this new technology is incredible."
Dr. Robert Fournier, vice chair of Radiology and Medical Director of Nuclear Medicine for St. Luke's University Health Network, said that there is "a great deal of enthusiasm about what this technology can bring to our patients. It's a true network initiative that brings us up to global speed. And with this big leap in technology, St. Luke's is making sure that we continue to evolve and stay at the forefront of medical innovation and patient care."
In addition to the "huge opportunity this technology presents for us as a system," Dr. Fournier said, "it also provides a tremendous educational opportunity for our residency students. They'll have exposure to AI technology not commonly used today, which places them at the forefront of the technology as it evolves. There is a good deal of academic research being done in this area so there is that opportunity for them as well. They'll have first-hand experience in seeing how this technology improves patient care and outcomes."
The investment represents not only the most expansive for the St. Luke's network, but also for GE HealthCare.
"This is a massive project for both St. Luke's and GE HealthCare – one of the largest GE HealthCare ever embarked on with CT scanners in both the U.S. and Canada," said J Anders, Vice President for Computed Tomography at GE HealthCare. "Many others have made significant investments, but this type of holistic approach is extraordinary."
Traditionally, Anders said, the bulk of innovation came in the form of hardware, or the actual CT scan machines, which had to be replaced roughly every seven years. "Now that innovation is in the software, which moves much more quickly with this modality," he said. "And St. Luke's will have access to these capabilities as they evolve and further develop. Best of all, these capabilities will be available to St. Luke's patients -- no matter what facility or hospital they go to -- across the network. It really is a game-changer."
Added Dr. Furman: "I feel really fortunate to be part of a network that is so committed to improving patient care through an investment like this. This represents an incredible advance in our technological capabilities. It's a very exciting development."
+++
i 19.5msec effective temporal resolution is achieved by a 6x improvement of motion-blur reduction while maintaining high spatial resolution as demonstrated in cardiac phantom testing. The reduction in motion artifacts at speed of .23s/rotation is comparable to a 0.039 equivalent gantry rotation speed with effective temporal resolution of 19.5 msec, as demonstrated in mechanical and mathematical phantom testing.
ii As demonstrated in a clinical evolution consisting of 60 cases and 9 physicians, where each case was reconstructed with both DLIR and ASiR-V and evaluated by 3 of the physicians. In 100% of the reads, DLIR's image sharpness was rated the same as or better than ASiR-V's. In 91% of the reads, DLIR's noise texture was rated better than ASiR-V's. This rating was based on each individual reader's preference.
iii In clinical practice, the use of ASiR may reduce CT patient dose depending on the clinical task, patient size, anatomical location and clinical practice. A consultation with a radiologist and a physicist should be made to determine the appropriate dose to obtain diagnostic image quality for the particular clinical task.
iv Thibault et al. "TrueFidelity™ for Gemstone™ Spectral Imaging: A new generation of spectral imaging powered by deep learning." GE HealthCare. May 2022.