Location & Campus Facilities

Location
St. Luke's School of Nursing is located in the Trexler Building at St. Luke's University Health Network – Bethlehem, 801 Ostrum Street, Bethlehem, PA 18015
Mailing address:
St. Luke's School of Nursing
801 Ostrum Street
Bethlehem, PA 18015
For GPS/mapping to the School of Nursing's Trexler Building, please use 915 Ostrum Street, Bethlehem, PA 18015
---
Campus Facilities
The School of Nursing is located on the St. Luke's University Hospital Bethlehem campus. The Hospital is located adjacent to the City of Bethlehem, part of the tri-city area known as the Lehigh Valley. Bethlehem is noted for its historical and cultural background.
Trexler Building
The Trexler Building is the student residence (see Student Housing) and houses administrative offices for faculty, Admissions, Student Services, professional staff and professional student organizations. The Trexler Building also includes classrooms, computer learning center, student and faculty lounges and conference rooms.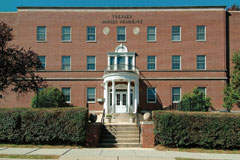 The Priscilla Payne Hurd Education Center
The Priscilla Payne Hurd Education Center houses 10 classrooms, two lecture halls, the Clinical Learning Resources Center for 'hands on' simulation and clinical skills and a lounge. The classrooms and lecture halls are equipped with state-of-the-art electronics. Student nurses utilize SimMan® and SimBaby®, interactive technologically-advanced manikins, to practice clinical and decision-making skills during realistic patient care scenarios.
Library
The W. L. Estes Jr. Memorial Library at St. Luke's University Hospital – Bethlehem Campus is available to students at all times. The library's collection includes books, journals, pamphlets and audiovisual materials pertinent to the nursing and medical professions. Free inter-library loan service is available to students for materials not held by the library. Students have access to CINAHL (Cumulative Index to Nursing and Allied Health Literature) and Medline databases through Ebscohost.
All computers have Internet access, Microsoft Office software, access to literature databases and various instructional programs.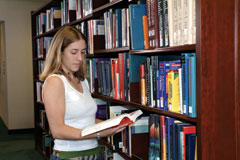 The Computer Learning Center
The Computer Learning Center is located in the Trexler Building and was made possible by funding from the Auxiliary of St. Luke's University Hospital. It offers electronic instruction and testing in support of the educational mission of St. Luke's School of Nursing. Computerized and online learning programs are incorporated into the curriculum, providing students with an opportunity for additional self-paced instruction and to prepare required projects and presentations.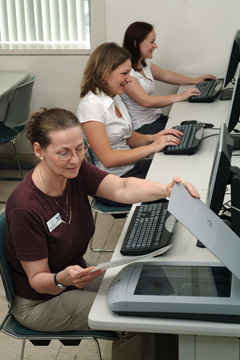 The Computer Laboratory is currently equipped with state-of-the-art desktop computers, which have:
High-speed Internet access
E-mail
Microsoft Office software
Software for training in computerized patient charting
The computer laboratory resources include network printing, scanning and CD recording capabilities. Students and faculty have access to the computer laboratory 24-hours-a-day, seven-days-a-week.
Student Housing
On-campus housing is available for both female and male students. Private rooms are available on a limited basis. Each floor is equipped with a limited kitchen, dining area and lounge. The kitchens are equipped with microwave ovens and refrigerators. A television with VCR and/or DVD player is also available on each floor. Computers are located in the second floor lounge for use by all students residing in the dormitory.
Security is provided through a card access system, which is monitored by the St. Luke's Hospital Security Department. Card access is available through the main and rear entrances of the building.