St. Luke's Employees
Become A Nurse Tuition Free at St. Luke's School of Nursing
Beginning August 2022, eligible St. Luke's employees will have all tuition and most fees covered upfront!
We are making it even easier for you to follow your dreams and become a nurse. Rather than traditional tuition reimbursement, where you pay out-of-pocket and wait to be reimbursed; we are now offering tuition coverage upfront to eligible employees. This represents a $26,000 value! While a student at St. Luke's School of Nursing, you will receive a laptop free of charge to use for coursework.
Additionally, if you have prerequisites to complete, we proudly partner with Northampton Community College (NCC) to cover the cost of prerequisite classes for our employees up front. Employees must still apply for the St. Luke's School of Nursing program, follow application requirements, and be accepted. Additional fees apply.
Terms and Conditions of Tuition Coverage:
Must be a St. Luke's employee working 16 hours/week in a budgeted position
Must earn a passing grade of "C+" or better in each prerequisite
Students must apply to the St. Luke's School of Nursing and sign a two-year commitment to be employed by St. Luke's as a nurse
Coverage does not include cost of application or registration fee, entrance exams, uniforms, stethoscopes or books
Once all of your prerequisites are complete, contact son.admissions@sluhn.org
Upon successful completion of all 8 prerequisites, receive tuition reimbursement for the School of Nursing tuition if accepted (additional fees apply)
What are you waiting for? Become a nurse at the Nation's #1 Teaching Hospital!
For questions regarding the prerequisites, please contact son.admissions@sluhn.org
For questions regarding tuition reimbursement please contact networktuitionreimbursementteam@sluhn.org
For information regarding how to become a St. Luke's employee, please visit https://www.slhn.org/careers
Current St. Luke's employees, please visit MyNet for more information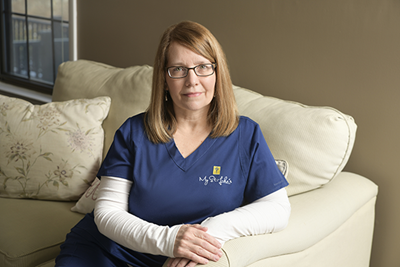 Nursing wasn't on my radar, but that changed when I witnessed nurses caring for my loved one with skill, compassion and kindness. They were the inspiration for my career change. From manufacturing to nursing. I am a proud graduate of St. Luke's School of Nursing. Today, I am a Clinical Supervisor in Orthopedics.

Erin McCartney, RN
St. Luke's School of Nursing Graduate
Associate Director, Specialty Care SLPG