Student Life & Services

Student Life and Activities
St. Luke's School of Nursing offers students social and scholarly activities designed to promote both friendship and learning opportunities. St. Luke's School of Nursing students enjoy participation in the Student Government Association and Student Nurses Association and are exceptional advocates for the community: organizing fundraisers, blood drives, bone marrow donor registrations and more.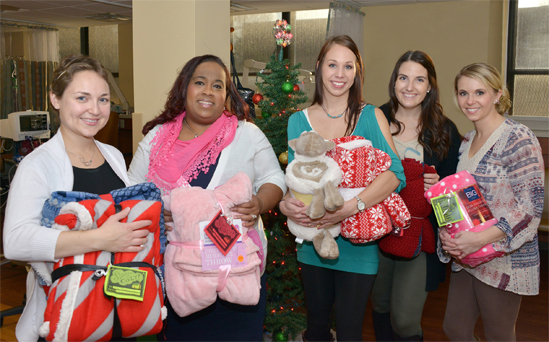 Blanket drive for Infusion Center.
Student Recognition
A Promotions Ceremony takes place as a class enters the third semester of the curriculum. During the ceremony, students are presented with a replica of the lamp carried by Florence Nightingale. Members of the class who have achieved the honor list and/or leadership positions are recognized.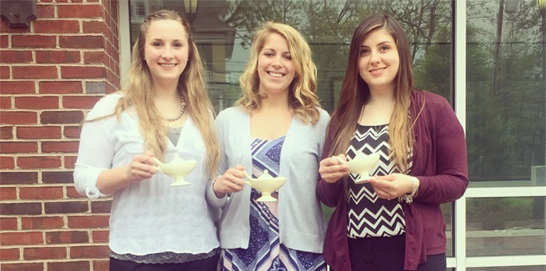 Socials
A variety of other events (e.g., recognition receptions, holiday dinner-dances, etc.) are offered throughout the school year. These are planned by student organizations, Student Services and other groups.
Student Support Services
St. Luke's School of Nursing provides students with academic advice designed to assist in completing the requirements for the curriculum.
Advisement Program
The Advisement Program serves as a resource students can access for information, advice and accurate direction regarding policies, procedures, regulations and academic/professional requirements. The program facilitates positive relationships between students and professionals.
Tutoring Services for Nursing Courses
Tutoring services are designed to provide students with the assistance they need to successfully complete requirements for a diploma in nursing, at no cost to students. Tutoring is provided by nursing students who have completed the course(s) in which they are providing assistance. Requests for tutoring are made through the Coordinator, Student Services.
Test Success Program
Test Success is a noncredit, voluntary program for students enrolled in Nursing 1. The purpose of the test success program is to establish a formalized method for students to learn test-taking strategies, test anxiety reduction and classroom skills. Improvement in students' test taking skills and grades are anticipated outcomes.
Alumni Association
Membership in the St. Luke's School of Nursing Alumni Association is open to all graduates of the school. The association promotes continuous professional growth and supports the philosophy and objectives of St. Luke's School of Nursing. The Alumni Association gives awards to graduates at commencement and sponsors a scholarship fund for continued undergraduate and graduate studies for association members.
Contact Your Alumni Association
Calling all St. Luke's School of Nursing Alumni! Stay in touch! Send the Alumni Association a message to update your mailing address or name change. We need you to be involved in the St. Luke's School of Nursing Alumni Association.
How you can help:
Mentor a current student
Serve as a "shadow" nurse
Attend alumni functions
Speak at special events
Serve on the alumni board
Make a donation
Pay it Forward Endowed Scholarship Fund
Auxiliary of St. Luke's University Hospital
The Auxiliary of St. Luke's University Hospital is a strong supporter of the school. It provides financial support for the general welfare, education, recreation and cultural pursuits of students. The auxiliary has a scholarship program and presents awards to graduates at commencement.