*
SLUHN Ranked Most Socially Responsible in Pennsylvania
July 27, 2023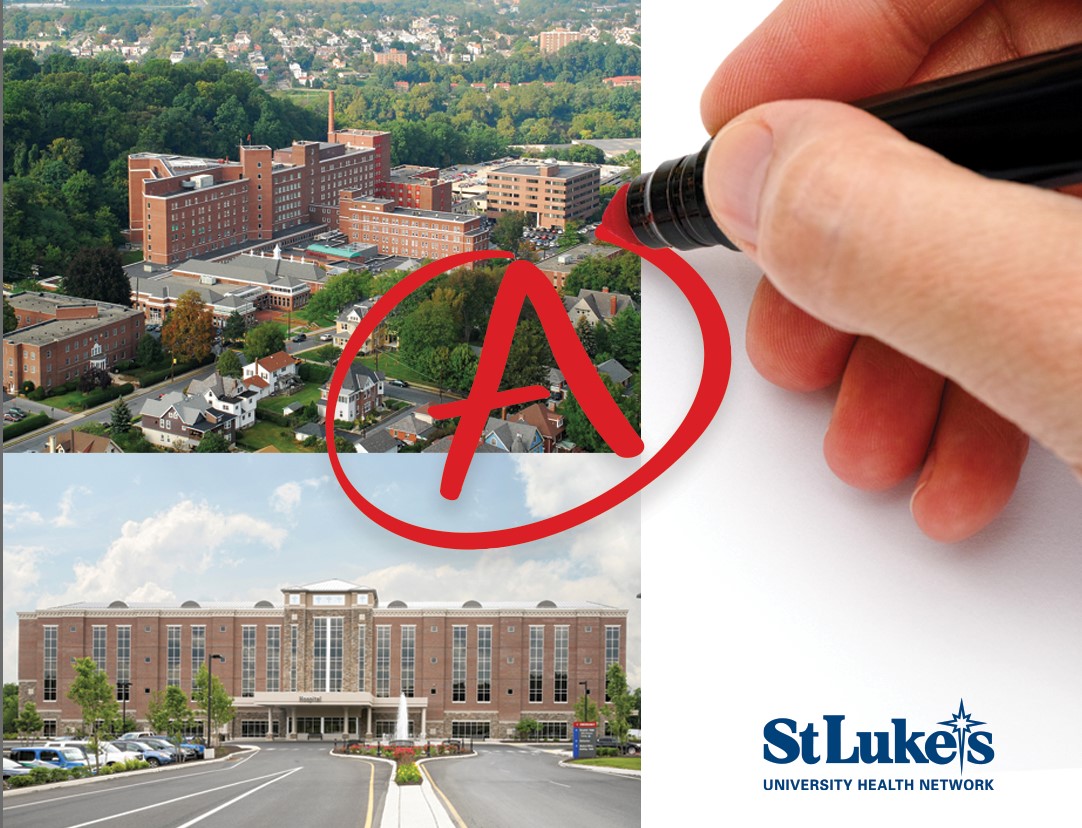 St. Luke's Bethlehem Campus (top) and Monroe Campus were named Honor Roll hospitals by Lown.
St. Luke's University Hospital in Bethlehem has been ranked #1 in Pennsylvania for social responsibility on the 2023-24 Lown Institute Hospitals Index utilizing various diverse metrics such as community benefit and racial inclusivity. Nationwide, St. Luke's University Hospital was ranked sixth.
St. Luke's University Health Network earned an 'A' in social responsibility, ranking #12 nationally out of nearly 300 health systems, and each of the Network's hospitals also earned an 'A.'
"These recognitions are a credit to St. Luke's 19,000 employees, reflecting the unique St. Luke's culture and our employee's unwavering commitment to our communities St. Luke's serves," St. Luke's President & CEO Rick Anderson said.
Additionally, St. Luke's Bethlehem and Monroe campuses were named Honor Roll hospitals by Lown. Honor Roll hospitals are those that earn straight 'A' grades across all categories in the index's top measures: social responsibility, health equity, value of care, and patient outcomes. Only 54 hospitals nationwide earned Honor Roll status.
St. Luke's established a Community Health Department more than 25 years ago. Since then, the department has developed long-term meaningful partnerships with community-based organizations, government and business partners. Initiatives include early childhood education, school-based programming, adolescent career development, workforce development and food security as well as physical and mental health care.
In April of this year, the Lown Institute ranked St. Luke's the No. 1 health system in Pennsylvania for charitable giving. It reported St. Luke's is the only health system in the Lehigh Valley with a "fair share" surplus, meaning it spends more on charity and community investment than it receives in tax breaks.
"When communities have access to socially responsible healthcare, our nation grows stronger," said Vikas Saini, MD, president of the Lown Institute. "That's why it's so important to hold up these high-performing hospitals as examples for others to follow."
The Lown Hospitals Index for Social Responsibility is the only ranking to include metrics of health equity and value of care alongside patient outcomes, creating a holistic view of hospitals as total community partners. The 2023-24 Lown Index evaluated hospitals on over 50 measures for more than 3,600 hospitals nationwide. Data sources include Medicare fee-for-service and Medicare Advantage claims, CMS patient safety data and hospital cost reports, and IRS 990 forms, among others.