Medical Competencies

Temple / St. Luke's curriculum is designed so that students develop proficiency in the competencies that will be required as a resident and as an independently practicing physician.
Knowledge
Students must be knowledgeable about the scientific basis of medicine and be able to apply that knowledge to clinical problem-solving and the care of patients. They must engage in self-directed and independent learning to remain current in their knowledge.
Patient care
Students must be able to provide patient-centered care that is evidence-based, compassionate, effective and appropriate for the treatment of health problems and the promotion of health.
Interpersonal and communication skills
Students must demonstrate interpersonal and communication skills that result in the effective exchange of information and collaboration with patients, their families and health professionals.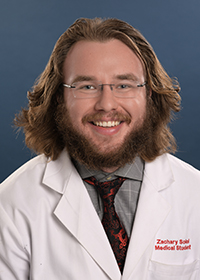 "I wouldn't want to go to medical school anywhere else. The smaller class size fosters camaraderie and forming strong relationships with faculty from day one. The resources and reach of the St Luke's health network within the Lehigh Valley and beyond provides us with opportunities to interact with patients from diverse backgrounds and perspectives. That kind of experience fosters the cultural competence that is paramount in the future of medicine, and leaves me feeling prepared for whatever context I may practice in the future."
– Zachary Sokol, Class of 2023
Professionalism
Students must embody the responsibilities of a physician that go beyond knowledge and technical skills and enables the delivery of high-quality health care. Professionalism includes honesty, maintaining patient confidentiality and trust, mutual respect, and commitment to the welfare of patients.
Practice-based learning and improvement
Students must be able to place their role as patient care providers within the greater context of the healthcare system. Students must commit to lifelong learning and professional improvement which includes honest and thoughtful self-evaluation and analysis of practice patterns and outcomes within the framework of standards of care, and best practices as defined by scientific evidence.
Systems-based practice
Students must demonstrate knowledge of the multiple systems engaged in the provision of health care and the ability to use system resources to provide optimal patient care.
Inter-professional collaboration
Students must demonstrate the ability to engage in an interprofessional team to enhance safe and effective patient care.
Read more detailed expectations associated with each of these competencies.