*
Salisbury High Grad, Now St. Luke's Med Student, Gains Empathy and Confidence While Volunteering
January 23, 2023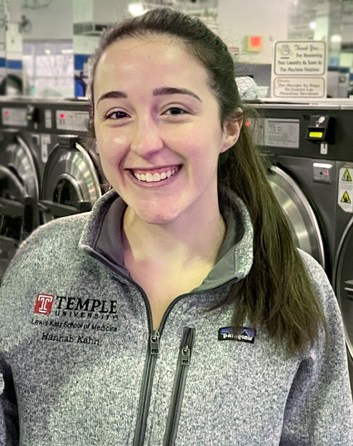 "Tuesday evenings are the best part of my week," says Temple/St. Luke's School of Medicine student Hannah Kahn.
That's when Kahn, a 2015 graduate of Salisbury High School, volunteers for Laundry on Linden at the Family Wash Day laundromat in downtown Allentown, getting hands-on experience to complement the book learning, case studies, exams and other rigors that are part of her intensive physician training.
The Temple/St. Luke's School of Medicine at St. Luke's University Hospital in Fountain Hill is the Lehigh Valley's first and only four-year medical school, where the region's brightest young minds go to become doctors. By cultivating home-grown medical talent, such as Kahn, who has deep roots in the Lehigh Valley, St. Luke's is helping the region to secure its health and well-being amid a worsening doctor shortage nationally.
At Laundry on Linden, which is supported by St. Luke's Parish Nurses, Kahn volunteers along with other students to provide care to homeless people and others in need, providing chronic disease care and medications, connecting people with area health and social service agencies and distributing Narcan, the nasal spray that reverses opioid overdoses.
"Doing something for someone else builds your empathy and confidence and puts your privilege into perspective," says Hannah, the 25-year-old Bethlehem resident, who will be the first doctor in her family. A child of accountants, she plans to serve the Lehigh Valley community when she has completed her residency training after med school. This experience will likely inform and inspire her medical practice and personal path as much as the extensive, demanding clinical training that lies ahead. Developing the "soft skills" of interpersonal communication and emotional intelligence are critical to becoming a good doctor, and it's a growing focus of the Temple/St. Luke's medical school curriculum.
"Medicine is not just about bodily health but also mental health and addressing other factors that impact people's access to care and overall wellbeing," Hannah observes. She chose to attend Temple/St. Luke's, after graduating from Penn State University, because of its reputation for training excellent physicians at a time of a worsening national shortage of caregivers. Many Temple/St. Luke's grads choose to remain in the area following graduate medical training as the next generation of providers caring for patients from across the socio-economic spectrum.
Tuesdays are an invaluable opportunity for her and her classmates to learn and work in a less formal setting, one that surely will offer life lessons she'll remember and draw from forever.
Not long after Hannah had given a Narcan kit to a homeless man during a recent a laundry night, and explained to him how to use the spray, she learned the man had resuscitated an overdose victim with it in the parking lot behind the laundromat.
This experience will resonate with her long after she completes her years of training. It's a weekly affirmation of why she's going into medicine to care for the people in her community, just as her doctors, some now on the verge of retirement, kept her healthy starting before birth.
"One doctor told me to study hard, because I'll be taking care of him some day," Hannah says. "In a way, that's exactly why I'm here."