*
Medical Student Will Treat Patients in Memory of her Grandparents
August 16, 2023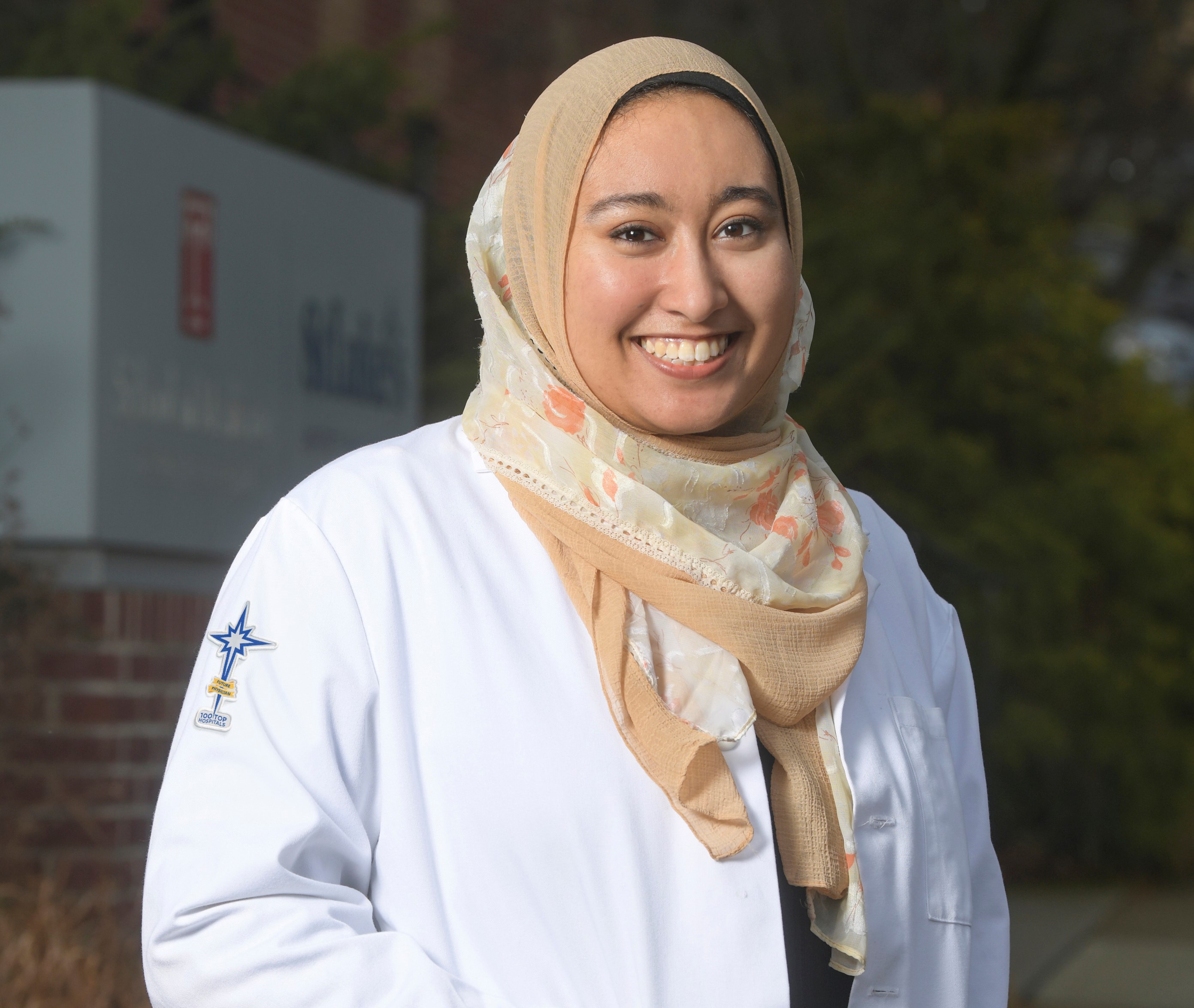 Becoming a doctor at St. Luke's University Health Network will be Rana Moawad's living tribute to her grandparents who suffered and died in their 60s from preventable illnesses due to a lack of access to affordable healthcare in their native Egypt.
As a first-generation American, Moawad appreciates St. Luke's commitment to caring for the underserved, care that she and her family received when they were new to the United States.
"We relied on St Luke's for our medical care for several years while my parents were in graduate school, and we are grateful for their programs and services that kept us healthy," she says. She was born at St. Luke's Bethlehem Campus in 2000 and lives in Coplay with her family.
The Temple/St. Luke's School of Medicine at St. Luke's University Hospital in Fountain Hill is the Lehigh Valley's first and only four-year medical school, where the region's brightest young minds go to become doctors. By cultivating home-grown medical talent, such as Moawad, who has deep roots in the Lehigh Valley, St. Luke's is helping the region to secure its health and well-being amid a worsening doctor shortage nationally.
Moawad volunteered more than 500 hours in 5 years serving at the Allentown, Bethlehem and Sacred Heart campuses during high school and college.
She wants to carry on the network's mission of providing compassionate care to all when she completes her medical training, which began at the Temple/St. Luke's School of Medicine, the area's first and only four-year medical school.
"I like being part of a care team at the patient's bedside," says the 22-year-old second year student, who has lived in the area since coming back to this country after several years in Egypt and went to high school and college in the area.
In addition to her passion for improving people's individual health, she's concerned about how the environment impacts the wellbeing of a population. In college, she did research focused on improving water quality and stemming the destruction in her community's natural beauty caused by the spotted lantern fly. To her, human and environmental health are intertwined.
Looking ahead, she says, "I want to help people who suffer from a lack of routine primary care, because they're uninsured or underinsured."
She'll treat her patients in memory of her grandparents, with the compassionate care she wishes they had received so they could live to see her become a doctor.
In addition to St. Luke's, Moawad is grateful to her her siblings (Amira, Mohamed and Omar) and her parents, Dr. Hassan Moawad and Dalia Mohamed, for all their sacrifices and for cultivating in her at a young age her love of learning and for helping others.
"I chose to come to Temple/St. Luke's so I can give back to the community that cared for my family and me when we were in need."