*
Medical Student Helps Hometown Tamaqua During Summer Break
February 20, 2023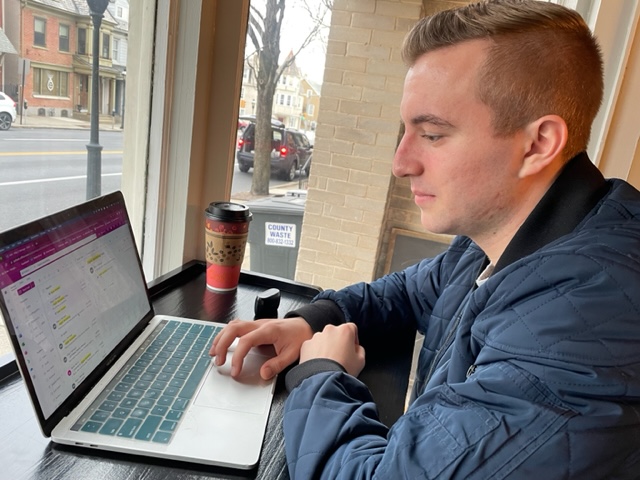 Riley McHugh could have "chill-axed" last summer after he completed his first year at Temple/St. Luke's School of Medicine, catching up on his philosophy reading or mountain biking, or maybe camping out of state. No one would argue that he didn't earn a few months of R&R after the rigors of med school.
The Temple/St. Luke's School of Medicine at St. Luke's University Hospital in Bethlehem is the Lehigh Valley's first and only four-year medical school, where the region's brightest young minds go to become doctors. By cultivating home-grown medical talent, such as McHugh, who has deep roots in the Lehigh Valley and the northern counties, St. Luke's is helping the region to secure its health and well-being amid a worsening doctor shortage nationally.
How did the Tamaqua native and Moravian University graduate actually spend June through August? He spent it working on behalf of his hometown community. Collaborating with St. Luke's Community Health, he assisted with a federal grant at St Luke's Miners Campus that addresses the response to the opioid epidemic through prevention, treatment, and recovery.
Many residents of the region know people suffering from drug and alcohol misuse, food insecurity and employment woes. Through this experience, McHugh was able to participate in a variety of community-based programs and events, such as the Strengthening Families program, the "Out of the Darkness, Into the Light" overdose awareness walk, and the local St. Luke's-organized monthly food pantry. He interviewed and regularly met with a variety of community leaders and residents, stepping into their shoes and learning from their stories.
As his final project for the grant report, he created a digital storytelling video showcasing the problem and a call to action, aptly named "Change is Just Ahead." His realistic yet hopeful theme is sure to resonate with viewers. It saddens him to see the rural area he loves so much suffer.
"It's all around, worse than you expect," says McHugh, of the chronic problems and barriers to healthcare in his community. "And it's not going away anytime soon. If we start attacking the problems now, there might be some real results in 20 years."
"St. Luke's continues to make significant local investments in people, programs, and facilities, so our best and brightest, like Riley, have real opportunities to make a difference in the overall health and wellness of our community," said Wendy Lazo, president of St. Luke's Miners Campus.
Community action looks great on paper, McHugh says, but needs collaboration and focused action over the long run. And that takes people who stay in the community to do the work, like the community coalition that executed the grant.
"It's our community to save or lose. If we go away and don't return, the community suffers. But if we stay, or return after being away, we provide hope for the future, the next generations," he said.
That's his plan. Finish med school and work in a field that makes a difference and empowers patients. He wants to spend his career taking care of those struggling, often forgotten and neglected, who are living on the outskirts of major towns and cities.
Next summer, he'll allow himself some biking, camping, and recreational reading to regenerate the passion and optimism he needs to move forward with his life as a doctor in training. He derives inspiration from the quote that ends his movie. "Sometimes when things are dark, that's when true growth occurs."