*
From Music Teacher and Conductor to Med School Student
March 22, 2023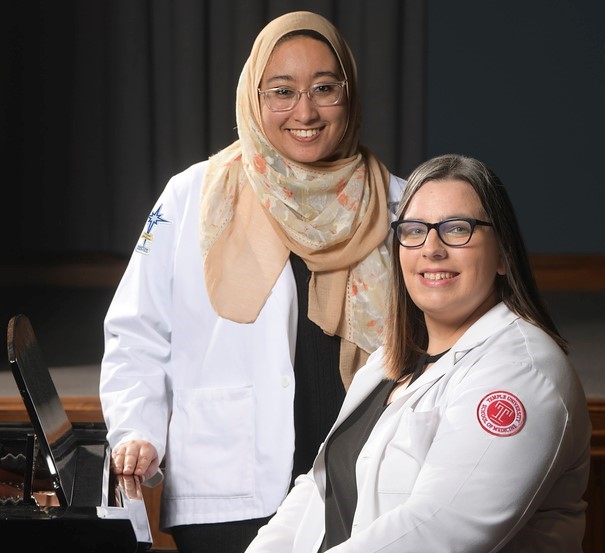 Kelly Riccio, seated at the piano, and Rana Moawad, who is Riccio's former student and current classmate.
At age 39, Kelly Riccio is following her dreams as a student at Temple/St. Luke's School of Medicine. The average age of a U.S. medical student is around 24, but Riccio sees age as no issue as she pursues a bright new future.
For this wife and mother of three, past is prologue. "I was the kid with the doctor kit," recalls Riccio, now in her second year of four years at Temple/St. Luke's.
The Temple/St. Luke's School of Medicine at St. Luke's University Hospital in Fountain Hill is the Lehigh Valley's first and only four-year medical school, where the region's brightest minds go to become doctors. By cultivating home-grown medical talent, such as Riccio, who has deep roots in the Greater Lehigh Valley, St. Luke's is helping the region to secure its health and well-being amid a worsening doctor shortage nationally.
As a child, Riccio played her family's physician, donning a white coat and "listening" to hearts at home with her plastic stethoscope. But when the resident of Gilbertsville in Montgomery County wasn't acting out her fantasy, she was practicing her clarinet or piano or singing around the house and in school.
As an undergraduate, Riccio followed her quest of becoming a performing musician and music teacher. "I knew I had to try a music career first, so that's what I set out to do," she said.
After earning her bachelor's in music education at Kutztown University and a master's in conducting, she taught for twelve years, first in the Allentown and East Penn School Districts, then at Lehigh Valley Academy RCS, a Bethlehem-based public charter school. She also launched a career in conducting, often appearing on state and national stages.
But in the back of her mind, whether in class teaching music theory, practicing a clarinet concerto or leading a group of players or singers, was her vision of caring for the ill or injured as a St. Luke's doctor. She knew she wanted to study at its School of Medicine for its small classes, supportive professors and stellar reputation for keeping the community healthy.
So in 2019, instead of pursuing a doctorate in conducting, she chose another path and opted to begin working towards obtaining a Doctor of Medicine degree. She enrolled at Temple University to begin her post-graduate studies in the sciences before to applying to medical school.
"I felt I had to try," said Riccio, knowing that med school would be challenging for her and her family. "I knew I'd kick myself if I didn't try."
Fast forward to 2023 and Riccio, is two years away from achieving her goal of adding an MD after her name. She's about to start year-three clinical rotations and hoping to follow with a residency in obstetrics and gynecology once she's earned her medical degree.
She finds the training stimulating and demanding, if not a bit daunting being around her younger classmates – one of whom she taught as a high schooler at Lehigh Valley Academy!
"It is inspiring to see Kelly shift her career from teaching to medicine," said Rana Moawad, age 22, a first-year medical student. "Kelly has all the skills and more to be an amazing doctor that will make her patients feel welcome and heard. I'm so proud of her and can't wait to see all the great things she continues to do."
"I loved teaching and performing music, and I'm sure I'll love being a doctor," Riccio said. She still plays the piano, mostly to de-stress and entertain her family. And she hopes to start a medical school chorus so she can exercise her vocal cords among peers who have become friends.
She keeps in mind her youngest daughter's wise words of encouragement for her to follow her heart. "You were a teacher and you helped people," said the 11-year-old Delilah. "When you become a doctor, you'll help a lot of people too, and I think that's really great."
Each time Riccio picks up her real stethoscope and slips on her Temple/St. Luke's School of Medicine white coat, she's not playing doctor. She's living the dream she's dreamed for decades.
"I'm going to be a doctor," she beams. "I could pinch myself some days."