*
Bethlehem Med Student Joins Family at SLUHN
May 24, 2023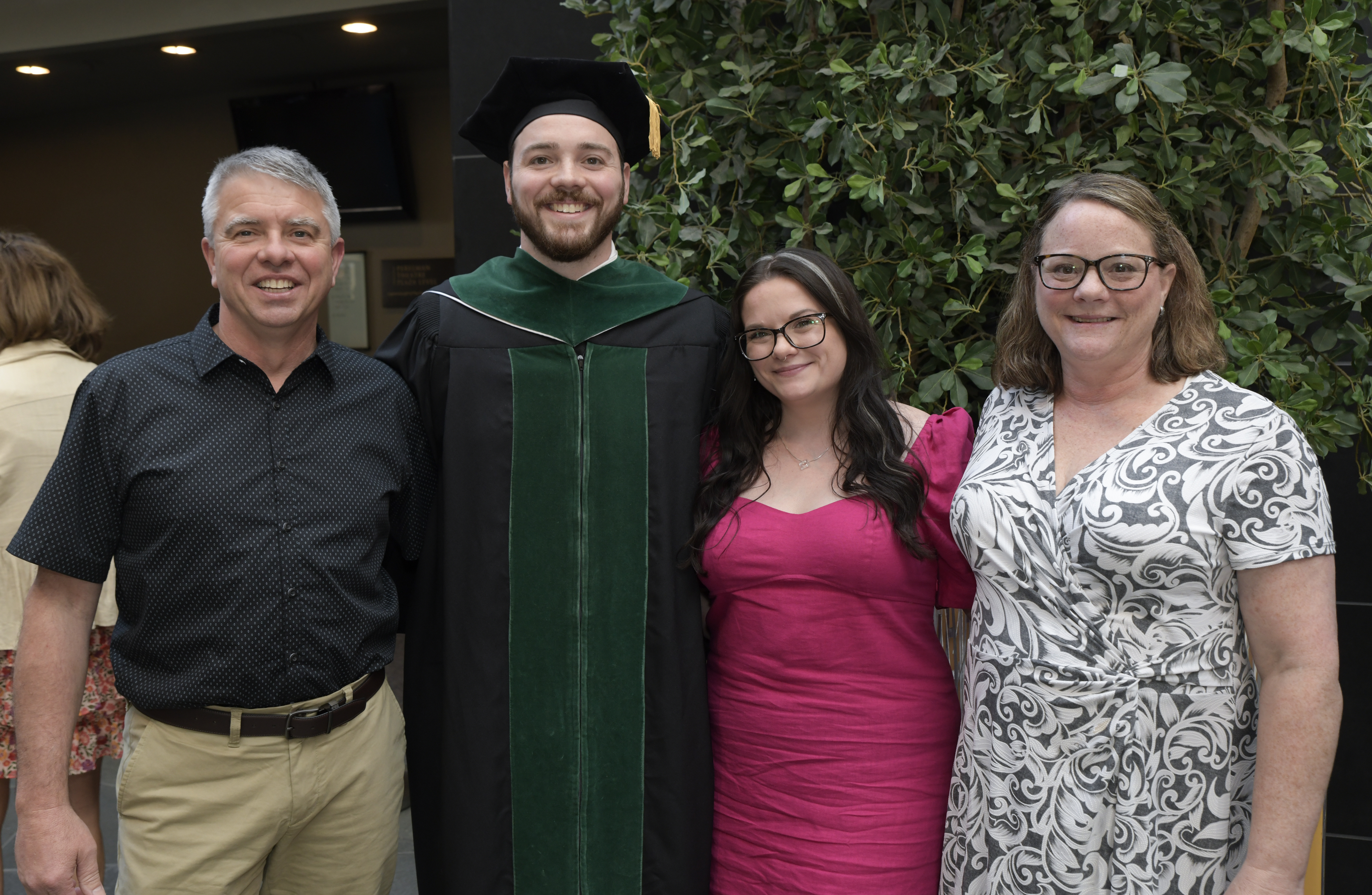 The Merkert Family at Brandon's graduation from Temple/St. Luke's. Left to right: father, Bill; Brandon; sister, Kristin; and mother, Cheryl.
Brandon Merkert is part of a St. Luke's family and planning to keep it that way.
The Bethlehem native, born at St. Luke's in 1996, recently matched in an emergency medicine residency at St. Luke's and graduated from Temple/St. Luke's School of Medicine this month. He says he'll thrive in the fast-paced, demanding and multi-task-rich profession as an ER physician where he'll be able treat people in his community for a variety of illnesses or injuries.
The Temple/St. Luke's School of Medicine at St. Luke's University Hospital in Fountain Hill is the Lehigh Valley's first and only four-year medical school, where the region's brightest young minds go to become doctors. By cultivating home-grown medical talent, such as Merkert, who has deep roots in the Greater Lehigh Valley, St. Luke's is helping the region to secure its health and well-being amid a worsening doctor shortage nationally.
The Merkert genes run deep at St. Luke's. Brandon's Dad, Bill, is the director of Cardio-pulmonary Rehab; Mom, Cheryl, is an RN in Infection Prevention; and sister Kirstin, is a Pharmacy technician. Also, his girlfriend, whom he met in medical school, matched to a surgery residency at the hospital.
He's been around the Network, volunteering and shadowing there and heard so much chatter about it over the years, so there's no doubt where he'll work.
Brandon decided in his freshman year of college that he wanted to become the first physician in his family, after he nixed a major in aerospace engineering at the legendary Embry-Riddle Aeronautical University. He prefers to work in a field, he says, that is more grounded in human interactions and caring for people. He has no regrets having eschewed this flight path to become a doctor because it didn't quite fit with his outgoing personality.
"I wanted a people-oriented profession, not one where I'd sit in an office all day," he reports. "I like solving someone's problem, then moving on to the next patient."
Emergency Medicine became his choice literally by accident, he says, after a mountain biking mishap when he was home on break from the University of Rochester.
"I crashed and split open my elbow and had to go to the St. Luke's Bethlehem ER, where my Dad told them I was going to go to medical school," he recalls with a chuckle. "The chief resident and attending physician explained everything they were doing to take care of me, including stitching me up." It became a teachable moment unlike any other he might have had as a med student.
"It was a fun experience," he adds with true sincerity.
He still rides his mountain bike, with his Dad and classmates at the School of Medicine. And he still has accidents. He suffered two compressed vertebrae this year in a "stupid crash" on a trail not far from his home. Back in the ER, he was reminded again just how important the doctors, trainees and other staff are in getting their patients back on their feet—in his case, his bike—and can't wait to be on the giving side of the equation.
He's counting on his formidable medical skills to travel well, when he's away from St. Luke's, whenever there's an emergency, whether on land, sea or air.
"Just think," Brandon offers, "If I'm on a plane and someone asks for a doctor, who's going to be able to step up to help?"