Fellowship Match Success

Our fellowship match rate at St. Luke's University Hospital in Bethlehem, Pennsylvania, has been nothing short of outstanding in recent years. Thanks, in part, to our strong partnership with Temple University's Lewis Katz School of Medicine and our very own regional medical campus. We are particularly successful at placing residents into the competitive fellowships of cardiology and gastroenterology. In fact, we are the only program in Pennsylvania with a dedicated Internal Medicine-Cardiology Track. For our most recent match lists please click here.
We have many in-house St. Luke's fellowships, including: cardiology, gastroenterology, pulmonary/critical care, endocrinology, palliative medicine, geriatrics, hematology/oncology and sports medicine. Our culture and excellent faculty-to-resident ratio lead to a collegial environment with fantastic mentoring opportunities.
Fellowship Match Results (IM graduates 2015-2021)
Fellowship Training by Subspecialty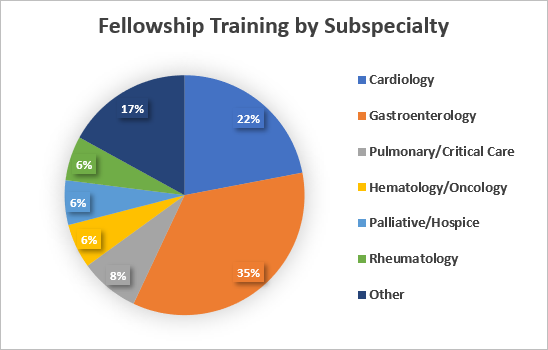 List of Postgraduate Training Programs
Brown University
Deborah Heart and Lung
Drexel University/Hahnemann
John's Hopkins University
Larkin Community Hospital
Ochsner Medical Center
Penn State Hershey
Reading Hospital
Rutgers
St. Luke's University Hospital
University of California, San Francisco
University of South Florida
University of Vermont
Wright Medical Center