Supplies Sent to Mbingo Baptist Hospital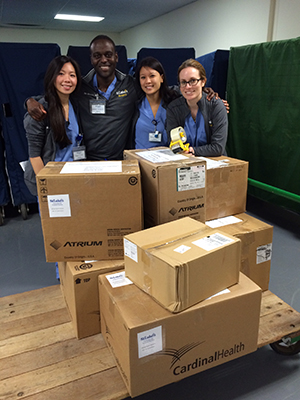 Doctors (left to right) Maggie Lin, Ikemefuna Akusoba,
Melissa Mao, Kathryn Balinger
Every 2 to 3 months, general surgery residents meet at the St. Luke's Distribution Center in Bethlehem, PA. Over several hours, they comb through numerous pallets of supplies which are set aside for donation to developing nations. Items which are specifically needed by the Mbingo Baptist Hospital (MBH), in Cameroon, Africa, are selected and packaged for shipment.
The residents are also accompanied by Dr. Richard Sharpe, Director of St. Luke's International Surgical Studies (SLISS). One of the goals of the SLISS program is to provide supplies, equipment and visiting medical professionals to partner facilities in developing countries and assist them with sustained improvements in care.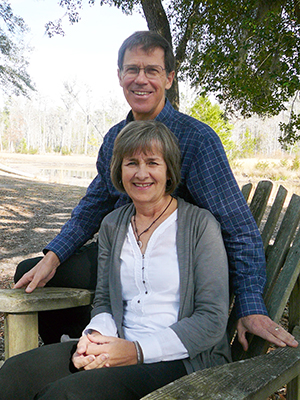 Dr. James and Carolyn Brown
When the supplies finally arrived at MBH, Dr. James Brown, a general surgeon at MBH, sent this email:
"…I really want to thank you for is the shipment that you initiated from St. Luke's Hospital almost a year ago that recently arrived in our container. It has taken me days to go through these items and in all my years in Africa I have never received a shipment of more valuable supplies and equipment than what you sent…Many of these items we cannot buy in country, but are essential to our training program and to doing some of the complicated surgeries we are now doing.
I cannot thank you enough…"

Most sincerely and gratefully yours,

Jim