Current Residents and Program Graduates


Finally, the ultimate report card of a surgical residency is its product. Shown below is a partial list of some of the fellowships that our recent resident graduates have completed. As you can see, our residency really is a cut above the rest. Come for a visit and see for yourself!
Trauma/Surgical Critical Care: University of Pennsylvania; Shock Trauma, University of Maryland Medical Center
Cardiothoracic Surgery: Wake Forest Baptist Medical Center; The Ohio State University Wexner Medical Center
Minimally Invasive Surgery: Carolinas Medical Center; Brown University
Vascular Surgery: Cleveland Clinic
Plastics Surgery: The Ohio State University Wexner Medical Center; Louisiana State University Health Sciences Center
Surgical Oncology: Virginia Commonwealth University Medical Center; Wake Forest Baptist Medical Center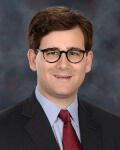 "St. Luke's general surgery residency made me a confident surgeon. First, the faculty provided supervised independence, which allowed me to learn by doing; and second, it furnished an extraordinary operative experience. As a senior-level resident I worked hard, but I was also given the chance to manage patients independently while working closely with attending surgeons in different specialties. .. Read More
By the time I became a chief resident I was ready -- indeed, more than ready -- to practice basic general surgery on my own. During that time I was also able to assist in operations with sub-specialists, including vascular surgeons, surgical oncologists, colorectal surgeons, plastic surgeons, thoracic surgeons, even ENTs and urologists. And since St. Luke's didn't have fellowships in those fields, I could actually do the operations with the surgeons!
Now, as a fellow in acute care surgery/surgical critical care at Wake Forest, I'm well prepared because I also got comprehensive training in trauma at St. Luke's Level 1 Trauma Center. I was trained well in critical care, too, since St. Luke's expected me to manage the critical-care aspects of my patients while I was a resident, as well as rotate in the trauma and surgical ICU.
Simply stated, if you want to practice general surgery, there is no better program in which to train than St. Luke's; and if you want to go on to a fellowship after residency, St. Luke's can -- and will -- get you there."
Read Less
W.T. Hillman Terzian, MD
2019 Graduate
Current Residents
Anthony Allsbrook, DO

Medical School: Edward Via College of Osteopathic Medicine

Daniel Franey, MD

Medical School: West Virginia University School of Medicine

Sean Hamlin, MD

Medical School: Royal College of Surgeons Dublin, Ireland

Jameson Petrochko, MD

Medical School: Lewis Katz School of Medicine at Temple University, St. Luke's Regional Campus

Roslyn Marie Alexander, DO

Medical School: Edward Via College of Osteopathic Medicine

Kyle William Dammann, MD, PhD

Medical School: Medical University of the Americas

Alyssa Marie Green, MD

Medical School: Meharry Medical College

Martin Lo Sasso, MD

Medical School: Cooper Medical School of Rowan University: Camden, NJ

Aanuoluwapo Obisesan, MD

Medical School: University of Ibadan - Nigeria

James Ryan Pellechi, MD

Medical School: Tulane University School of Medicine

Zachary Arthur Frenzel, MD

Medical School: Lewis Katz School of Medicine at Temple University

Kathryn Clare Kelley, MD

Medical School: Lewis Katz School of Medicine at Temple University

Richard William Van De Graaf, MD

Medical School: St. Georges University of Medicine

Yujiro Yokoyama, MD

Medical School: School of Medicine, Faculty of Medicine, University of Yamanashi, Japan

Joshua Ziehm, DO

Kansas City University of Medicine and Biosciences – Osteopathic University

Amanda Gifford, MD

Medical School: Lewis Katz School of Medicine at Temple University

Abigail Gotsch, MD

Medical School: Lewis Katz School of Medicine at Temple University

Wei Quan How, MD

Medical School: Perdana University - Malaysia

Savni Satoskar, MD

Medical School: Seth Gorhandas Sunderdas Medical College and King Edward Memorial Hospital, Mumbai

John Henning Sojka, MD

Medical School: Ohio State University College of Medicine

Tony (Anthony) Xia, MD

Medical School: Lewis Katz School of Medicine at Temple University

Vinay Bajaj, MD

Medical School: Ross University School of Medicine, Dominica, West Indies

Francisco Benavides, MD

Medical School: University of Illinois College of Medicine-Peoria

Stephen D. Dingley, DO

Medical School: Philadelphia College of Osteopathic Medicine

Rodrigue F. Fontem, MD

Medical School: Indiana University School of Medicine

Samantha A. Wolfe, MD

Medical School: St. Martinus University