*
St Lukes Weight Loss Surgeon Receives National Advocacy Award
December 07, 2018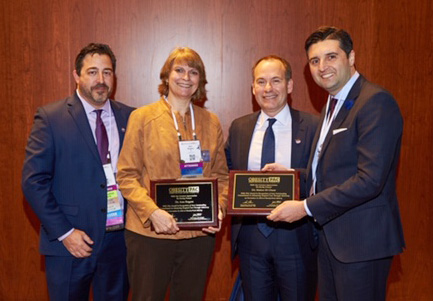 Maher El Chaar, MD, Co-Medical Director of Bariatric Surgery at St. Luke's University Hospital, has been named recipient of the national 2018 ObesityPAC Advocacy Award during a reception at the Country Music Hall of Fame in Nashville.
According to Dr. El Chaar, it's a moral obligation for bariatric surgeons to fight on behalf of their patients to get them the coverage they so desperately need and deserve. Advocacy, Dr. El Chaar said, is a commitment and a duty and one honorable way for a bariatric surgeon to have a long lasting impact on patients and their families.
Dr. El Chaar was honored by ObesityPAC for his efforts on behalf of patients in need. His accomplishment will also be featured in the organization's annual report.
"This recognition should not go to an individual, but instead to the entire St. Luke's Weight Management team for their outstanding work and efforts," says Dr. El Chaar.
As the political arm of the American Society for Metabolic and Bariatric Surgery (ASMBS), ObesityPAC represents the needs of bariatric surgeons and their patients on Capitol Hill and within state houses across the country.
ObesityPAC enables ASMBS to build key relationships with members of Congress as well as with key state policymakers – such as governors, state insurance commissioners and state legislators – to educate them about issues surrounding patient access to and coverage of bariatric surgery.
Dr El Chaar serves on many ASMBS committees including the clinical issues committee, foregut committee, and credentialing committee and was recently asked to join the Board of ObesityPAC. Previously, Dr. El Chaar was named one of America's Top Surgeons in Bariatric Surgery, and he has received a bariatric surgeon of excellence designation by the ASMBS.
For more information about the St. Luke's Weight Management Center, call 866-STLUKES or visit weightloss.sluhn.org.
Photo caption, from left to right: John Scott, MD, Chair of the Access to Care Committee, American Society for Metabolic and Bariatric Surgery, Ann Rogers, MD, Award Recipient, John Morton, MD, President of ObesityPAC, and Maher El Chaar, MD, Award Recipient