*
Morbidly Obese Man in 2016 Runs Boston Marathon in 2018
April 13, 2018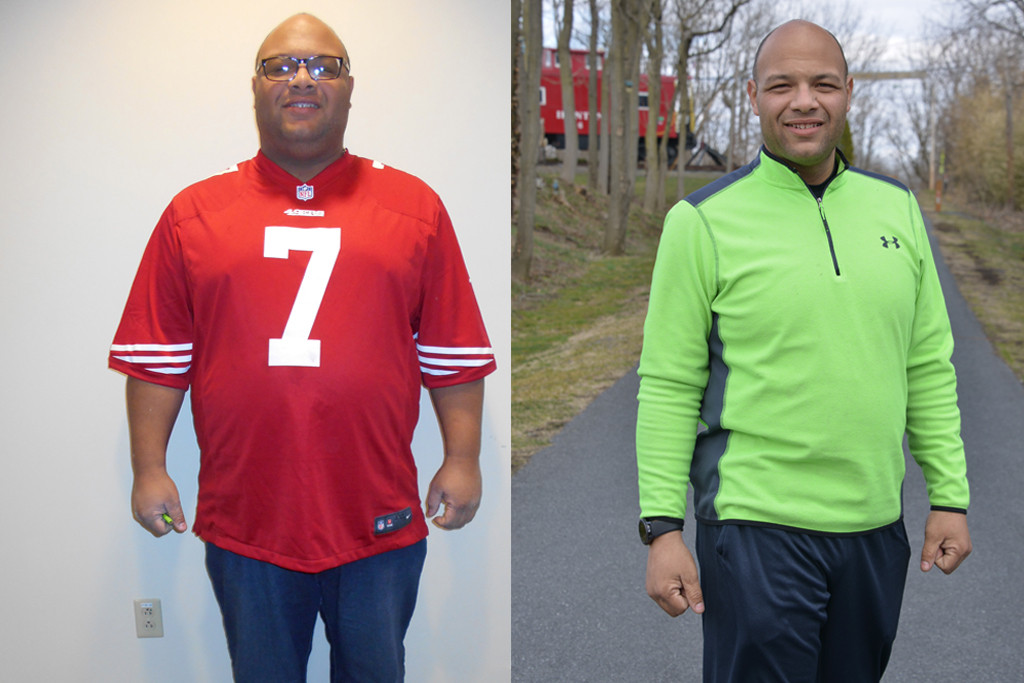 Caleb Oliver of Northampton has undergone quite a transformation, going from morbidly obese on Halloween in 2016 to preparing to run the Boston Marathon on April 16, 2018.
Caleb weighed in at 377 pounds that Halloween before undergoing laparoscopic gastric bypass surgery with Maher El Chaar, MD, the Co-Medical Director of Bariatric Surgery at St. Luke's University Health Network. Dr. El Chaar is one of the leading surgeons in the United States for performing bariatric weight-loss surgeries.
Heading into the 2018 Boston Marathon, Caleb, 38, is now carrying between 236 and 241 pounds on his 6-foot-frame.
"I'm not trying to break any records," Caleb said of his hopes in the marathon, which features the legendary "Heartbreak Hill" around Mile 20.5.
"I would like to finish in six hours, but if it takes longer, it takes longer," he said. "I want to finish. That's my goal."
That philosophy describes Caleb's goal when he decided to try bariatric surgery to help jump start weight loss.
"I wasn't diabetic at the time, but I was headed that way," Caleb said in detailing his reasons to commit to surgery and the lifestyle changes necessary for successful weight loss.
"I was overweight, bouncing back and forth. I'd lose 65 pounds and gain it all back again, lose 85 and gain it all back again. I wasn't getting good sleep. I had sleep apnea. My blood pressure was through the roof."
What helped Caleb make the firm commitment to change his life was that he and wife, Jana, had three young children: Zavaya, Cyrus and Kayden. Caleb wanted to be active with them, to go on hikes and do things with them that he did as a youngster like ride on rollercoasters, for which he had literally outgrown.
That kind of realization helps patients succeed following weight loss surgery, according to Dr. El Chaar. It lends itself to a commitment of lifestyle change.
"Many patients like Caleb come in with motivation," Dr. El Chaar said. "When they come to us, we do a lot of education. We're big on education here at St. Luke's. We educate them on what to expect at the time of the procedure and afterward. That's the key to long-term success."
Dr. El Chaar said the gastric bypass surgery helps reset a person's metabolic rate, making it easier to lose weight, but lifestyle changes are necessary for successful weight loss.
At St. Luke's Weight Management Center, bariatric surgery patients go through a variety of pre-operative tests like blood work, sleep study and upper endoscopy to make sure they are appropriate candidates.
Patients also receive comprehensive pre- and post-operative care, are educated on lifestyle changes, consult with dietitians and social workers and can join support groups. St. Luke's Weight Management Center also provides online support and podcasts to keep patients engaged with the staff.
So how did Caleb, a neophyte runner, qualify for the Boston Marathon?
He works as a mechanic at the Samuel Adams Brewery in Breinigsville. The Boston Brewing Company is a sponsor of the Boston Marathon and is guaranteed a designated number of sponsor entries. Caleb applied and got the good news that he was one of 18 employees selected to run the Boston Marathon.
Not bad for someone who had never run any sort of distance before his gastric bypass surgery. Caleb had played some sandlot football in his younger days, but never ran to stay in shape or anything like that.
And even though he works at Sam Adams and beer is his guilty pleasure, he hasn't had more than a few sips since his surgery.
Last August, Caleb ran his first-ever race, a 5K obstacle race along with a few friends and family members called the Rugged Maniac at Maple Grove Raceway near Reading.
"Ever since then, I've been running," Caleb said. "I kept running to get my endurance up, and then Sam Adams opened up the Boston Marathon sponsor slots to a lottery for the workers. I never ran a marathon, and probably never will again, so I put my name in the hat for a once-in-a-lifetime opportunity and got picked."
Caleb's brother Simon, a triathlete living in California, has been counseling him on training. Another brother, Ephraim, a massage therapist who lives locally, has been helping him, and a third brother, Jotham, has been the gung-ho supporter. Wife Jana is keeping everything nailed down for the family as Caleb's training time commitment has increased.
Dr. El Chaar said it's not uncommon for bariatric surgery patients to transform their lives completely and become very athletic.
"They become more confident and very active after losing weight," Dr. El Chaar said. "They're more secure, more empowered and also much healthier and therefore able to exercise and enjoy life to the fullest."
"I realized over the many years that I have been performing bariatric surgery that overweight people want to exercise and do outdoor activities with their kids and families but they are unable to because of their weight which causes them to gain even more weight so it's a vicious cycle. What we do by performing surgery is breaking that cycle and giving patients a jump start on life."
"Caleb is taking that a step further by running a marathon. I've never personally run a marathon so I am very proud of Caleb and his amazing achievements. Long term, you need to be active and involved to maintain your weight loss. That's the key to success and Caleb is the ultimate success story and definitely a role model for all of our patients."
Media Contact:
Karen Boksan, Director, Network Marketing, O: (484)-526-3949 C: (610)-704-8416, Karen.Boksan@sluhn.org
About St. Luke's
Founded in 1872, St. Luke's University Health Network is a fully integrated, regional, non-profit network of 14,000 employees providing services at 10 hospitals and over 315 outpatient sites. With annual net revenue of $1.9 billion, the network's service area includes 10 counties: Lehigh, Northampton, Carbon, Schuylkill, Bucks, Montgomery, Berks and Monroe counties in Pennsylvania and Warren and Hunterdon counties in New Jersey. Dedicated to advancing medical education, St. Luke's is the preeminent teaching hospital in central-eastern Pennsylvania. In partnership with Temple University, St. Luke's created the region's first and only regional medical school campus. It also operates the nation's longest continuously operating School of Nursing, established in 1884, and 27 fully accredited graduate medical educational programs with 211 residents. St. Luke's is the only health care network in central-eastern Pennsylvania to earn Medicare's five-star rating (the highest) for quality, efficiency and patient satisfaction. Repeatedly, including 2018, St. Luke's has earned the 100 Top Major Teaching Hospital and 50 Top Cardiovascular Program designations from IBM Watson Health (formerly Truven Health Analytics). St. Luke's, utilizing the EPIC electronic medical record (EMR) system, is a multi-year recipient of the Most Wired award recognizing the breadth of St. Luke's information technology applications such as telehealth, online scheduling and online pricing information. St. Luke's is also recognized as one of the state's lowest cost providers.