The headlines are all
too common.

Mass casualty accidents, school shootings, terrorism and more.
Did you know that uncontrolled bleeding is the number one cause of preventable death from trauma?
St. Luke's Stop the Bleed efforts are part of a national trauma initiative to train first responders and the public on how to control bleeding in the event of an accident or injury and to improve the injured patient's chance of survival.
St. Luke's Stop the Bleed Initiative aims to provide free trauma and bleeding prevention education to first responders, including police departments, schools and community organizations such as PTAs, Boy/Girl Scouts, civic groups and other non-profits. In addition, St. Luke's is proud to partner with our community in an effort to provide Stop the Bleed control kits designed for use in the event of a bleeding emergency. Equipped with items including tourniquets and bleeding control dressings, our St. Luke's Stop the Bleed control kits serve as an important companion to standard first aid kits and AEDs and contain all of the necessary supplies and resources needed to respond to and treat bleeding emergencies that may result from traumatic injuries.
Help us save lives!
Uncontrolled bleeding is the
number one cause

of preventable death from trauma.
Responding to Bleeding...
Know the A, B, C's.
What should you do if you encounter someone
with a life threatening bleeding injury?

ALERT
CALL
9-1-1

BLEEDING
Find the
bleeding injury!

COMPRESS
Apply pressure to stop
the bleeding by: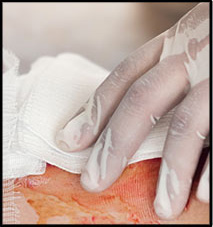 Covering the wound with a clean cloth and applying pressure by pushing directly on it with both hands, OR
Using a tourniquet, OR
Packing (stuffing) the wound with gauze or a clean cloth and then applying pressure with both hands.
Download the training guide to familiarize yourself with these important steps.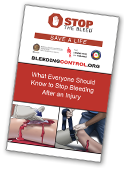 When a routine traffic stop by Pennsylvania State Police Corporal Seth Kelly turned suddenly into a violent shootout, Corporal Kelly found himself severely injured and bleeding on the side of the highway. His quick thinking to control bleeding helped to avoid what could have ultimately been the most tragic turn of events.
Where it started... The Hartford Consensus
Following the horrific Sandy Hook school shootings in Connecticut, in 2013 a joint committee was formed – the Hartford Consensus – to create a national policy to enhance survivability from mass casualty shooting events. The Hartford Consensus brought together experts from trauma, emergency medicine, law enforcement, fire/rescue, EMS and the military to develop a coordinated response and strategy. Out of the work done by the Hartford Consensus, it was determined that much more emphasis must be placed on the survival of victims and skill and training in early control of a life threatening hemorrhage.