News
22-Year Relationship between Preemie and NICU Nurse Comes Full Circle
May 01, 2023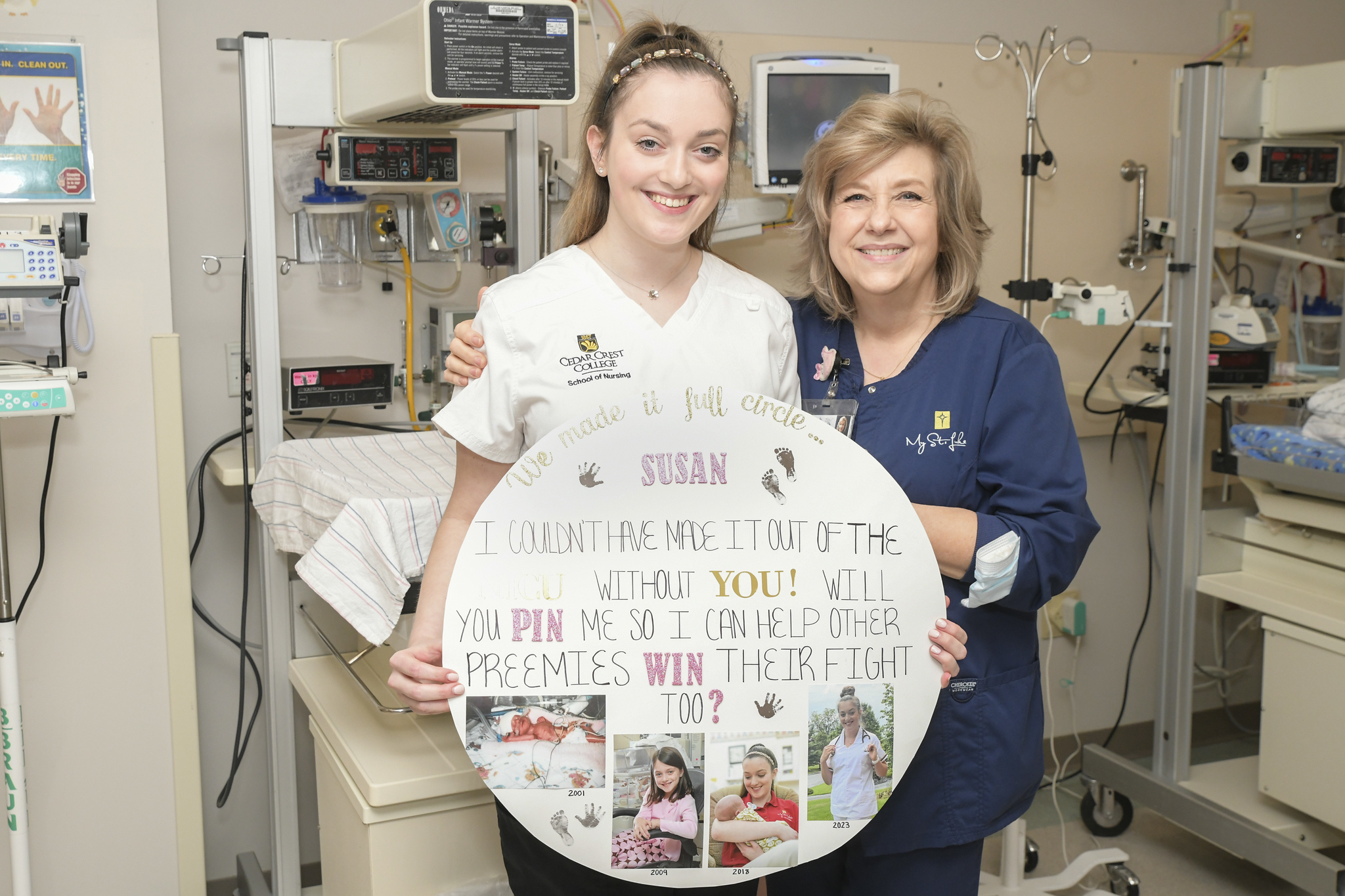 Nurse Susan Foster will "pin" nursing graduate Lauren Weintraub and future St. Luke's nurse at an upcoming ceremony.
When Lauren Weintraub entered this world on March 21, 2001, the outlook for her survival was uncertain. Weighing only one pound and 10 ounces, she had stopped developing in her mother's womb at 24 weeks, prompting a decision to deliver both Lauren and her brother, David -- who was twice her size -- by emergency C-section at 29 weeks.
She spent four months in St. Luke's Neonatal Intensive Care Unit in Fountain Hill, where she received 24-hour care from a team of highly trained nurses. One of them was Susan Foster, who came to St. Luke's only a year earlier after beginning a second career as a nurse at the age of 40, after being inspired by the level of care and dedication NICU nurses provided to her own premature twin babies.
Over the years, Lauren returned to the St. Luke's NICU to visit with the nurses who took care of her. As a child, she was accompanied by her mother, Keri Angelozzi, who worked as a nurse at St. Luke's for several years before becoming the vice president of Patient Care Services at St. Luke's Allentown. In high school, Lauren became a junior volunteer at St. Luke's Bethlehem, where she was born. She also helped the nurses with March of Dimes projects and spent hours comforting the tiny NICU babies.
More than two decades later, the ongoing relationship between Lauren Weintraub and Susan Foster will come full circle when Foster will "pin" Weintraub at her graduation ceremony in May. Foster is also serving as Weintraub's nurse preceptor during her final clinical rotation, which placed Weintraub out in the NICU where her personal life story began. The pair will continue their relationship -- this time as colleagues -- when Weintraub begins working full-time at the St. Luke's NICU in Allentown in July.
"It is very meaningful to have an experienced nurse who had the skills to save my life, share her knowledge with me to make me a competent nurse," said Weintraub, who will graduate with a Bachelor of Science degree in nursing from Cedar Crest College in May. "Susan has seen me in my most vulnerable state, watched me fight the odds, and supported me through my nursing school journey. We have come full circle now that she is my independent practicum preceptor, teaching me hands-on in the clinical setting."
In addition to a sense of gratitude she felt for all the nurses who cared for her as a premature infant, Weintraub said her career path was deeply influenced by a desire to instill hope in and provide care for others.
"I loved going back to visit our NICU nurses yearly," she said. "David and I would both go back every year on Christmas Eve to bring the nurses Christmas cookies to share our love and gratitude with them for all they did for us. They loved to see how much my brother and I had grown through the years. As I got older, I realized how much those nurses inspired me and established my dream to become a NICU nurse to care for other premature babies."
Foster describes Weintraub's natural ability to calm neonates and provide families with reassurance in stressful situations as "just huge for a NICU parent," and a true gift. "I remember what I was feeling when I had two tiny babies in the NICU, and you have no idea what the future holds for them," Weintraub said. "It was an absolutely terrifying time and really one of the most stressful experiences you can go through. So for Lauren to be able to talk to these parents and let them see that their babies can grow up, be healthy and strong – it really is everything to them."
Foster said she has no doubt that Weintraub will be "an absolutely excellent nurse. First of all, she has such a passion for this work. When we started the preceptorship, I could tell immediately that she is not only extremely smart, but she also has the drive and the inspiration to be a neonatal nurse. Patients can sense that."
While the early weeks and months of her life were stressful, Weintraub said she wouldn't change one thing about her life story. "These challenges that I was faced with early on have made me a strong and empathetic person. The specialized care I received from both the neonatal doctors and nurses has driven me toward a career path where I can help and care for others in a vulnerable state like my family and I were once in. I cannot wait to enter the next journey of my life as a future NICU nurse alongside some of the same NICU nurses who saved my life."