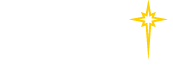 Find a Practice/Location
View All

Surgical Options

What bariatric procedure is performed at St. Luke's?
St. Luke's Weight Management Centers in Allentown, Stroudsburg and Phillipsburg are pleased to offer three bariatric procedures, laparoscopic roux-en-y gastric bypass, laparoscopic adjustable gastric banding and laparoscopic sleeve gastrectomy.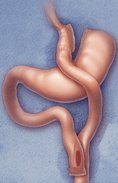 Laparoscopic Roux-En-Y
Gastric Bypass
A small pouch is formed from the top part of the stomach and a portion of the small intestine is bypassed. This way weight loss is achieved in two ways, through restriction of the amount of food one can eat and through decreased absorption of calories. Weight loss is usually rapid with most of the weight being lost in the first year.
The procedure is performed through tiny incisions made in the abdomen. Most patients go home within 24 to 48 hours after surgery.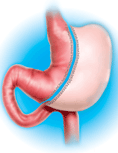 Laparoscopic Sleeve Gastrectomy
The sleeve gastrectomy is a restrictive procedure that causes weight loss by reducing the size of the stomach to initially hold about three ounces. Seventy-five to 80 percent of the stomach is surgically removed; there is no re-routing of intestines. Check with your insurance provider to see if the procedure is covered.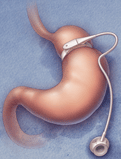 Laparoscopic Adjustable
Gastric Band
A silicone band is placed around the top of the stomach forming a small pouch and a small opening for food to pass through. This pouch will restrict the amount of food one is able to eat. The band is adjusted through the injection of saline water into a port placed below the skin in the abdomen. Multiple adjustments must be made in the office throughout the first year. Weight loss, averaging one to two pounds per week, is slower than the gastric bypass because it takes some time to adjust the band to the correct level for each person.
The patient must be motivated and compliant as this procedure will not prohibit problem foods high in sugar. The laparoscopic adjustable gastric band may be chosen because it is a lower risk, non-permanent procedure. Patients may not choose the laparoscopic adjustable gastric band if they do not want to go through the needle adjustments or have a foreign object in their body, and because of the slower weight loss.
You can discuss the procedure options with your surgeon on your first consultative visit.
Informational Seminar
We will discuss the complications, risks and benefits in more detail at our informational seminars, your first step to weight loss surgery. There is no charge to attend one of our informational seminars but you must register by calling St. Luke's InfoLink at 866-STLUKES (toll free) or by emailing InfoLink@slhn.org.
If you have questions about weight loss surgery before scheduling your informational seminar appointment, please do not hesitate to call St. Luke's Weight Management Center at 484-426-2600 to speak with a team member.