Prostate Surgery

Robotic Prostate Cancer Surgery - Minimally Invasive Treatment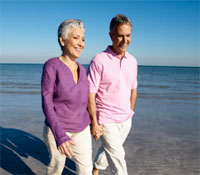 Less Pain &
Faster Recovery
For most patients, da Vinci
Prostatectomy offers
numerous benefits, including:
Less pain
Shorter hospital stay
Less blood loss
Less risk of infection
Faster recovery
Less scarring
Quicker return to normal
activities
One of the most common treatments for prostate cancer involves the surgical removal of the prostate gland, known as radical prostatectomy. Today, there is a new less-invasive surgical option called da Vinci Prostatectomy (dVP). The da Vinci Surgical System is the fastest growing treatment for prostate cancer today.
The Latest In Cancer Treatment Options
The da Vinci Prostatectomy incorporates a state-of-the-art robotic technology to help your surgeon perform a more precise surgical procedure through tiny dime-sized incisions, rather than a traditional open incision.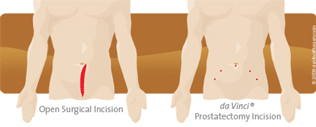 Traditional radical prostatectomy requires a large, 8-10 inch incision. This open surgery commonly results in substantial blood loss, a lengthy and uncomfortable recovery and the risk of impotence and incontinence.
Recent studies suggest that dVP may offer improved cancer control and a lower incidence of impotence and urinary incontinence.