Heart Surgery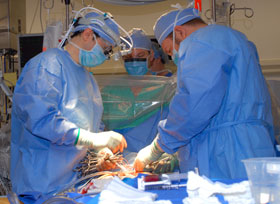 Team Approach to Heart and
Vascular Care at St. Luke's
James Layton of Quakertown praises his
heart valve replacement procedure at
St. Luke's and the multidisciplinary team
who cared for him. Learn more.
Thousands of heart surgeries are performed every day in the United States. Modern medicine allows for heart surgery with the advances of a heart-lung machine, which takes over the heart during surgery, and body cooling techniques, which allow time for surgery without causing brain damage.
During heart surgery, a highly trained group works as a team including:
Cardiovascular surgeon - the head of the surgery team and performs the key parts of the surgery.
Assisting surgeons – take direction from the cardiovascular surgeon
Cardiovascular anesthesiologist - gives medicines that make the patient sleep during the surgery (anesthesia) and monitors the ventilator during surgery
Perfusion technologist - runs the heart-lung machine
Cardiovascular nurses - nurses specially trained to assist in heart surgery
Many kinds of surgery are now performed on the heart and blood vessels including:
Coronary Artery Bypass Surgery (CABG)
Off-pump Bypass (OPCAB-Beating Heart Surgery)
Heart Valve Repair and Replacement
Minimally Invasive Aortic Valve Replacement - MiniAVR
Aortic Aneurysm Repair
Septal Defect Repair
Surgical Atrial Ablation
Pericardial Window
Thorascopic Maze Procedure