Medical Command Access

Introducing CarePoint, St. Luke's University Health Network's New Medical Command and EMS Communications system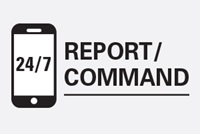 Direct dial patient
report/command lines
Allentown – 610-628-8601
Anderson – 484-503-7471
Bethlehem – 484-526-7904
Lehighton – 484-464-4940
Miners – 570-645-8156
Monroe – 272-212-1271
Orwigsburg (GSL) – 272-639-0071
Sacred Heart – 610-776-5461
Upper Bucks – 267-985-1151
Warren – 908-847-6190
The no-cost solution to meet the
demands of today's EMS provider!
System benefits include:
24/7 access to a PA DOH Certified Medical Command Physician at your local St. Luke's Emergency Department
No cost and easy-to-use
Optional one touch dial from our convenient mobile website ems.sluhn.org
Improved call efficiency
Improved report accuracy, documentation and information management with recording and instant recall
CarePoint fully integrates with existing radio communications systems adding fully functional recording, archiving and PI review
Whether you need to provide patient report or obtain Medical Command, St. Luke's ED physicians are always available! Bookmark ems.sluhn.org for easy access to St. Luke's Pre-hospital Services!