Lehigh Valley United

Lehigh Valley United and St. Luke's – A Winning Partnership
St. Luke's University Health Network and Lehigh Valley United have teamed up to provide all LVU athletes with the region's most comprehensive, technically advanced and responsive care and training for athletes. The partnership is a win-win for parents, players and coaches. Benefits include:
Onsite access to St. Luke's Athletic Trainers at training sessions, camps and games.
CPR and first-aid training for coaches.
Implementation of a concussion policy specific to LVU.
Education and training in concussion recognition and protocols.
Sports Performance testing and training for athletes. This includes one-on-one sessions with specialists at St. Luke's Fitness & Sports Performance Centers.
Sports Nutrition education for coaches, parents and athletes.
Sports Medicine physician and Physical Therapy referrals.
Athletic Training Facility inside LVU's Lou Ramos Center.
Onsite Athletic Trainer for all Premier Development League (PDL) team training and games.
A monthly LVU newsletter.
"One of the things we look for as a network Sport Medicine program is partnering with community groups and organizations, like LVU, to positively deliver the message of health and fitness as drivers in wellness," says John Hauth, Senior Director of Sports Medicine Relationships, St. Luke's University Health Network.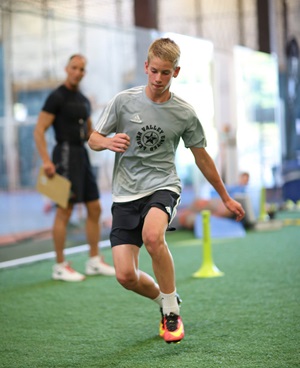 Lehigh Valley United has long been the area's leader in soccer development, according to Hauth. "We are privileged to be a partner for their elite teams and to help safeguard the health of all athletes down to their youngest stars at ages 5 and 6."
"We are two organizations with similar missions when it comes to doing what is best for our local athletes and bringing attention to our community," explains Greg Ramos, Executive Director of Lehigh Valley United. "Our core mission is to take the best Lehigh Valley soccer playing families and gain regional and national attention for our players. St. Luke's is doing the same thing by providing exceptional sports medicine and sports performance to athletes throughout the region."
St. Luke's works with LVU teams and players at all levels
"It puts the parents' minds at ease knowing that there is a professional on hand if something happens on the field," says Jennifer Schriffert, LVU administrator and liaison for the St. Luke's partnership.
St. Luke's Athletic Trainer, Mariangelie Balaguer, manages the care for the entire Lehigh Valley United club with onsite services. "Mariangelie brings a wealth of knowledge in injury prevention and rehabilitation to the LVU families," says Stephenie Stark, MS, LAT, ATC, ROT and Senior Athletic Trainer for SLUHN. "With a dedicated space at both the Lou Ramos Center and Turff Club, consultations and injury evaluations can be completed in a timely and private setting. Having this level of expertise onsite will allow for athletes to return to the sport they love safely following injury."
Hauth continues, "We want to identify potential concerns early to ensure athletes get the most appropriate treatment and rehabilitation. Our end game is simple - to get back athletes back on the field as quickly and safely as possible."